Description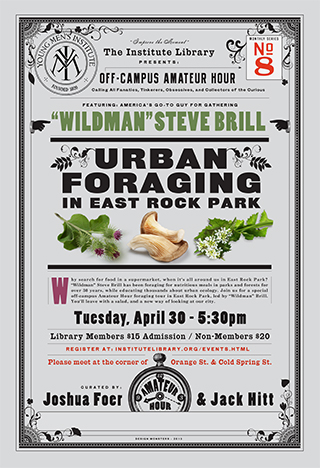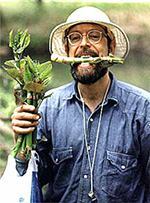 Why search for food in the supermarket, when it's all around us in East Rock Park? "Wildman" Steve Brill has been foraging for nutritious meals in parks and forests for over 30 years, while educating thousands about urban ecology. Join us for a special off-campus Amateur Hour foraging tour in East Rock Park, led by "Wildman" Brill!
During the tour, join hosts Joshua Foer and Jack Hitt in a conversation with Wildman about his life and work, and stick around after the tour to sample the results of Wildman's first "East Rock Salad Foraging Challenge."
Meet in East Rock Park at the corner of Orange Street and Cold Spring Street between 5:00 and 5:30 p.m. Please wear clothes and footwear comfortable for light hiking, and bring along a sweater or jacket appropriate for early evening temperatures.
Tickets are $15 for Institute Library members and $20 for non-members. To become a member of the Institute Library for the modest annual fee of $25, please join online, and to learn more about the library, please visit our web site or facebook page today.
Amateur Hour, the Institute Library's new monthly series curated by Joshua Foer and Jack Hitt, explores the passions and pursuits of America's most inspiring fanatics, obsessives, tinkerers, and collectors.