Both people and place can be transformed by engaging communities in the creation and beautification of public spaces--celebrating the local.
About this event
Art + Activism No. 10
Amara Geffen presents
"Celebrating the Local: 25 Years of Placemaking in Northwest Pennsylvania"
SUNDAY April 24, 2022
5-6:30 pm PDT ~ 8-9:30 EDT
In this presentation Amara will share her experience working with three communities –Meadville, PA, Conneaut Lake PA, and Erie, PA – over a 25 year period. She will provide a powerpoint 'tour' of several of these projects and describe the strategies she has used. All of Amara's public art project are community-centered and include vital community engagement components.
Projects are suggested to Amara by community stakeholders and once a decision is made to move into project development, local residents of all ages, together with multidisciplinary teams with essential expertise, are engaged in concept development and preliminary design. Projects are then refined and developed further to facilitate fundraising, including applying for grants and leveraging local residents as volunteers.
Amara has received support for her work from the Pennsylvania Council on the Arts, the Pennsylvania Humanities Council, the National Endowment for the Arts, the Pennsylvania Department of Environmental Protection and the Pennsylvania Department of Conservation and Natural Resources.
Why does this work matter? By engaging local communities in the creation and beautification of public spaces we can transform our communities. Through the leveraging of local social and creative capital, artists can facilitate and strengthen community capacity in a celebration of the local.
This work is rooted in WEAD's goal of working for a just and healthy world, especially from the perspective of women ecoartists. Amara's commitment to applying her skills as a visual artist, community organizer and visionary (aka: someone with the ability to imagine and manifest positive actions) provides a model that can be adopted by and improvised upon to engage in the work of transforming people and places for social and environmental justice.
Bio: Amara Geffen is a public artist with experience facilitating arts engagement, cultural planning, public art, and placemaking. She will share her experience working with three communities over a 25 year period. Her story begins in 1997 with the founding of the Art & Environment Initiative (A&EI) which facilitates community-centered and environmentally-focused public art projects. Since 1997, 24 projects have been completed many constituting a Public Art Trail through Meadville, PA.
WEAD is asking $2 per ticket to help us fund our website upgrade. If you appreciate our programming please consider paying more.
In our Art + Activism web series we embody our belief that art can be a powerful tool for raising awareness and prompting social change. We share ways that artists are engaged in creating real climate solutions and in promoting sustainability, restoration and regeneration.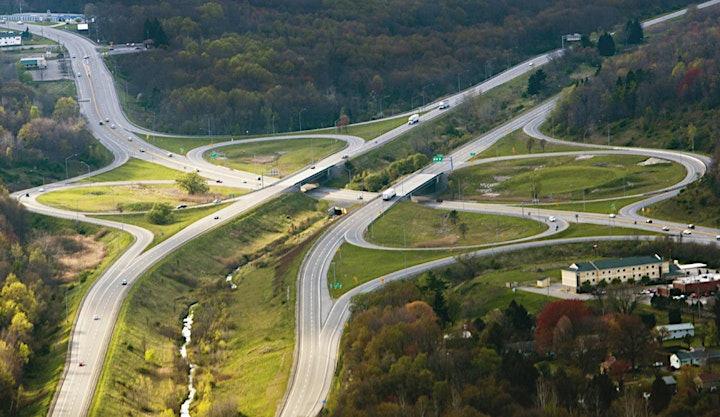 Top image: TITLE: CELEBRATING THE LOCAL-- image credits: upper left Bill Owen; lower left Jeremy Hoople; center map Amara Geffen; VennDiagram on map Amara Geffen, Ann Rosenthal, Chris Fremantle, Aviva Rahmani; upper right New Village Press (book cover); lower right Amara Geffen
Lower image: TITLE: IN PRAISE OF LAND & WATER--Re-envisioning Stormwater Along Federal Highways--Interstate 79 Meadville/Conneaut Lake PA Interchange. 2009 Photo Credit: Bill Owen