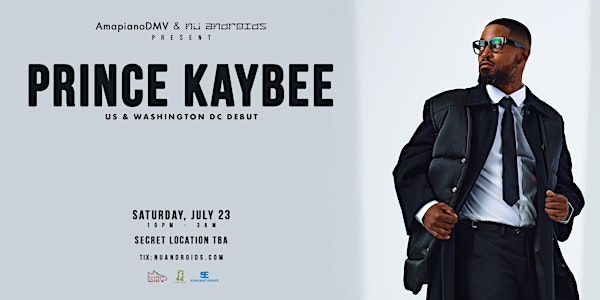 AmapianoDMV & Nü Androids Presents: Prince Kaybee (21+)
Location
A.i. (Undisclosed)
-
Washington, DC 20002
Amapiano DMV & Nü Androids Present:
About this event
JULY 23 | 10pm-3am | A.i. 21+
Prince Kaybee
South African house DJ and producer Prince Kaybee joins us for a special event alongside Amapiano DMV on July 23. This special event will not be something you'll want to miss as this is Kaybee's DC and US debut! Join us for a night like none other as we properly welcome Prince Kaybee stateside at our secret location TBA. Keep an eye on our socials for more info and announcements.
We recommend all patrons to use drive share services such as Uber/Lyft as there is NO parking of any kind on site!
__________________________________
A.i. is our pop up event series that isn't limited to one venue. As every artist and genre is different, the ambiance is ever changing as well. From event to event, we are always tailoring our spaces to best fit the artist to make for the best experience possible through different visuals, lighting designs, installations, etc.
__________________________________
We welcome people from all walks of life to a safe and comfortable space. There is no tolerance for discrimination or harassment of any kind at any of our Nü Androids events. Inside the walls of a Nü Androids event, race, political affiliation, sexual preference, and any other limiting factors are thrown aside to make room for the tunes of the artists. Join us as we are one big family of music lovers and groove shakers!
Connect with us:
Tik Tok: @nuandroids
Instagram: @nuandroidsmusic
Soundcloud: www.soundcloud.com/nuandroids
Resident Advisor: www.residentadvisor.net/profile/nuandroidsmusic