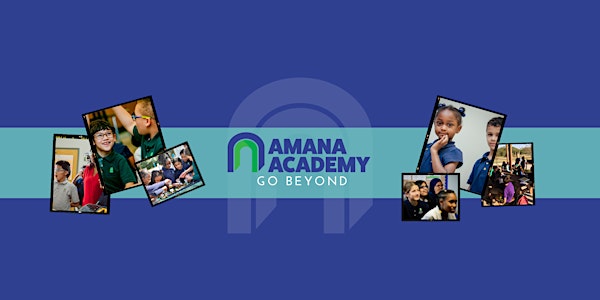 Multiple dates
Amana Academy West Atlanta Information Session & Tour
We look forward to hosting you for one of our in-person information sessions at our Mableton campus.
Date and time
October 21, 2021 · 5pm - May 9 · 9:30am EDT
Location
5400 N Allen Rd SE 5400 North Allen Road Southeast Mableton, GA 30126
About this event
Now enrolling students in grades K-4 for the 2023-2024 school year. Our tuition-free public charter school provides an innovative, hands-on STEM-based approach that's rooted in the Harvard-based EL Education model.
About the organizer
Amana Academy has a 15-year track record of empowering students to go beyond what they think possible, to not only achieve exceptional academic results, but to build a better world with intercultural understanding and fluency as critical-thinking changemakers. Our flagship K-8 school in Alpharetta serves 800 Fulton county students who are wonderfully diverse.
Charter schools like Amana are intended to be crucibles of innovation, with the autonomy to try new things and implement programs that have the potential to transform education. At the same time, we are held accountable by our authorizers to outperform the district and the state on metrics such as standardized tests and school culture (i.e., behavioral outcomes).
When Amana's founders, a group of parents, gathered around a kitchen table in 2003, the knew they wanted a different choice for their children's education. Some of them had children in traditional public schools, some in private schools, and some were homeschooling their children. They were looking for something that emphasized not just high academic achievement, but that also focused on character and provided students with hands-on, real-world applications for their learning. And they wanted it to be public - open to anyone who wanted to come. They chose the name Amana, which is an Arabic term that means to be entrusted with something, and that sense of responsibility or stewardship has been woven throughout the organization ever since.
In searching for the right programmatic model, the founders vetted 26 different school reform models, and ultimately chose what is now known as EL Education, but was then called Expeditionary Learning Outward Bound. It was the only model that placed equal emphasis on academic achievement and character development, and it had a strong service learning component, as well as strong ties to the natural world and adventure. The model was born out of a partnership between the Harvard Graduate School of Education and Outward Bound New York, with the idea of creating an educational environment where all students, regardless of their background, feel like they belong, that they are in a safe space to take risks and learn without barriers, and that there is more in them than they ever thought possible.
And the results speak for themselves. After more than 15 years, our flagship campus has grown to serve 800 students in grades K-8, and outperforms the district, the state, as well as many high-performing traditional schools that serve much less racially and socio-economically diverse student populations.
Amana Academy has been recognized as a finalist in the STEM Day Activity category for the Technology Association of Georgia's 2015 STEM Education Awards, and this year is nominated in two categories - Middle School Program and STEM School Outreach. In 2011 the school was named Georgia Charter School of the Year by the Coca-Cola Foundation, and it received a STEM Education Dissemination Award by the Georgia Department of Education in 2012. The school was also ranked the #1 Middle School in Georgia in 2010 by the Georgia Public Policy Foundation, and awarded an Annie E. Casey Foundation Grant, among many other honors and awards for its commitment to environmental education and for its pioneering Arabic language program. Amana Academy students reside primarily in Alpharetta and Roswell and the school is open to all students who are eligible to attend Fulton County Public Schools during the specified open enrollment period without regard to race, ethnicity, national origin, gender, religion, disabling condition, or English proficiency. Amana Academy is a proud member of the Georgia Charter Schools Association and is accredited by the Southern Association of Colleges and Schools Council on Accreditation and School Improvement (SACS CASI). For more information, visit www.amanaacademy.org or 285 South Main Street, Alpharetta GA 30009.