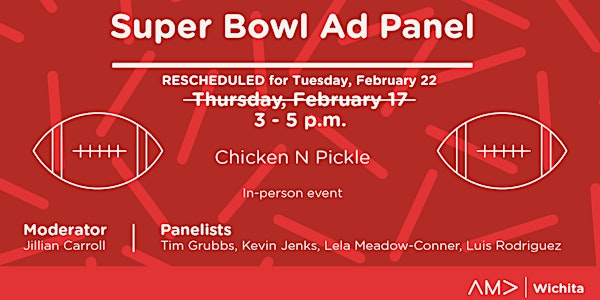 AMA Wichita - Super Bowl Ad Panel - RESCHEDULED
Some watch the Super Bowl for the game, others watch it for the commercials! Get ready to be entertained by our panel of experts!
When and where
Location
Chicken N Pickle - Wichita 1240 North Greenwich Road Wichita, KS 67206
About this event
Some watch the Super Bowl for the game, others watch it for the commercials! Get ready to be entertained as our panel of experts takes a look at these multi-million dollar spots! They'll discuss their design, messaging, video craftsmanship, and creative content. This is always one of our most popular annual programs, so don't miss out! Come to Chicken N Pickle to the "Be Amazing Room" for an afternoon of food, drinks, and fun with your favorite network of marketers.
Event Timeline:
3:00 - 3:20 Check-in, Food, Drinks
3:20 - 4:30 Super Bowl Ad Panel Program Begins
4:30 - 5:00 Questions and Networking with Friends
Sponsors: Method Productions & Kent Audio Visual
Meet the review team:
Moderator: Jillian Carrol - KSN Good Day Kansas
 Jillian Carroll joined KSN-TV in January 2019 as Host and Producer to launch KSN's first ever lifestyle show, Good Day Kansas. She has a wealth of sports knowledge as an athlete and sports reporter.
A self-proclaimed tomboy, she played every sport under the sun growing up (including tackle football) - discovering her favorites, soccer and cheerleading. Jillian played soccer at the University of Northern Iowa, and she now coaches a premiere youth soccer team. Jillian was also a Kansas City Chiefs Cheerleader for six seasons.
In her sports broadcast and radio career, Jillian has experience as a digital host and sideline reporter with the Kansas City Chiefs, where she earned her first Emmy Award. She has appeared on NFL Network, CBS, and Fox Sports Midwest covering the Kansas City Chiefs (NFL) and Sporting Kansas City (MLS) as both Sideline Reporter and Broadcast Host.
She began her radio career at 610am Sports Radio in May 2017 hosting Jillian Carroll and Uno Cero and now Hosts Overtime with Jillian and Chris. Jillian is also the first ever Emcee for the Wichita Wind Surge for the inaugural season at Riverfront Stadium as the AA Ball team for the Minnesota Twins.
Originally from Long Island, New York, Jillian grew up in Leawood, Kansas, with her four siblings and loving mother and father. Jillian cares deeply for her family and friends and is eager to learn everything there is to know about Kansas and more about the state she calls home. She is always up for a workout, meeting new people or catching a game.
Follow her on Instagram: @msjillianann, Twitter: @jillianthomas22, and Facebook @JillianOnAir
Panelist: Tim Grubbs - Director of Broadcasting & Team Travel, Wichita Wind Surge
Veteran broadcaster Tim Grubbs is in his 26th season in Minor League Baseball. He joined the team after eighteen seasons in New Orleans with the Zephyrs/Baby Cakes. He has also spent three years as the broadcaster for the Tennessee Smokies, Winston-Salem Warthogs and a season with the Hickory Crawdads. Grubbs was named the Southern League Broadcaster of the year in 2001. He broadcast the longest game in PCL history in 2006 when the Zephyrs defeated the Nashville Sounds in 24 innings.
Outside of baseball, Tim has also broadcast football, basketball, hockey, and beach volleyball on Cox Sports Television, ESPN3, and The American Digital Network. He has also done broadcast work for the Tulane Green Wave, and Wake Forest Demon Deacons.
Tim handles the broadcasts, media relations, team travel and corporate sales.
He is a proud native of Pittsburgh, Pennsylvania., and alumnus of Robert Morris University. He lives in Wichita and enjoys spending time with his wife, Emily, their daughter Katie and their beagle Winnie.
Panelist: Kevin Jenks - Interim President/CEO Greater Wichita Area Sports Commission & Director of NBC World Series
Kevin Jenks is the Interim President & CEO for the Greater Wichita Area Sports Commission. He has also served as the Director of Community Partnerships. For more than 20 years, the GWASC has worked to promote, acquire, and support a diversity of youth, amateur, and professional sports programs and events in the Wichita area, with an economic impact of more than $544 million. Some of those events include Prairie Fire Marathon, Buster Posey National Collegiate Catcher of the Year Award, NBC World Series, and Wichita Corporate Challenge. Kevin also serves as the General Manager of the NBC Baseball Foundation and Tournament Director for the NBC World Series, a tournament showcasing some of the best collegiate-amateur players in the country.
Kevin has a bachelor's degree in Communications with an emphasis in Broadcasting. Most of his career has revolved around sports in some capacity, including a dozen years cumulatively as a sports reporter and anchor.
 Panelist: Lela Meadow-Conner - Executive Director of the Film Festival Alliance and CEO & mother/founder at mama.film
Lela Meadow-Conner is Executive Director of Film Festival Alliance, a non-profit organization serving North American film festivals and the people who run them. She is also the Founder of mama.film - a village at the crossroads of art & advocacy where storytellers, changemakers and nurturers come together to champion humanity through a maternal gaze. Lela has 20 years of experience in independent cinema exhibition, with leadership roles at organizations including the Tallgrass Film Association and Geena Davis' Bentonville Film Festival.
mama.film was founded as a pop-up microcinema in a shipping container in 2019 in Wichita, Kansas. In 2020, mama.film founded rePRO Film which advocates for women's reproductive justice through film and conversation and now runs in a free, monthly virtual format. In 2021 mama.film, served as a Satellite Screen for the Sundance Film Festival, bringing official selections to Wichita, KS; and again in 2022, bringing official selections to Lawrence, KS. mama.film now operates as a nomadic experience, partnering with cultural institutions to bring cinema to audiences, as well as a cultivator and creator of mission-aligned content. In January 2022, Film Festival Alliance and mama.film were two of 567 organizations (selected from 7500 eligible applicants) nationwide to receive $50,000 funding from the National Endowment for the Arts' American Rescue Plan to help the arts and cultural sector recover from the pandemic.)
She has participated in The Industry Academy, a program of Film at Lincoln Center and the Locarno Film Festival, the Constellation Incubator and holds a degree in the culinary arts. Lela is a recipient of both "40 Under 40" and "Women in Business" honors from the Wichita Business Journal, has served on film juries including AFI and the NAACP Image Awards and is a frequent panelist for industry organizations like The Gotham, The FilmmakeHERS and Columbia University.
She currently serves on the board of Los Angeles' iconic Vidiots Foundation, soon to relaunch in the historic Eagle Theatre and Harvester Arts in Wichita, KS. Other roles include Co-Producer for Sav Rodgers' documentary Chasing Chasing Amy, Producer for Nitzan Mager's Strange Love and Run Amok and Executive Producer for Emily Christensen's Feminist Foremothers podcast.
Panelist: Luis Rodriguez - Keycentrix, President & Method Productions, Partner
Luis has a passion for technology along with marketing, branding, and storytelling. He divides his professional time accordingly as a partner at Method Productions and president at Keycentrix.
Method Productions is a nationally recognized, award-winning video production and motion graphics company. In his role at Method, Luis collaborates with the company's Emmy-nominated video producers to craft stunning, affordable videos for local and national clients, including AARP, ADT, Cargill, Koch Industries, Milliman, Skype/Microsoft, Rise Against Hunger, and Vornado. Luis is gifted at helping businesses and nonprofits tell their stories in unique and compelling ways, often interjecting humor or pulling at the heartstrings.
As president of Keycentrix, one of the top competitors in specialty pharmacy software, Luis leads a group of hardworking and highly skilled technologists and support professionals toward greater and greater levels of success. He serves as a thought leader for the specialty pharmacy industry, as a voice of technology on the National Association of Specialty Pharmacy (NASP) board of directors, and by participating in national speaking opportunities and providing insights to multiple industry publications. Luis is a member of the Forbes Technology Council at a national level but also encourages local tech industry progression and education as a founding member and current Board Chair of FlagshipKansas.Tech. In addition, Luis provided technology perspective in the Business Education Innovation Partnership, a collaborative effort between the Wichita Chamber of Commerce and Wichita Public Schools. He serves as a technology faculty advisor for WSU Tech and was named to the Wichita State University President's Council. Luis has also served on numerous other industry, community and nonprofit boards.
Originally from Santa Isabel, Puerto Rico, Luis moved to Wichita more than 29 years ago and has long considered it home. He adores his family and is an avid Shocker fan. He is known to enthusiastically cheer for both, whether at home or in the Roundhouse. Go Rodriguezes! Go Shox!