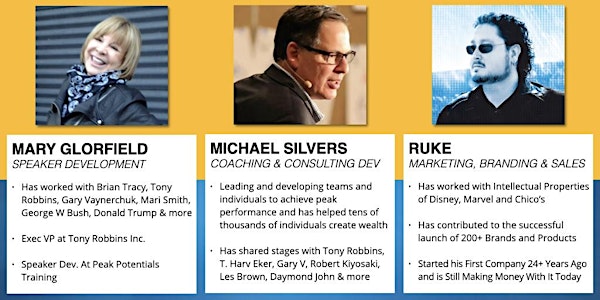 AMA: Mary Glorfield, Michael Silvers, RUKE Open Mic Discussion Panel
Talk to Top Leaders of Marketing, Branding, Sales, Speaking, Mentoring, Coaching and Business Consulting
About this event

Thursday, May 20th, 7 pm ET / 4 pm PT
This interactive panel discussion will empower you to set the course for your next step in business. Whether you're a start up or an established company, understanding how to properly scale and amplify your success is the key to sustainable revenue.
At this workshop you will discover how to…
Utilize new opportunities to bring in cash in this virtual world
Get on sought-after stages with the secrets of the speaking industry
Build a multimillion dollar business in today's digital environment
Plug into networks that expand your circle and revenue
Diversify your revenue through broadcasting
Join us for an open mic, "Ask Me Anything" discussion to skyrocket your success!
Open to Public