Description
Engaging Gen-Z in 2020: TikTok, Snapchat, YouTube and the Evolving Influencer Landscape
We're now living in a world where 8-year-old YouTubers are as popular as TV stars, and virtual humans are striking major sponsorship & record deals. Welcome to the media of choice for Gen-Z. Welcome to the 2020s. With member of Gen Z now entering the workforce and influencing purchase decision, it's more important than ever to understand their behaviors. This event will explore where modern influencer marketing is heading and demystify some of these nascent types of content creator and influencer channels, platforms and tactics for this emerging and hyper-connected generation.

Join us for an interactive discussion between digital experts representing Snapchat, Scout Social and a 19-year-old Instagram and YouTube influencer, and two innovative leaders of some of today's most well-known brands including Jamba Juice and The Krystal Company. The discussion will highlight how today's brands and digital platforms can work together to successfully reach the Gen-Z generation.
Included with your ticket is a lunch buffet offering turkey, roast beef and hummus wraps, a hearty salad, roasted veggies, potato chips and fudge brownies for dessert.
Agenda:
11:30am - 12:00pm Networking/Registration Check-in
12:00pm – 1:00pm Panel Discussion/Q&A
Panelists:
Moderator— Kevin Planovsky, Principal, Account Strategy—Vert Digital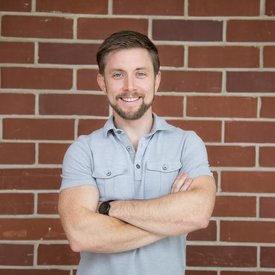 Firstly, Kevin knows there are a LOT of bios out there & thanks you for reading about how he started Vert Digital over a decade ago, loves snowboarding, is a father of two, and thinks Atlanta is the best place in North America to scale a digital marketing agency. Kevin currently serves as co-founder & Principal, Account Strategy at Vert - 100% focused on partnership development, business strategy and marketing + growth for the agency. When not building digital business with leading brands like Amazon, First Watch Restaurants and RaceTrac, he also serves on the advisory board for UGA's New Media Institute (his alma mater) & advises a few upstart digital companies here in Atlanta. When you meet Kevin, strike up conversation about his adopted daughters (5 & 3), how he learned to do black girl hair, or mid-century modern homes & design.
Brand Representative—Jason Dominy, Director of Social—The Krystal Company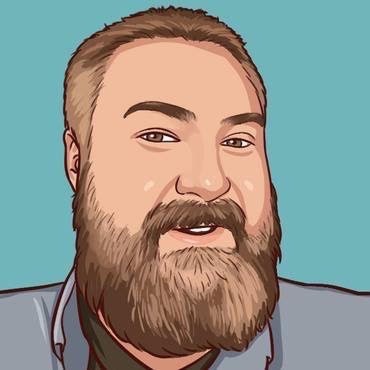 Jason Dominy started in the social media marketing space when it first began, and has worked in that digital focus both on the brand side and agency side for more than 12 years. He has managed and written content and social strategies for brands like Coca-Cola, Krystal, McDonalds, Wells Fargo, UPS and Chick-fil-A. He now manages social media and customer service for The Krystal Company. He has been incredibly happily married to April for the past 17 years. In his free time, he plays with his dogs Cooper and Boone, plays disc golf, and enjoys sharing great craft beer and barbecue with friends.

Brand Representative —Jessica Sours, Brand Director—Jamba Juice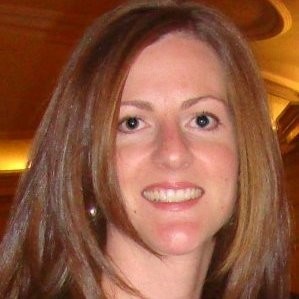 Jessica Sours is the Brand Director for Jamba Juice. She is responsible for Digital Marketing and Global brand development with specialities in Performance marketing, Integrated communications planning, Go-To-Market planning & presentation, Content strategy, Brand strategy & positioning, Audience segmentation, Site & Media analytics, Business development, Consumer and cultural trends and insights, Strategic planning, Corporate Communications & CSR, Public Relations, Social Media Marketing, Competitive analysis, Team building & mentoring.
Social Platform Representative—Baylen Levine, 19-year-old Gen-Z Influencer—YouTube & Instagram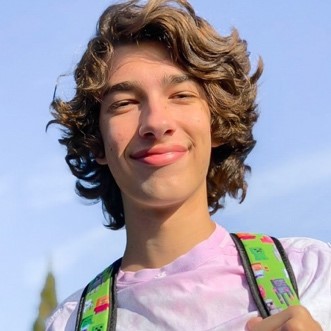 Baylen Levine is an 18 year old, real, living, breathing, card-carrying member of Generation Z. He also struck it lucky when a video he created went viral on Instagram. Now, equipped with 190,000 followers on TikTok and over 350k on YouTube, he has fully committed to building out his persona on social media as a career.
Social Platform Representative—Shep Ogden, Co-Founder—Scout Social (Promoter of Instagram's 2nd largest Virtual Human)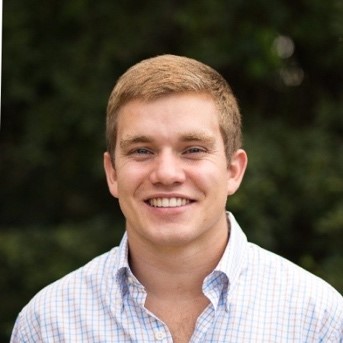 Shep Ogden is Co-Founder of Scout Social here in Atlanta, Georgia. He is an entrepreneur driven by curiosity and innovation. As co-founder of Scout Social, I focus on building relationships with some of the world's most innovative brands while helping them be seen by hundreds of millions of people through the use of our global 800m+ follower network.

Social Platform Representative—Maggie Caddell, Advertising Solutions—Snapchat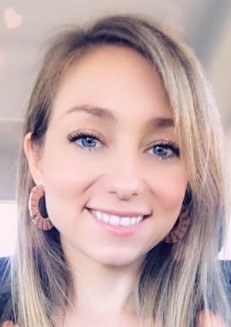 Maggie Caddell, from Snap Inc.has been in the Atlanta advertising industry for fifteen years. After graduating from UGA, she began her career on the agency side and transitioned into sales shortly after that. Over the years, Maggie has represented The Wall Street Journal Digital Network, Meebo (a startup acquired by Google in 2012), Microsoft and Snapchat.
Cancellation Policy
Due to pre-registration costs and guarantees, refunds or credits are not extended for this event. However, registrations are transferable. On the day of the event, the substitute attendee must present a copy of the registration receipt or e-mail verification to be admitted to the event.
Visitor/Parking Instructions:
Atlanta Tech Village is located in the heart of Buckhead at the corner of Lenox and Piedmont Road.
There is NO PARKING at Atlanta Tech Village for weekday events before 4PM.
We encourage guests to Uber/Lyft if possible.
Park at Prominence, located underneath the Wells Fargo building across Lenox Road from us.
Enter the parking deck from Piedmont Rd (front entrance), or at the back entrance off Tower Place, by Buckhead Church (back entrance).
The Village building and parking deck is handicapped accessible. Handicapped parking is located at the top of the deck near the 2nd floor entrance. Follow the directions found outside the door to enter the building.
First 15 minutes: $1.00
Each additional 15 minutes: $1.00
Maximum Daily Rate: $12.00
Parking details to the Prominece here: https://atlantatechvillage.com/about/directions/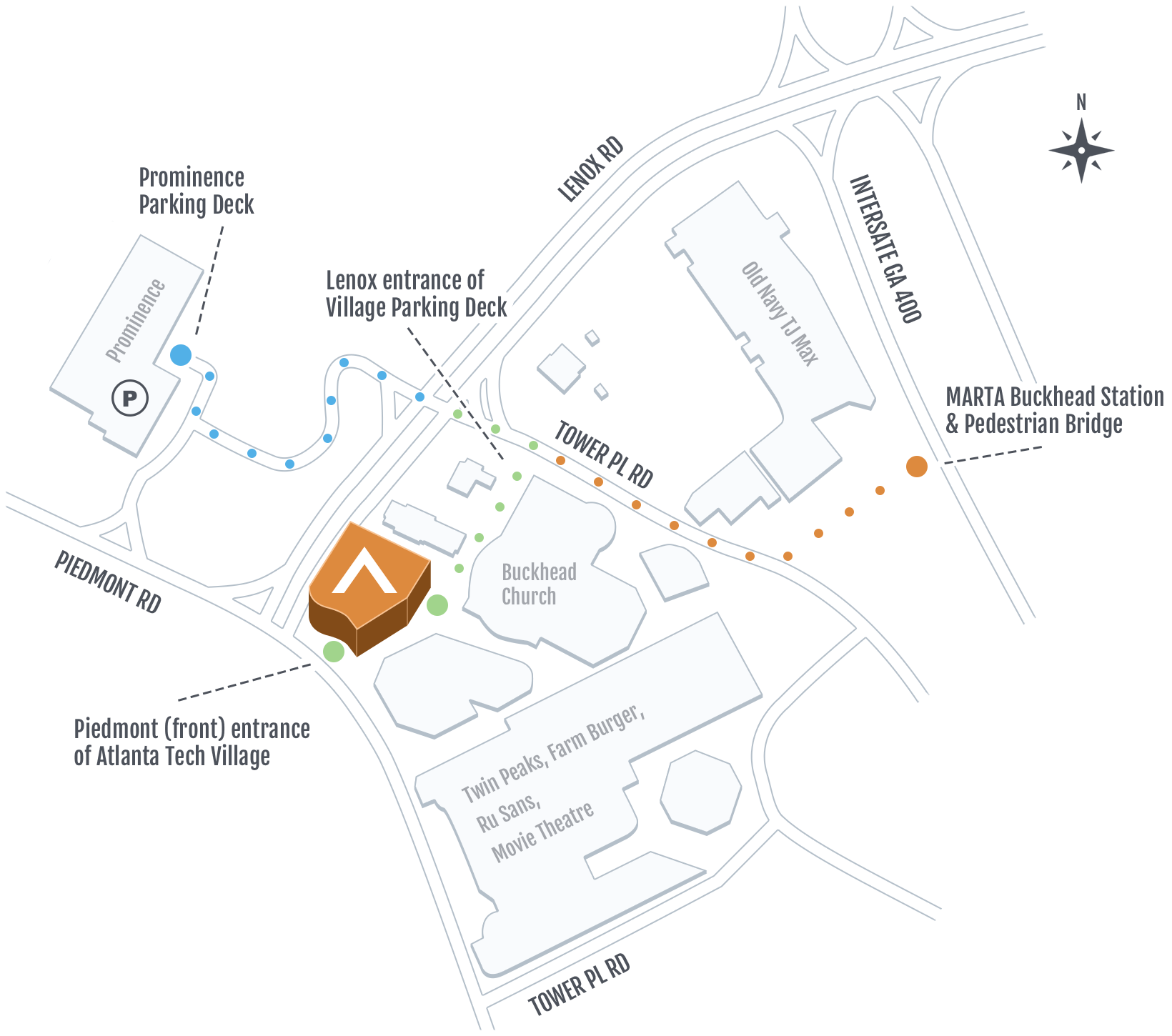 Follow AMA Atlanta on Facebook, Twitter, LinkedIn and Instagram.
@AMAAtlanta
#AMAAtlanta