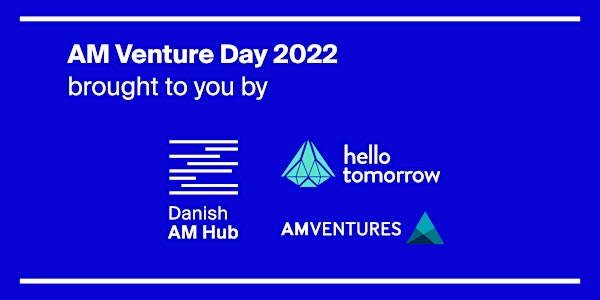 AM Venture Day @ TechBBQ
AM Ventures, Hello Tomorrow and Danish AM Hub invite you to AM Venture Day 2022 at TechBBQ!
When and where
Location
Lokomotivværkstedet 5A Otto Busses Vej 2450 København Denmark
About this event
Once again Danish AM Hub invites startups and investors from the world of AM and Deep Tech to take part in our annual AM Venture Day. This year AM Venture Day is brought to you by AM Ventures, Hello Tomorrow and Danish AM Hub.
AM Venture Day is the place to be for innovative start-ups and ambitious VCs focusing on Additive Manufacturing. The event will feature opportunities for AM start-ups to pitch to investors, panel discussions featuring stakeholders from across the ecosystem, and finally networking on which attendees can create valuable connections.
AM Venture Day will be a part of TechBBQ's annual summit in Copenhagen. The festival contains talks, debates, workshops and exhibition areas. There is expected to be between 7000-8000 participants from all over the world ranging from entrepreneurs, industry experts, and investors. HelloTomorrow and Danish AM Hub will be a part of the DeepTech area showcasing the latest developments.
Attendance at AM Venture Day requires a ticket to TechBBQ. If you do not already have a ticket then reach out to Frederik Rasmussen at frr@am-hub.dk.
NB! Deadline for claiming a TechBBQ ticket is August 20 at 12:00 pm.