It's admirable to start a nonprofit and want to solve community issues, but it is a major responsibility many people are not ready for.
About this event
Hi! I'm Kimberly O'Neil, an award-winning professor, social innovator, and entrepreneur. 
Throughout my career I have spent more than 30 years working in and for community, local governments and nonprofits throughout the United States, and created initiatives that have grossed more than $20 million in revenue.
These days, however, you can find me training new social innovators and professionals through my nonprofit training academy Cause Studio. I'm proud to say many of my clients are excelling in their organizations.  It's hard work, but with proper guidance they are far exceeding all expectations.
I know there are many more innovators and professionals around the country who I can help!  
….Are you one of them?  
Are you one of the many do gooders in the community who thinks starting a nonprofit is the answer? 
While it is admirable to want to launch a nonprofit organization, there are SO MANY things that you need to consider before moving in that direction. 
So I have set aside time on two days to facilitate a 90 minute webinar to highlight things you should consider before launching a nonprofit.
And for those of you that have already launched a nonprofit and have not gained traction, this webinar is for you too!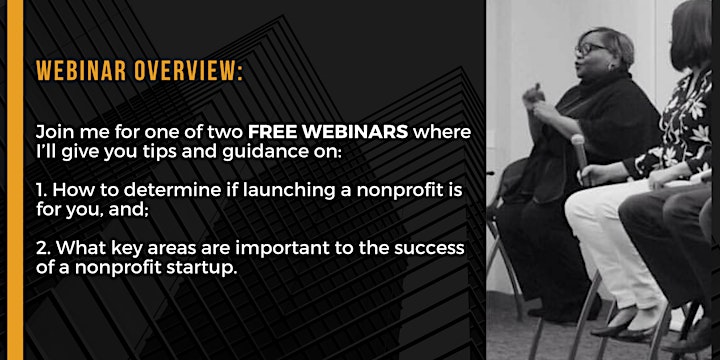 At the end of the webinar, you will walk away with the following 5 key takeaways:
Compare various options to solve community issues besides launching a nonprofit.
Recognize the importance of complying with federal and state nonprofit regulations.
Describe why understanding the problems and needs of communities are critical to program development.
Determine why researching other organizations addressing comparable issues within your target service areas is critical.
Identify how key resources contribute to building organizational capacity.
This webinar is perfect for:
Community Leaders
Activists
Advocates
People who want to start a nonprofit
Founders of nonprofit startups
Newer nonprofit professionals
Board members without prior nonprofit experience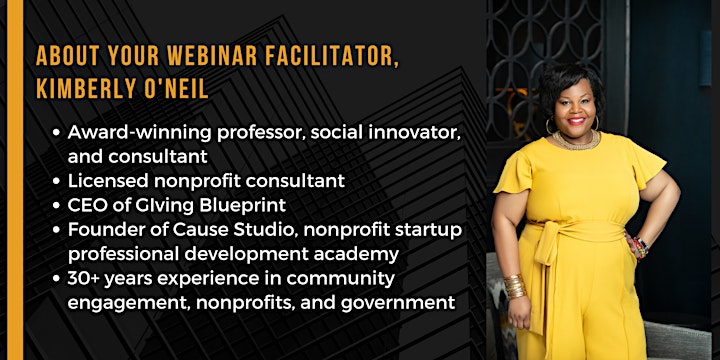 Kimberly O'Neil is an award-winning professor, executive leader, and social good expert. She was the youngest serving African American woman City Manager in the United States. As a veteran senior government and nonprofit executive, Kimberly has used her voice to impact policy decisions while lobbying in New York City and on Capitol Hill. She now works within the social sector and leads Giving Blueprint, a consulting company with a mission to impact social change through the development of strategic partnerships and growth plans within the social sector.
As a social entrepreneur, Kimberly recognizes the value that nonprofit startup organizations provide to communities, especially in historically discriminated communities. In January 2015, she launched Cause Studio, an incubator, and training initiative that is designed to reduce the number of failing nonprofit organizations in North Texas. Kimberly has been recognized as a 2017 Minority Business Leader Awards honoree by the Dallas Business Journal, a 2019 Humanitarian Visionary Award Honorable Mention by Juanita J Craft Civil Rights House and Museum, and 2020 Social Innovation Award honoree by United Way of Metropolitan Dallas. She previously served as Chair for the City of Plano Community Relations Commission.
In addition to being a sought-after thought leader, strategist, and speaker, Kimberly is a published author and professor of political science and public adminisration. She is the founding director of Power in Action, a member of Delta Sigma Theta Sorority, Inc, and a founding member of HERitage Giving Fund, the first Black giving circle in Texas, and serves as Board Chair-Elect for Social Venture Partners Dallas.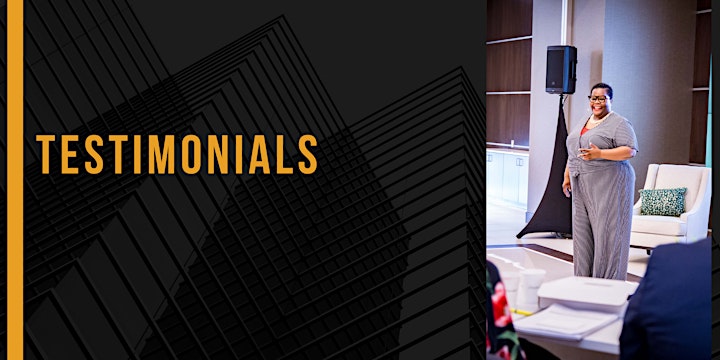 "Her famous boot camp sessions are hailed by our fellows are hailed as graduate degrees in social impact." - United Way Awards Ceremony 2019, United Way of Metropolitan Dallas
"Kimberly O'Neil is a powerhouse of nonprofit knowledge and a tough, but generous mentor. With her guidance and teaching over four years, Bold Idea established itself as a sustainable organization, raising over $313,000 in operating funds and serving 300+ North Texas students to date." - Robyn Brown, CEO and Co-Founder of Bold Idea
"Kimberly was introduced to me and it was the best introduction of my young nonprofit career. From the start, she was inspiring, motivating, and task-driven. But be forewarned … Kimberly has a wealth of information to share and you might feel overwhelmed at first. Stick with it. Kimberly is patient and understands the process. She knows that service is an exhausting business and will match your effort as you go and grow." - Shari Hampton, Executive Director and Founder of Served Up Sober
"Alongside Kimberly, we have successfully grown and reached important milestones: we have managed to grow our fundraising efforts from $7,000 in 2017 to secure almost $90,000 by December 2018; we have built a brand new effective, high-level Board of Directors; we have prepared and practiced outstanding pitches that have made our nonprofit organization win awards and grants in the field of social innovation." - Aidee Granados, CEO and Founder of Rosa es Rojo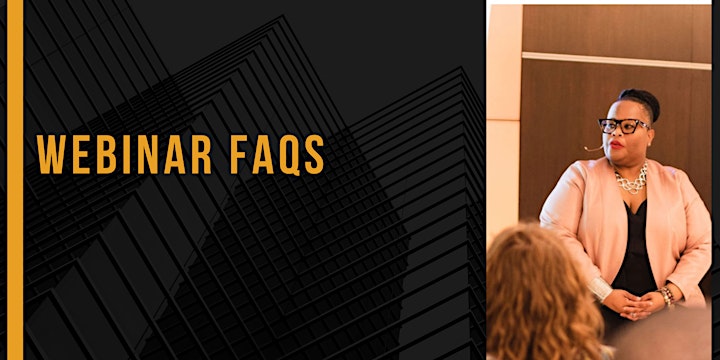 Is the webinar free of charge?
Yes, the webinar is totally free. Space is however limited.
How long is the webinar?
We recommend blocking at least 1.5 - 2 hours for the webinar presentation and Q&A with Kimberly.
Will there be a replay of the webinar?
A replay may be offered but is not guaranteed.
Do you offer any other free or paid nonprofit webinars?
Yes, information will be provided for those that are interested in learning more about our award-winning nonprofit startup professional development training. Participation in future training does not impact your attendance at this free training.
Organizer of Am I Ready? - Things to Consider Before Starting a Nonprofit
Cause Studio, a division of Giving Blueprint, is a virtual training academy and award-winning social innovation resource hub for impact driven leaders. Since launching in 2015, we have trained more than 2500 social innovators and nonprofit leaders across the United States and have coached organizations in raising more than $1,000,000 in cash and in-kind donations.