AM I IN DANGER OF LOSING My VISION? AM I AT Risk? FREE Educational Symposium

Saturday, August 20, 2011 from 8:30 AM to 2:45 PM (EDT)
Event Details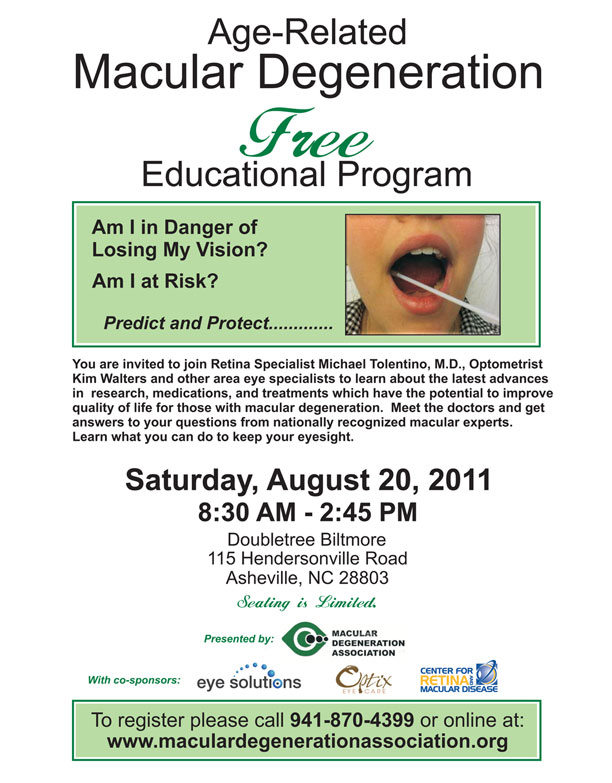 On Saturday, August 20, 2011, the Macular Degeneration Association (MDA) will host an educational symposium in Asheville, North Carolina at the DoubleTree Hotel Biltmore-Asheville, located at 115 Hendersonville Road. The event is designed to give an overview of age-related macular degeneration (AMD), including the progression of the disease and the dangers of vision loss as a result. The symposium will also cover precautionary methods that may delay the onset of AMD and reduce retinal damage.
Event attendees will learn the latest treatment advances evolving in the macular field, including the revolutionary Macula Risk® test, a new genetic test predicting one's likelihood of developing AMD. In addition to establishing an individual's genetic predisposition to macular degeneration, the test is also useful in formulating a customized treatment plan for those already diagnosed with AMD.
Exhibitors and featured event speakers will offer participants many opportunities to learn about the latest advances in macular degeneration research, precautionary methods, medications, treatments, and low vision therapies. AMD treatment pioneer Dr. Michael Tolentino, renowned for developing revolutionary treatment strategies to slow the progression of macular degeneration, will make a presentation explaining the dangers of vision loss and the importance of genetic testing for both the general population at large and those already diagnosed with macular degeneration.
MDA's educational symposium in Asheville will provide attendees with a unique opportunity to interact with nationally known macular experts, local doctors, fellow patients and caregivers in an open forum.
For more information on the upcoming symposium in Asheville, North Carolina, and for information on upcoming MDA educational events, including future genetic testing opportunities, contact us at: info@maculardegenerationassociation.org, call (941) 870- 4399 or visit

When & Where

Doubletree Biltmore
115 Hendersonville Road
Asheville, NC 28803


Saturday, August 20, 2011 from 8:30 AM to 2:45 PM (EDT)
Add to my calendar
Organizer
Macular Degeneration Association
The Macular Degeneration Association is a nonprofit health organization providing macular research, information and advocacy. MDA is an IRS recognized 501(c)3 organization and contributions are tax-deductible to the extent permitted by law.


The mission of the organization is to cure macular degeneration and to improve the lives of all people affected by the disease.
To fulfill this mission, the MDA will fund research, publish scientific findings, provide funding for education, information and other services to people with macular degeneration, their families, healthcare professionals and the public. The foundation advocates for the increase in funding for scientific research and for the rights of people with macular degeneration.
The money raised by the foundation funds research,education, information programs and advocacy and awareness efforts that will support the over 9.1 million people with macular degeneration in communities across America.
//
AM I IN DANGER OF LOSING My VISION? AM I AT Risk? FREE Educational Symposium