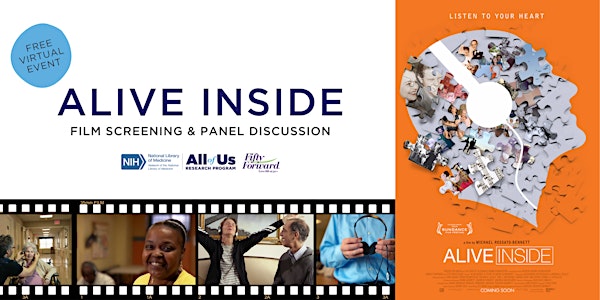 Alzheimer's and Brain Awareness--Film Screening and Panel Discussion
Free virtual film screening of "Alive Inside," and expert panel discussion of Alzheimer's, music therapy, and precision medicine.
About this event
Film: Not Rated, 2014, Documentary, 78 minutes
Accessibility
Closed Captioning: Spanish and English
Panel Discussion: Recorded Livestream, 1 hour
Accessibility
American Sign Language (ASL) Interpretation
Closed Captioning: English
June is Alzheimer's & Brain Awareness Month! Join the Network of the National Library of Medicine (NNLM), FiftyForward, and the All of Us Research Program to watch the award-winning documentary, "Alive Inside." Then, on June 16, 2022 at 3 pm CT/ 4 pm ET, join us for a panel discussion about how music and memory connect in our brains, as well as how a diverse All of Us dataset can help researchers find future treatments for Alzheimer's Disease.
About "Alive Inside"
Winner of the Documentary Audience Award at Sundance Film Festival 2014, "Alive Inside" is a joyous cinematic exploration of music's capacity to reawaken our souls and uncover the deepest parts of our humanity. Filmmaker Michael Rossato-Bennett chronicles the uniquely human connection we find in music and how its healing power can triumph where prescription medication falls short.
This stirring documentary follows social worker Dan Cohen, as he fights against a broken healthcare system trying to demonstrate music's ability to combat memory loss and restore a deep sense of self to those with dementia.
Learn more about the film.
How to watch the film with All of Us
The film will be available to watch from June 15th - 18th. Please register through Eventbrite to receive access information via email.
About the Panel Discussion
On Thursday, June 16th at 4 PM ET | 1 PM PT we will host a live panel discussion about the intersection of Alzheimer's, music therapy and precision medicine. This is a rare opportunity to hear directly from the "Alive Inside" filmmaker as he is joined by several experts currently practicing or researching in the field of Alzheimer's treatment.
Panelists
Michael Rossato-Bennett, Executive Director and Founder, Alive Inside
Francine Pannella, Director of Caregiver Support , Caregiver Volunteers of Central Jersey
Hampton Leonard, Lead of Collaborative Research, National Institute on Aging Center for Alzheimer's and Related Dementias
Moderator: Gretchen Funk, Chief Program Officer, FiftyForward
A reminder email will be sent to you in the days before the panel discussion; this email will include instructions to join.
Questions?
Please contact us with any questions: lib-nnlmallofus@uiowa.edu

This event is in collaboration with the All of Us Research Program, which is inviting one million or more people across the U.S. to help build one of the most diverse health databases in history. Researchers will use this data to learn how our biology, lifestyle, and environment affect health to help personalize medicine in the future. Learn more about this historic program here: JoinAllofUs.org/nlm.
This event is funded by the National Library of Medicine, National Institutes of Health, Department of Health and Human Services, under Cooperative Agreement Number U24LM014070 with the University of Iowa, Hardin Library for the Health Sciences and University of Pittsburgh, Health Sciences Library System.
Individuals with disabilities are encouraged to attend all NNLM All of Us Engagement Center events. If you are a person with a disability who requires an accommodation in order to participate in this program, please contact lib-nnlmallofus@uiowa.edu two weeks before the scheduled program date.