Description
You're Invited To The ABC's Of Growing Your Small Business
Always Be Closing In Sales, Hiring, Partnerships & Beyond
We've planned a highly engaging panel session with leaders from various industries.
Through an interactive discussion around the Art of Closing the Deal, the significance of Always Be Closing will be shared:
"Everything you say and do should ideally be done with only one goal in mind -- taking you one step closer to closing the deal. It's the only thing that matters."
Our attendees will discover how to:
· Compete on value, not price, by securing a Commitment to Invest early in the process.
· Ask for a Commitment to Build Consensus within the client's organization, ensuring that the proposed solution has early buy-in from all stakeholders.
· Prevent the possibility of the sale falling through at the last minute by proactively securing a Commitment to Resolve Concerns. - The Lost Art of Closing

Specifically, our panelists will reveal secrets on how to consistently:
Close New Customers
Close New Employees
Close New Partnerships
Small businesses can grow fast with the ABC approach to assess and qualify prospects, increase the close frequency, and improve their close rates.

If you are an entrepreneur or business owner growing your small business, you will take away insights around consistently closing bigger deals.
Meet our Panelists

Dan Waldrop - CEO, Drop Ad Agency
Dan Waldrop is the CEO of Drop Ad Agency, providing new leads, customers and patients for small to medium businesses through Facebook Advertising and Marketing Funnels. Dan has worked in the e-commerce space with platforms like Amazon and Shopify but ultimately pivoted to helping small and medium businesses grow their customer base.
Steve Smith - Business Coach, GrowthSource Coaching
Steve Smith is the President and Founder of GrowthSource Coaching in Orange County, CA. He provides leadership, management and marketing coaching to business owners, executives and entrepreneurs locally in SoCal and nationally to some of the leading firms.
Jay Nitturkar - CEO, pVerify
Jay Nitturkar is the CEO of pVerify, the market segment leader in automated patient eligibility verification space for the past 12 plus years. Jay is focused on improving financial health of Physician Practices through application of Technology, Best Practices and Strategic Outsourcing.
Connect and Share Ideas with Local Business Owners on How To Always Be Closing
If our panelists can give you ideas on how to give your prospective customer every logical and emotional reason to buy, you would surely come out ahead...
Our Business Owners Roundtable average 20 to 25 local owners for maximum interaction, engagement and sharing of ideas and stories. Each participant gets meaningful opportunity to share their story, their ideal customer, and their current needs.
Get To Know oGoing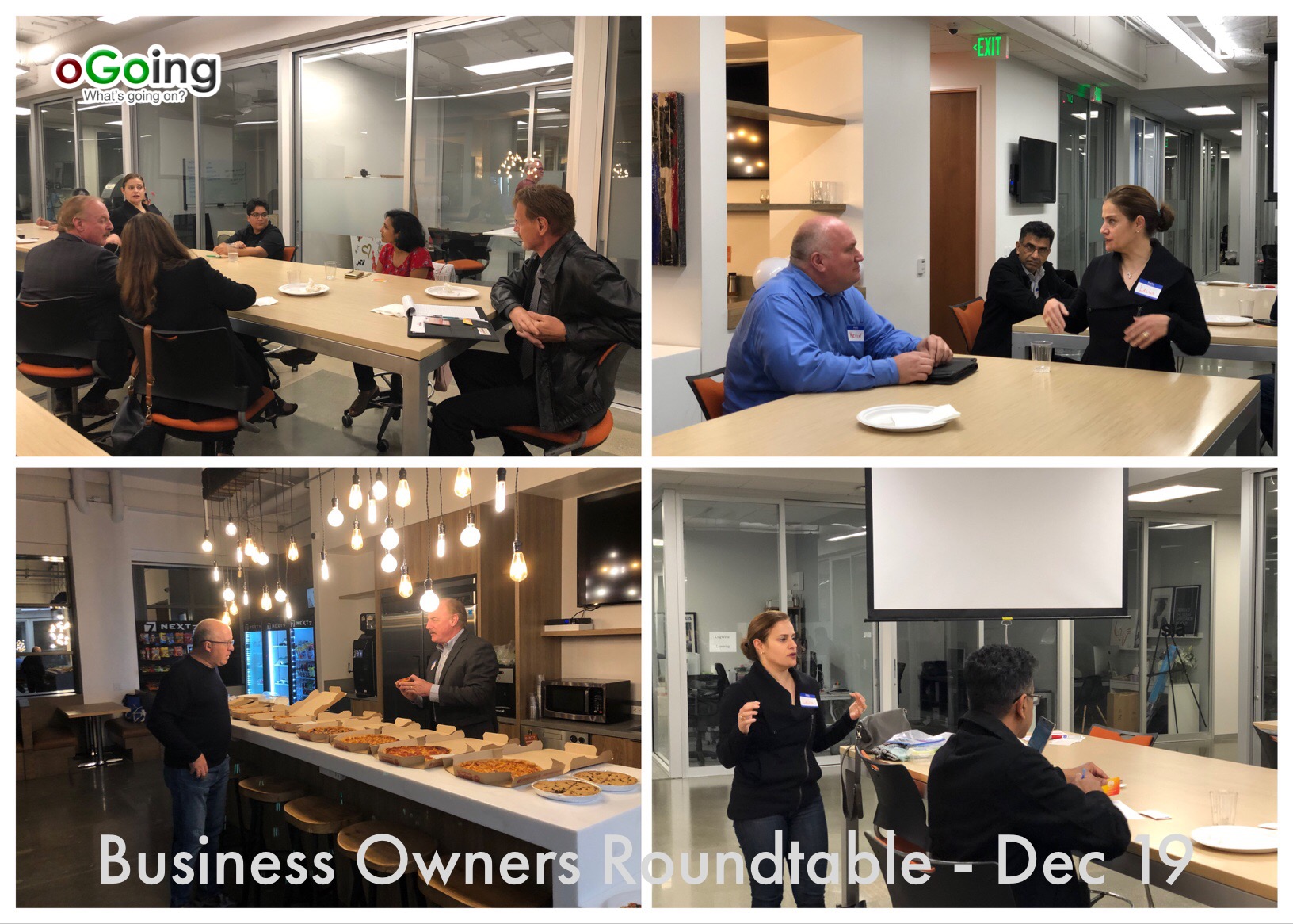 We will also share knowhow on oGoing business community to promote your products and services, connect with prospective clients and boost your SEO.
Come prepared to network, share and learn (and have a good time)!

Detailed Business Owners Roundtable Schedule
6:00 to 6:40 pm - Business Networking, Pizza and Coke (and Breadsticks too ;-) )
6:40 pm to 7:00 pm - One-minute Stories by Business Owners
7:00 to 8:00 pm - The Roundtable Main Topic
8:00 to 8:30 pm - Networking and Close


Thank You Next7 for your hospitality!
We look forward to seeing you at our Third Business Owners Roundtable of 2019.