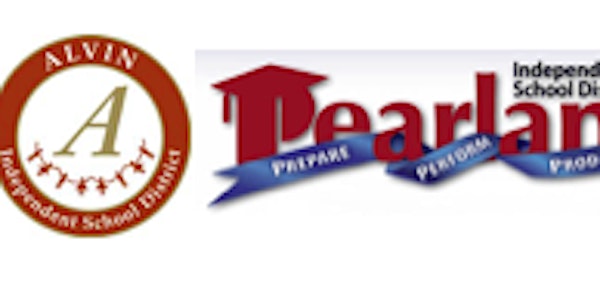 Alvin ISD SEPAC, and Pearland ISD Autism & Other Developmental Disabilities 4th Annual Conference and Resource Fair
When and where
Location
Manvel Junior High School 7302 McCoy Road Manvel, TX 77578
Description
Saturday, April 16th, 2016
8am - 1:00pm
Alvin ISD Special Education Parent Advisory Committee and Pearland ISD presents the 4th Annual Autism & Other Developmental Disabilities Conference and Resource Fair
"Bridging the Gap Between Home and School"

Morning keynote session featuring James Williams, National Director of the Independent Living Experience. Relationships form in the most-interesting ways and they don't always make sense, but having Autism makes them even more of a puzzle. Join James and Chrissy as they discuss how their lives and experiences brought them together. They will discuss how their relationship and daily lives are challenged, yet strengthened by James' diagnosis of Autism. In addition, they will present tips and resources for teaching relationship social skills to high-functioning individuals with disabilities. Lastly, this session will further prove, that no matter what, no disability is stronger than love.
You have your choice of 3 breakout sessions presented by area experts and educators addressing behavior, special education, sensory needs, transition plus many more.
3 Sessions provided in Spanish

Limited childcare provided for children with disabilities only and children MUST be registered with Beyond Family at dondra.stang@beyondfamily.org. Once registered with Beyond Family, parents will receive a confirmation. If you do not receive a confirmation, then your child's registration is not complete. Parents will not be able to register for childcare on the day of the conference.

Several vendors will have infomation as well as items available for purchase

Light breakfast, coffee and water provided

Concessions for sale. Cash only please
Conference is free and open to the public and will be held at Manvel Junior High School located at 7302 McCoy Road, Manvel, TX. (Behind Manvel High School)
For more information please contact Jeanna TenBrink at 832-340-3714 or autismalvinpearland@gmail.com or Wanda Pettijohn at 281-245-2451.
Sessions Topics and Descriptions

:
Project SPEAK…Presented by Jeanna TenBrink, Project Coordinator and Ricky Broussard, Peer Mentor, Imagine Enterprises, and Santa Fe ISD Project SPEAKers..Project SPEAK (Sharing Personal Experiences and Knowledge) is a project of Imagine Enterprises funded by a grant from the Texas Council on Developmental Disabilities. Project SPEAK is a training program for people with developmental disabilities who want to become public speakers. This training teaches people with disabilities to self-advocate which is an essential skill. Learn about how Project SPEAK interfaces with young people with disabilities, builds their self- confidence and teaches them concrete strategies for effective public speaking. You will hear from several of the Santa Fe Project SPEAKers about what is important to them.
Transition Matters: Meeting the Post-Secondary Employment and Education Needs of Students with Disabilities...Presented by James Williams, National Director of the Independent Living Experience...The attendees will leave the session with practical, research-based strategies, tools, and resources which they can use to support students with disabilities and their post-secondary employment and educational needs. This new presentation will discuss the post-secondary employment and education needs of students with disabilities through the unique perspective of an Educational Leader and Certified Rehabilitation Counselor diagnosed with Asperger's Syndrome. The presenter will discuss his life experiences and the impact they have had on his decision to become an educational leader and transition professional. He will also discuss a variety of strategies and resources that administrators, counselors, and educators can use to prepare individuals with disabilities for the challenges of post-secondary education, employment, and independent living. The participants will also be provided with information about various post-secondary employment and educational programs within the state of Texas.
The Other Parent: A Father's Perspective…Presented by Randy Stang; Fathers Being Raised by Their Children with Autism…Learn the importance the role of the father is in the upbringing of children with disabilities. Learn tips on how to best support the family unit and share personal stories.
Teens and Young Adults with Social Skills Deficits – Current research & the PEERS® Program..Presented by Amy Walker, Vocational Adjustment Coordinator Alvin ISD and Jennifer Soley, PEERS Program...Helping parents and providers understand that teens/young adults diagnosed with autism, ADHD, depression, anxiety and other socioemotional impairments need to be taught ecologically valid social skills. In addition, they need to understand the rules of social interactions by learning the basic "do's and don'ts" coupled with the reasoning behind these rules. PEERS®teaches social skills using concrete steps and questioning which stimulates critical thinking. This session will give an overview of the PEERS® program, what makes it different from other social skills interventions, and how parents can reinforce skills to support their teen/young adult in making and keeping friends.
Protection and Preservation for Children with Disabilities…Presented by Kim Hegwood, Attorney, Hegwood & Associates....Come and learn how to plan for the future care of your child with a disability, with experience and compassion.
Successful Advocacy...Presented by Karen Mayer Cunningham, Restoration and Advocacy...Be fully ready for this school year with a new look at your child's IEP paperwork. Seasoned special education advocate, Karen Mayer Cunningham, will help you with time tested tips, ideas, tools and communications that will provide a successful school year for your student.
Behavior! Behavior! Behavior!...Presented by Clifford Castille, Behavior Specialist, Pearland ISD All behavior is communicative in nature. Learn how to identify the function behind interfering behavior and how to adjust the environment to maximize behavioral success.
Behavior and Sensory Processing Deficits...Presented by Nancy Kling, Behavior Plus, Consultant Maladaptive behavior is generally linked to issues with communication as well as sensory processing issues. Learn about the function behind maladaptive behavior and how to alter the environment to help shape behavior in children with autism and other neurological disorders.
Effective Inclusion Practices…Presented by Edith Fitzgerald, Special Programs Specialist, Pearland ISD...Inclusive practices are beneficial for all children. Attend this session to learn what effective inclusive practices look like and how to increase opportunities for inclusion both within the school and the community environments.
Improving Social Skills for High Functioning Students with Autism…presented by Tracy James, BCBA and ASD Teacher, Alvin ISD Learn strategies for teaching children appropriate social skills at all developmental levels (early childhood to teenagers). Walk away with concrete recommendations for improving social behavior.
Understanding Modifications and Accommodations – making it Meaningful…presented by Heather Monaghan, Special Education Curriculum Specialist, Alvin ISD What is the difference between an accommodation and a modification? And how do I know what my child needs in the classroom? This session will facilitate a discussion about data-driven decision making and meeting the needs of your child.
Community Support and Service Coordination…Presented by Pamela Washington, The Gulf Coast Center...Learn about resources available for individuals with Intellectual and developmental disabilities (IDD) and autism. Services include crisis respite and stabilization, community support, service coordination and respite. The Gulf Coast Center is Brazoria County's Local Authority (previously MHMRA) for the Department of Aging and Disability Services (DADS).
Medicaid Waivers and Consumer Directed Services…presented by Shari Prouhet, Imagine Enterprises...Tips and Information about Texas Medicaid Waiver Programs: Medicaid waivers are available to qualifying individuals with disabilities in Texas. Navigating the complex system to get on the interest lists, maintain your place on the list, and what supports each waiver list can offer to foster self determination and independence is a challenge. This presentation will provide practical and useful information on WHY to take advantages of waivers, how to begin the process and what each waiver supports to determine the best path for the individual with disabilities and their family/ support system. Ms. Prouhet is a parent of a special needs adult daughter using the waiver system and has over 34 years experience as a Special Education Teacher. She is a CDS support advisor with Imagine Enterprises, Certified Autism Specialist and Behavior Coach/Classroom support coach with Behavior Plus.

Self-Care and the Special Needs Family...Presented by Dr. Kelley Williams, PsyD, LP, Krist Samaritan Center...A child's diagnosis of Autism impacts the entire family as priorities shift, finances are stretched, and roles and responsibilities are thinned. Frequently, professionals and family members alike focus primarily on the child's special needs, and the family system is overlooked. Help increase the quality of life of your Special Needs Family by attending a workshop that is focused on YOU. Learn the warning signs of parental burnout, how to safeguard against burnout, and why taking care of yourself is anything but selfish. Improved quality of life for both the individual with Autism and the entire family is possible.
Sessions in Spanish:
Intervenciones Positivas de la Conducta
Este taller ayudará a las familias a entender el propósito de las evaluaciones de comportamiento e intervenciones positivas
enfocadas en las conductas que sirven un propósito específico para el estudiante. Se discutirán: el uso de las consecuencias
positivas versus los castigos para cambiar de comportamiento, y lo que establece IDEA 2004 con respecto a las
intervenciones positivas de la conducta.


Crianza Creativa
Este taller destaca algunos de los retos únicos que enfrentan los padres de niños con discapacidades y les guía a estos a
considerar algunas técnicas de crianza creativa. A los padres se les ofrece la oportunidad de considerar su situación personal,
compartirla con otros, y escuchar ideas creativas de otros padres.


Hermanos de niños con necesidades especiales
Es importante para los padres entender los retos únicos y beneficios para los hermanos de niños con necesidades especiales.
Este taller explorará esos retos y beneficios y proveerá ideas sobre cómo ayudar a los hermanos a expresar lo que sienten,
sus miedos y necesidades. ¡El objetivo es la unidad familiar!