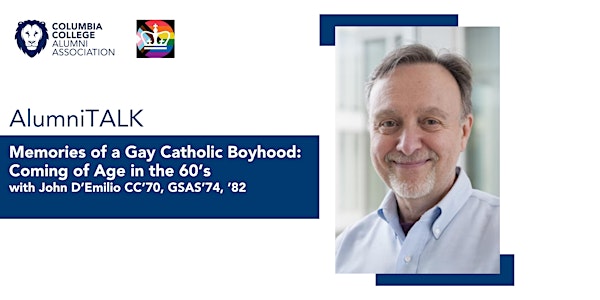 AlumniTALK: "Memories of a Gay Catholic Boyhood" with John D'Emilio CC'70
AlumniTALK: Memories of a Gay Catholic Boyhood: Coming of Age in the Sixties with John D'Emilio CC'70
About this event
In this exclusive AlumniTALK in honor of LGBTQ+ History Month and in partnership with Columbia Pride, a pioneering writer of LGBTQ history, John D'Emilio CC'70, GSAS'74, '82 describes his formative years coming of age in the 1950s and 1960s. Columbia's first LGBTQ group was formed during these years, and the Stonewall Uprising and the birth of gay liberation occurred as well. John will discuss his memoir that highlights the sharp contrast between the decade of the 1960s and the present.
How did a boy raised in a politically conservative family become a conscientious objector and anti war activist in the 1960s? How does a boy raised in a family in which almost no one ever reads books become a politically engaged scholar whose work will be cited by the Supreme Court? And how does a boy raised in a Catholic family where the word divorce was never spoken discover and explore the hidden gay underworld of NY before Stonewall? D'Emilio, who was a student at Columbia during the tumultuous late 1960s, will discuss his coming-of-age memoir and the events of these years in this talk.
Opening remarks by Carlos V. Cruz CC'88, President of Columbia Pride.
Purchase Memories of a Gay Catholic Boyhood: Coming of Age in the Sixties for 30% using discount code E22DEMIL at checkout here.
Please Note: This event will be virtual. A link to the recording will be emailed to all registrants a few days after the event.
About John D'Emilio CC'70, GSAS'74, '82
A graduate of Columbia in 1970 and a recipient of a Ph.D. from its History Department in 1982, John D'Emilio is Emeritus Professor of History and Gender and Women's Studies at the University of Illinois, Chicago, and the author of many books, including The World Turned: Essays on Gay History, Politics, and Culture, also published by Duke University Press; Lost Prophet: The Life and Times of Bayard Rustin; Sexual Politics, Sexual Communities: The Making of a Homosexual Minority in the United States, 1940–1970; and Queer Legacies: Stories from Chicago's LGBTQ Archives. He is a Guggenheim Fellow and a National Endowment of the Humanities Fellow, and he was a finalist for the National Book Award for Lost Prophet, which won the American Library Association's Stonewall Book Award for nonfiction. D'Emilio was inducted into the Chicago LGBT Hall of Fame in 2005 and was named a Chicagoan of the Year by the Chicago Tribune in 2004. He lives in Chicago.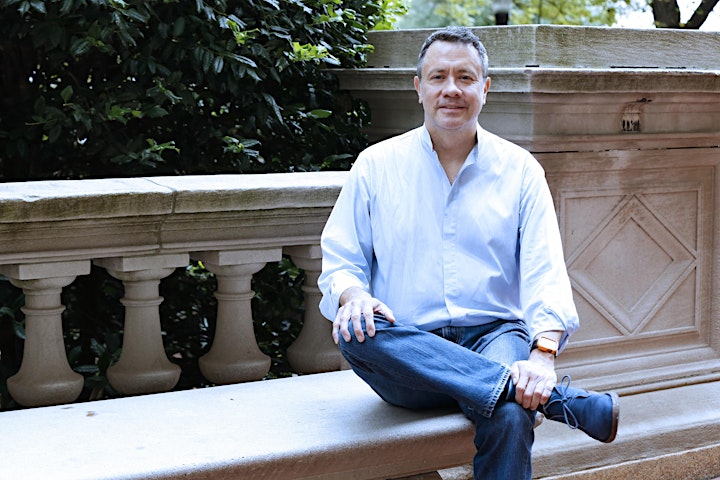 About Carlos Cruz CC'88
Carlos arrived at Columbia from McAllen High School in South Texas. He is the son of grammar-school educated immigrants and spent the first six years of his life in the Marcy Avenue projects in Williamsburg, Brooklyn. He concentrated in economics at Columbia and was way too involved in extracurriculars. After a couple of years as an admissions officer in Undergraduate Admissions, he embarked on his career in supply chain, product development, and merchandising for several large apparel brands and a couple of start-ups where he led initiatives in sustainable product and responsive supply chains. He is currently consulting and volunteers for Alma Mater as Columbia Pride President and VP of Planned Giving for the Columbia College Fund.