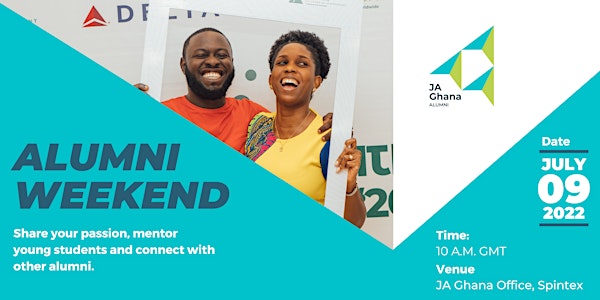 Location
JA Africa & JA Ghana
Spintex Road
Accra, Greater Accra 00233
Ghana
Join the first edition of JA Ghana's Alumni Weekend. Come share your passion, mentor young students, and connect with other alumni.
About this event
Dear JA Ghana Alumni!
Are you passionate about something? And do you want the world to know about it? 📢 Or are you up for learning about other people's passions? 💡 There is a first edition of the JA Alumni Weekend, our new in-person event, coming your way! 💚
At the JA Alumni Show & Tell you can look forward to:
Inspiring presentations about JA Alumni's passions
Fun break activities
Networking opportunities
and more!
You can come along for just a one or two presentations or stay for the event.
We entreat you to sign up now!
And then, grab yourself your favorite drink and enjoy the Saturday morning full of fun and networking with your Alumni friends 💚🙋‍♀️🍻
❔ Any question? Don't hesitate to contact our Events Coordinators, by sending an email to jaghanaalumni@gmail.com