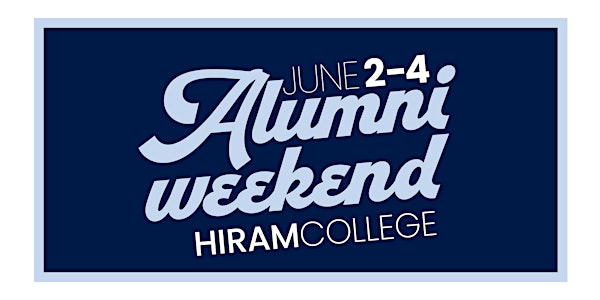 Alumni Weekend 2023
To see who's attending visit: https://www.hiram.edu/events/see-whos-attending/ Online registration closes on Thursday, June 1 at 8 p.m.
Date and time
June 2 · 12pm - June 4 · 12pm EDT
Location
Hiram College 11715 Garfield Road Hiram, OH 44234
Refund Policy
Contact the organizer to request a refund.
Eventbrite's fee is nonrefundable.
Agenda
Friday, June 2
Saturday, June 3
Sunday, June 4
9:00 AM - 9:00 PM
Registration, Kennedy Center Lobby
---
Your first stop when you arrive on campus! You will check in and receive your name badge, room key, and other information for your visit.
11:00 AM - 1:00 PM
Lunch, Dining Hall
---
Enjoy a variety of food options, along with an old-time favorite, bread and soup! $15
12:00 PM - 4:00 PM
Welcome Reception, Kennedy Center Lawn
---
Enjoy music and lawn games, or just kick back and relax with your friends. Beverages will be available starting at noon in the Kennedy Center lobby.
1:00 PM - 3:00 PM
Wine Tasting, Booth Centennial Lawn
---
Enjoy a variety of wine guided by Hiram's very own, Rikki (Antoniotti) Wathey '91, from Nauti Vine Winery. Cheese and crackers will be provided as well. $20
3:00 PM - 5:00 PM
50th Reunion Reception, Dix Dining, Kennedy Center 2nd Floor
---
Enjoy reminiscing with classmates over appetizers, drinks, and memorabilia from your Hiram days. There will also be a brief update from campus leadership, along with a toast to the class of 1973!
5:30 PM - 7:30 PM
Dinner, Hinsdale Arch
---
Enjoy a variety of food options provided by AVI Foodsystems. $20
5:30 PM - 8:30 PM
Live Music, Hinsdale Arch
---
Live acoustic/electric music by In-A-Jam band, featuring Hiram's own, Rolf Remlinger '85.
9:00 PM - 11:00 PM
Campfires: Townhouses, East, Booth Centennial, and Henry
---
Kick back and enjoy some smore's at one of our several campfires throughout campus. There will be a bar available in East Hall during this time, should you need any refreshments.
About this event
Alumni Weekend 2023
June 2 - 4, 2023
ONLINE REGISTRATION CLOSES AT 8 P.M., JUNE 1
*Please call us after 9 a.m., June 2, to register!
330.569.5415
We are excited to welcome you back to campus to celebrate all things Hiram.
To see who is attending, visit https://www.hiram.edu/events/see-whos-attending/
Whether you're spending the weekend with us, or just visiting for the day, please read the schedule below to help you plan your stay. You can register by clicking "get tickets" or by phone at 330.569.5415.
Our All Access Passes range from $200 - $400 per person. The base package, $200 per person, includes access to all weekend activities and meals. The second package, $300 per person, includes access to all weekend activities, meals, and overnight residence hall accommodations for Friday and Saturday. The final package, $400 per person, includes access to all weekend activities, meals, and overnight accommodations in the townhouses.
If you are not interested in purchasing an all access pass, please select your individual tickets for the weekend. Please note that not all sessions are listed as tickets, just the ones that have costs associated with them.
Classes of 1973 and those who have already celebrated their 50th, we recommend you choose housing in East Hall. There are options from 6 - 8 person suites with a common area in each suite. This is one of the most accessible and centrally located residence halls that also has air conditioning!
Linens are included in all rooms. This includes sheets, a thin blanket, pillow, towel, and washcloth.
Golf Carts will be available from 8 a.m. until 11 p.m. Friday and Saturday, and from 8 a.m. until noon on Sunday. There will be several signs posted throughout campus that will be pick-up stations.
Returning this year... open swim hours! The pool will be open on Saturday and Sunday morning from 8 - 10 a.m. as well as during the day on Saturday from 9 a.m. - 4 p.m.
Please note: Children 12 and under are free, please email alumnirel@hiram.edu with a list of meals they will be attending.
If you are looking for Day with Hiram information, please visit the event page here: https://www.hiram.edu/events/dwh2023/ Please note that Day with Hiram has moved to Saturday, May 20th at The Tanglewood Club.