Description
THIS EVENT IS FOR BADGED DEVMOUNTAIN ALUMNI / ALUMNI WITH INDUSTRY EXPERIENCE ONLY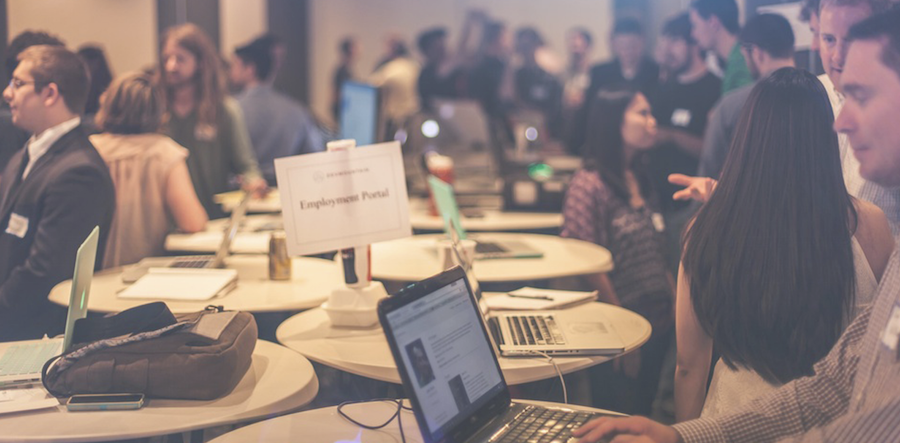 All attendees will get access to catered food as part of their attendance.
First:
Employers will be set up at tables and the students will walk around to meet them.
Second:
This event will be at Noah's Event Venue in South Jordan, Utah.
Third:
We will only hold this event three times a year and will be inviting Badged Full-Time Alumni or Alumni with work experience to participate.
What about Part-Time Grads?
DevMountain has set up a badging system to ensure that our full-time students have met the minimum standard of skills in order to be job ready. This badging system is open to all part-time students as well as any part-time grad that finishes the badging process can attend these hiring events.
For more infomation on badging email Sarah Burgoyne - sarah.burgoyne@devmountain.com
Example Badge: https://www.youracclaim.com/badges/edef312e-5e6d-4075-b405-cbd122ab20af/linked_in_profile
I'm not looking for a job but I'd like to come representing my company. How do I do that?
You can sign up your company here:
https://www.eventbrite.com/e/devmountain-meet-and-hire-event-march-26-2019-tickets-56201593479
If you have any questions feel free to reach out to:
WEB: Sarah Burgoyne - sarah.burgoyne@devmountain.com
IOS, QA, UX or WEBSLC: Jordan Isbell - jordan@devmountain.com