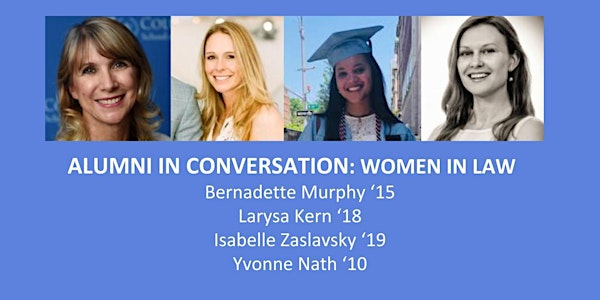 Alumni in Conversation: Women in Law
Enjoy an interactive and engaging conversation with GS alumnae about the various careers and paths to take within the legal field.
By Columbia University School of General Studies
Date and time
Monday, July 6, 2020 · 3 - 4pm PDT
About this event
Columbia's School of General Studies is pleased to offer a new way to connect with alumni working across diverse fields. Each month, join us for conversation and Q&A that provides an inside look at alumni careers and paths after Columbia.
On July 6, hear from four GS alumnae with all different careers in the legal field - Yvonne Nath '10, Bernadette Murphy '15, Larysa Kern '19, and Isabelle Zaslavsky '19.
Zoom link: https://columbiauniversity.zoom.us/j/99112523066?pwd=OGl4RkVwQUEybndmSytXUGlSVlpnUT09    
This event is open to all Columbia University students and alumni.
Bios:
Bernadette Murphy '15GS
Bernadette Murphy is a Director at Vigilant Compliance. Prior to joining Vigilant Compliance in 2018, Bernadette was the Chief Compliance Officer for Dialectic Capital Management and was later named Director of Compliance and Operations for B. Riley Capital Management after its acquisition of the Dialectic funds in 2017. Bernadette's experience includes Hedge Funds, Private Equity Funds, Real Estate Funds, Mutual Funds, and Distressed Lending Funds. Prior to her time at Dialectic, Bernadette worked for Marsh and McLennan Companies and Sony Music Entertainment.
In her role at Vigilant, Bernadette develops, tests, and monitors Compliance Programs for Investment Advisers, Registered Investment Companies, ETFs, Closed and Open-End Mutual Funds, Real Estate Funds, Hedge Funds, and Private Equity Funds. She is responsible for conducting compliance reviews of Advisers, Service Providers, 38a-1 Compliance Program Reviews, and 206(4)-7 Annual Compliance Reviews of Registered Investment Advisers.
Bernadette is a six-year veteran of the United States Navy where she specialized in meteorology and oceanography. She graduated cum laude with a Bachelor of Arts degree from Columbia University and she graduated cum laude from Fordham University School of Law with a Master of Studies in Law in Corporate Compliance. She serves as co-chair of the Annual Fund Committee on the General Studies Alumni Association Board.
Isabelle Zaslavsky '19GS
Isabelle graduated from the Dual BA Program between Sciences Po and Columbia in May 2019. At Columbia, Isabelle majored in Political Science with a concentration in Human Rights. Along with majoring in Law at Sciences Po and taking several law-related classes at Columbia, she dedicated most of her time outside of school to extra-curricular activities and internships relating to the legal field, focusing specifically on how the law can offer protections to the most vulnerable populations in this country.
Since graduating, Isabelle has been working as a Litigation Paralegal at Paul, Weiss LLP. Her prior work experiences include interning at the Legal Aid Society's Criminal Appeals Bureau, for the Pro Bono Department of Sullivan & Cromwell LLP, and at the Consumer Frauds and Protections Bureau of the NYS Attorney General's Office, among others. She plans on applying to law school in the Fall.
Larysa Kern '19GS
Larysa Kern graduated Magna Cum Laude with her Bachelor of Arts in Political Science in February of 2019. Prior to studying at Columbia, Larysa was a professional equestrian, traveling and competing across the United States, Mexico, Canada, and the Netherlands. During her time at the School of General Studies, Larysa kept busy by working for an equestrian software company, doing invoicing for a California stable, working at the Office of Alumni and Development for the Annual Fund Programs, and volunteering as an Orientation Leader for two semesters. Larysa currently attends Fordham Law School and is spending the summer working as a legal intern for a local law firm, as well as a research assistant for the Securities Litigation and Arbitration Clinic at Fordham Law. Larysa also serves on the Recent Alumni Committee of the General Studies Alumni Association Board.
Yvonne Nath '10
Yvonne Nath is a Consultant within LawVision's strategy team where she practices at the intersection of culture and strategy. She works with law firm leadership in the following areas: law firm mergers and acquisitions, partner compensation system design, succession planning, strategy and contingency planning, new business model design, and cultural improvement. Her team's latest book: Guidance for Law Firm Leaders: The Legal Profession in a COVID-19 World, is now available on Amazon.
Yvonne is very interested in where the business of law is going and the impact of innovative thinking in that direction. For the benefit of the industry, she maintains a related website, Legal Innovation Aggregator, as a central repository for the latest in related thinking for law firm leaders.
Prior to joining the LawVision team, she was the Director of Strategic Operations for an AmLaw 200 law firm and a Legal Project Manager for another AmLaw 200 law firm. She has a master's degree in law firm management and is accredited in organizational culture.