Alumni Community Weekend & Five Year Anniversary Party!

Friday, August 23, 2013 at 9:30 AM

-

Sunday, August 25, 2013 at 11:30 PM (PDT)
Event Details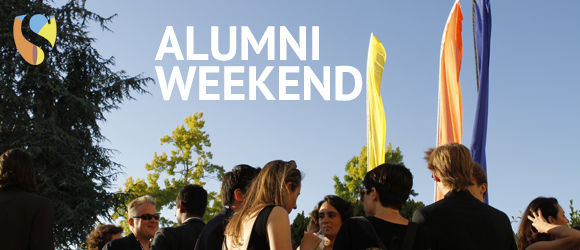 "NIGHT OF IMPACT"
SINGULARITY UNIVERSITY'S FIFTH ANNIVERSARY CELEBRATION
"NIGHT OF IMPACT" TO FEATURE TECHNOLOGY DEMOS & LAUNCH OF GLOBAL GRAND CHALLENGE IMPACT AWARD
What: Fifth Anniversary Celebration
Where: Mountain View Computer History Museum
When: August 24, 2013 (Pacific Time)

· 4:00-5:00 PM: Innovation Showcase-GSP13 Team Projects
· 5:00 -8:00 PM: Presentations & Keynotes
· 8:00 - 9:00 PM: 2013 GSP Innovation Showcase
· 9:00 PM: Dinner & Presentation of First Global Grand Challenge Award

The evening program will include a keynote by Founder, Dr. Peter H. Diamandis, presentations and a showcase of Team Projects - exponential technology demonstrations from the 2013 Graduate Studies Program (GSP13) Class.

Additionally, SU will launch the first annual Global Grand Challenge Impact Award to honor the person or team who has most significantly contributed to solving Humanity's Greatest Challenges through the use of exponential technologies. The goal of the award is to inspire youth, technologists, entrepreneurs and investors to support the vision of Singularity University – to improve the lives of a billion people within a decade. Nominees and the winner of the first Global Grand Challenge Impact Award will be announced on the evening of August 24.

Singularity University was established five years ago by Dr. Peter H. Diamandis, Founder and Chairman of the X PRIZE Foundation, and Ray Kurzweil, Director of Engineering at Google and acclaimed futurist, author and inventor, as a new type of post-graduate and executive education - one without grades, degrees or accredited curriculum. Instead, SU offers a unique interdisciplinary, international and intercultural experience that educates and challenges its participants to use transformative, exponential technologies to address humanity's greatest challenges.

Since 2009, SU has hosted more than 2,000 participants from over 80 countries and now includes an incubator of 22 startup companies, called SU Labs – many transitioning from GSP Team Projects. In addition to the summer GSP program, SU offers Executive Programs and other customized programs throughout the year, including the well acclaimed FutureMed and Summit on the Future of Exponential Technologies. SU programs are led by a world-class faculty of innovative and successful experts in the fields of AI & Robotics, Medicine & Neuroscience, Biotechnology and Bioinformatics, Nanotechnology, Energy & Environment and Design.

2013 Graduate Studies Program (GSP) 10⁹+ Team Projects
The August 24 event will include a showcase of technologies from the GSP class of 2013 – 80 participants from 36 countries. Each summer, SU brings together a diverse group of the most talented experts in science, technology, business, academics with the top graduate and post-graduate level innovators, researchers, and entrepreneurs for an intense 10-week experience that culminates with GSP Team Projects aimed at using rapidly advancing technologies to create solutions for Humanity's Grand Challenges: energy, water, food, poverty, security, medicine and healthcare and exploration.

GSP13 Team Projects to be on display at the Computer History Museum during the August 24 event include:

· Portable Rapid Detection Test for Malaria
· Rechargeable drones for Agricultural monitoring
· Low cost detection of cancer using microRNA detection
· Low-cost, rapid DNA Stitching
· New platform for Online Education
· Using DVD technology for portable low-cost blood tests
· Organic Silicon from rice husks
· Innovation Lab on wheels
· Real Meat production from DNA
Dates: August 23 - August 25, 2013
Location and Venue
Building 1583C, NASA Research Park, Moffett Field
Computer History Museum, Mountain View
Pricing for SU Alumni and Community
Early Bird until July 31st: Weekend attendance fee of $299
After July 31st: Weekend attendance fee of $350
*NB: These attendance fees do not cover the costs of the weekend.  Please consider sponsoring another Alumnus for whom these fees may be prohibitive, or making a contribution to the Singularity University Student Scholarship Fund.  Please email us:
alumnireunion

@singularityu.org
Weekend Highlights:
Reunite with your SU classmates
Meet Alumni from all of SU's programs including GSP's, EP's, FutureMed, and industry specific programming
Exponential Updates and Breakthroughts from SU Core Faculty
New Alumni Network Reveal
Overviews of SU's Exponential Growth via Global Challenge Competitions and Programs, SU Incubator Companies, SU Labs, and the SynBio LaunchPad
Lightning Talks from your fellow Alumni
Networking events and Mentorship Matching Sessions
FAQ's
 Do I need to pay the whole Alumni Weekend registration fee if I am only coming to the reunion for 1 or 2 days?
Yes.  The Alumni Weekend Registration fee does not cover the costs involved for the dedicated venue, food, social activities, and program administration for the weekend.  This is a minimum contribution we are asking from all participating alumni.
Contact
 alumnireunion@singularityu.org
Site
http://singularityu.org/2013/01/17/alumni-community-weekend-five-year-anniversary-party/
When & Where

Multiple Venues: Singularity University & Computer History Museum
1401 North Shoreline Boulevard
Mountain View, CA 94043


Friday, August 23, 2013 at 9:30 AM

-

Sunday, August 25, 2013 at 11:30 PM (PDT)
Add to my calendar
Organizer
Singularity University (SU) is a benefit corporation headquartered at NASA Research Park in Silicon Valley. SU provides educational programs, innovative partnerships and startup accelerator through SU Labs, with the goal of impacting more than a billion people worldwide.
From its inception in 2008, SU has empowered individuals from more than 90 countries to apply exponentially growing technologies—artificial intelligence & robotics, biotechnology, nanotechnology & digital fabrication, networks & computing systems and medicine & neuroscience—to address humanity's grand challenges: education, energy, environment, food, global health, prosperity, disasters, governance, security, space and water. To learn more, visit www.singularityu.org.