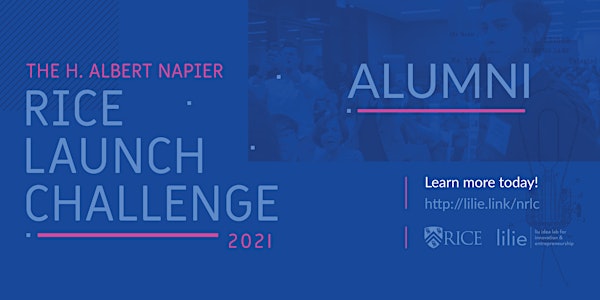 ALUMNI 2021 H. Albert Napier Rice Launch Challenge - Startup Competition
Rice's entrepreneurship competition is back! Support alumni startups in our annual pitch challenge with a chance to win $$
About this event
Support Rice alumni startups and join us virtually for the H. Albert Napier Rice Launch Challenge Startup Competition. Rice-affiliated teams are competing for cash prizes.
Watch pitches and vote for your favorite idea! Attendance is open to the Rice community and the entrepreneurial ecosystem. Learn more at https://lilie.link/nrlc
MEET THE TEAMS
10NetZero - Zero Waste, Net Zero Emissions - helping today's oil and gas companies monetize wasted resources and reach their Net Zero Emissions targets.
CaseCTRL - Driving more surgical revenue and building rewarding relationships with every surgical patient through their AI-driven collaborative coordination platform for surgeons and teams.
Gethr - Bridging the gap between artists and streamers by distributing, promoting, and optimizing music for social media influencers through their AI automated platform.
JobSage.com - Focusing on what matters most to today's diverse workforce - inclusion, growth, purpose, feedback, flexibility, and compensation - with their employer review site.
Koda Health - Helping patients navigate and document the care they actually want by digitizing and democratizing the process of proactive healthcare planning.
Milkify - Freeze-drying breast milk to enable moms to store and transport their own milk as a safe and convenient powder that lasts for 3 years without refrigeration.
Pronto Pay - Enabling a fair and honest way to access wages on-demand and eliminating the need for predatory and usurious lending practices with their software.
Starling Medical - Enabling individuals with neurogenic bladder dysfunction to pee safely and conveniently again with novel tech, AI-enabled urinary prosthesis, and connected telehealth portal.
THANK YOU TO OUR SPONSORS AND SUPPORTERS
The Napier Family
Liu Family Foundation
BROUGHT TO YOU BY
Liu Idea Lab for Innovation & Entrepreneurship (Lilie)
Rice Alumni | Entrepreneurs & Innovators
Students, alumni, and friends of Rice are all welcome to come out and watch our finalists! After registering via Eventbrite, we will follow up closer to the date with the Zoom details to join. We look forward to seeing you there!