Actions and Detail Panel
Alts for RIAs 2017: Private Real Estate Investments, Due Diligence Seminar
Fri, April 28, 2017, 8:00 AM – 1:30 PM PDT
Description
Alts for RIAs 2017
Alts for RIAs is a half-day seminar for financial advisors seeking expertise on alternative investment due diligence. Improve client outcomes, make valuable connections and share best practices. Join us as we gather RIA leaders to address frequently asked questions when analyzing offerings, conducting due diligence and implementing alternatives.
Private Real Estate Investments
High net worth investors are marketed a bewildering array of private real estate deals, funds and syndications that promise high yields or outsized gains. Investment strategies, risks and legal structures differ markedly within these private deals and non-listed Reg D offers, presenting analysis and due diligence challenges for most advisors.
When clients seek help to understand and evaluate private real estate investments, advisors who are prepared with a map to navigate the alternatives landscape deliver superior value, while enhancing trusted advisor relationships. This seminar will provide advisors with such a map and checklist for use when conducting due diligence and discussing private real estate investments with clients.

Silver Creek Valley Country Club
Why Attend Alts for RIAs?
Enhance investment analysis and due diligence skills by learning from alternatives experts who specialize in working with RIAs.
Network with like-minded peers at advisor round table discussions.
Discover how other advisors incorporate alternative investments into their client conversations and operations.

Meet two fund managers with differentiated strategies and compelling track records who cultivate allocators among fiduciaries only; learn why.

Join our invitation-only networking group. To encourage dialogue and collaboration, this event is limited to 50 RIA leaders.
Detailed Agenda, FAQ, and Speaker Bios below.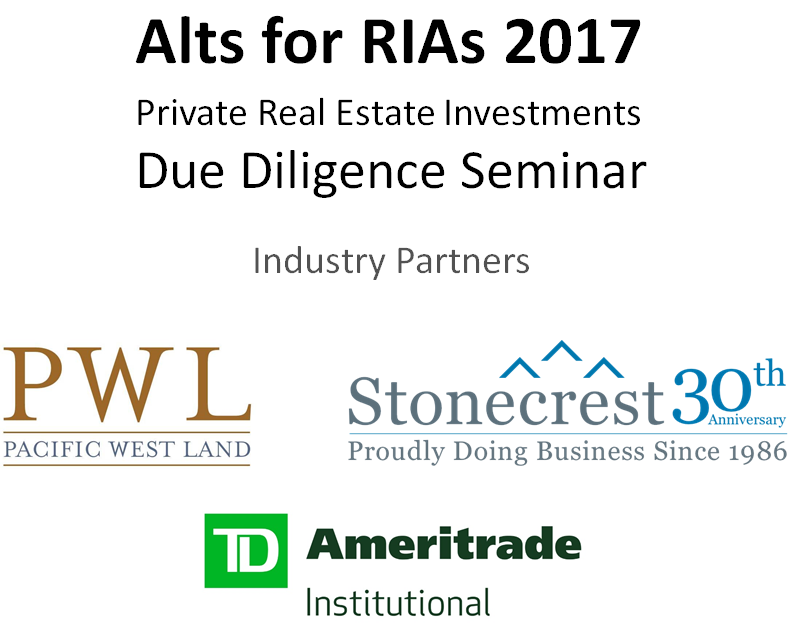 ---
Agenda
Friday, April 28th, 2017
8:00 am - 9:00 am – Registration & Breakfast Networking
9:00 am - 9:15 am – Welcome
9:15 am - 10:15 am – Session One: How to Evaluate Trust Deeds and Other Private Real Estate Debt Investments. Shafiq Taymuree, Chief Investment Officer, Stonecrest.
What are the distinctions among private lending structures available to investors? For example, whole trust deeds and mortgage funds, fractional and hypothecated loans, syndications and crowdfunding platforms?
What are the commonly overlooked factors that can cause 0% recovery rates on poorly structured trust deeds and other commonly marketed real estate debt structures?
How are risks mitigated in private lending?
10:15 am - 11:15 am – Session Two: Understanding and Dissecting Private Real Estate Equity Deal Terms. Martin A. Stever, President, Pacific West Land LLC.
In this new era of the JOBS Act, with bond yields riding generational lows and the stock markets in frothy territory, high net worth investors are frequently marketed private real estate deals, funds, LLCs, and syndications promising high yields and/or high IRRs. Within these many non-listed Reg D offers, fees are often hidden or obscured, with GP participation laid out behind variable, complicated calculations. When an RIA is asked for help by clients seeking to understand, dissect, and judge such opportunities, being forearmed with a list of factors that should be systematically considered will bring huge value to clients, while buffing the RIA's reputation as the go to source of financial advice. This seminar will provide RIAs with such a list.
In this session we will cover the four most important factors that RIAs and their clients should drill down on from within the terms of private real estate deals. We will talk about current trends in deal structures and general suitability considerations for investors. Private real estate deals can be tax advantaged, offer superior returns, and act as hedge against inflation, but there's no such thing as a free lunch. This session will give RIAs the tools to help clients figure out how much lunch costs, and if that cost is appropriate.
11:15 am - 12:15 pm – Session Three: Profiting from Distressed Real Estate in All Market Cycles. Fireside chat with Jon Freeman, Founder and President, Stonecrest.
How true are the biggest myths in distressed real estate investing?

Most investors purchase locally. How is distressed investing operated and managed nationally?

Where is the mountain of distressed asset "shadow inventory" that loomed so large before?
When will the next downturn in the cycle happen, and what can be done to prepare?
What is the opportunity today in distressed properties and non-performing notes?
12:15 pm - 12:30 pm – Alts for RIAs Wrap Up
12:30 pm - 1:30 pm – Networking Luncheon
Application in process for CFP Board Continuing Education credit hours on alternatives investing for Certified Financial Planner™ professionals.

---
Speaker and Moderator Bios

Speaker and company details:
Michael Jones, VP Insitutional Sales Pacific Northwest, TD Ameritrade Institutional
Shafiq Taymuree, Chief Investment Officer, Stonecrest
Kara Paik, RIA Investment Consultant, Stonecrest and Organizer, Alts for RIAs
Martin A. Stever, President, Pacific West Land
Jon Freeman, Founder and President, Stonecrest
---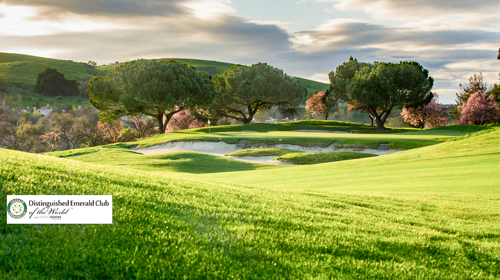 Silver Creek Valley Country Club
Complimentary Admission
Are you a member of CAIA, CFA, FPA, NAPFA, a Certified Financial Planner™ professional, a client of TD Ameritrade, Pacific West Land, or Stonecrest? If so, please register using the COMPLIMENTARY ticket to receive FREE admission to Alts for RIAs 2017.
---
FAQs
Who should attend?
Financial advisors, wealth managers, family offices and other asset allocators.
Do I qualify for free registration?
Financial advisors who are members of CAIA, CFA, FPA, NAPFA, Certified Financial Planner™ professionals, and clients of Pacific West Land and Stonecrest are eligible for Complimentary Admission tickets when registering.
What time does the event start?
Morning networking starts at 8:00 am. The first speaker begins promptly at 9:00 am.
Where can I park?
Complimentary parking at Silver Creek Valley Country Club is provided by Alts for RIAs.

Is there a hotel on site?
Silver Creek Valley Country Club's facilities do not include hotel guest rooms. Please contact the organizer for suggested hotels nearby.
Where can I contact the organizer with any questions?
Is my registration transferable?
If you are unable to make it after registering, please contact the organizer at least three days in advance of the event. We'll see what we can do.
What is the refund policy?
All ticket sales are final. We hope you can join us!