ALTER|SWAG II : An Alternative Live Music Event Part Deux

Sunday, May 3, 2015 from 8:00 PM to 11:30 PM (EDT)
Event Details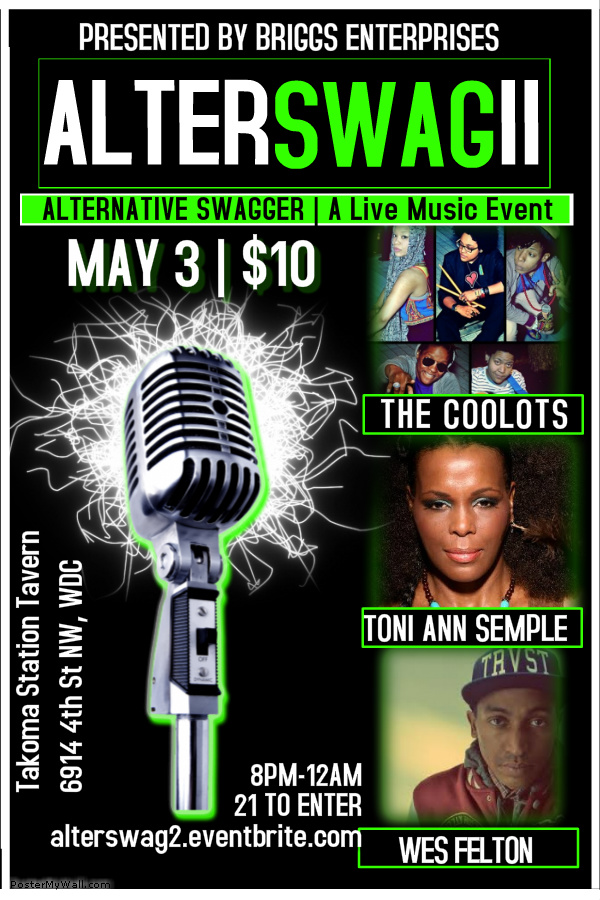 Sunday May 3rd 2015 
8:00pm | $10 Cover
Takoma Station Tavern 
6914 4th St NW 
ALTER | SWAG | 2 
An Alternative Live Music Event 
Featuring the music of 
Toni Ann Semple
Wes Felton 
The COOLOTS
Remember The Forgotten 
D. Jones 
And  
A Special Project Release
LIVE PERFORMANCE 
from SE3 Summer Madness Mixtape 
(Tamika Love Jones, Dev Duff, Yung Cal, TayLo, VeVe & Tha Rebels)
About Toni Ann Semple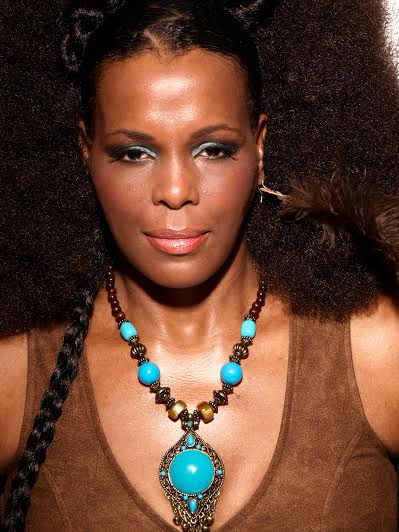 Toni Ann Semple is an electrifying singer, dynamic songwriter , a consummate professional and a composer who has successfully married contemporary  world music with  her  Native American rhythms and musical instrumentation to create such commercial songs like "I DON'T WANNA TALK ABOUT IT", "FOR ME", "SUMMER BREEZE" AND "SIT BACK AND RELAX" that not only is playing in rotation in the United States on such radio stations as 98.7 Kiss FM New York and others, but also in the United Kingdom, Germany and around the world. All this without a record deal.
          Radio Dee Jays worldwide are showing the love and anxiously waiting for the Album to drop so that they can spin their favorites and be taken away to the swaying sounds of a cool breeze and the sultry voice of an angel.
         Toni Ann Semple started composing music, teaching herself how to play many instruments and performing at a very young age. It was the eye and ear of her mother who first noticed the talent and supported her daughters career by purchasing her first guitar. Well it was that very Guitar and Mothers love that ignited the very fire in her that soon moved Toni Ann to teach herself how to play the guitar, piano, trumpet, flute and a host of other  percussion instruments.
        Toni Ann says It's the love of music and the gifts that  the universe send you that has moved this young rising music star to write, arrange  and produce her  own music for years, but it is with all the emotion, beauty, joy, pain and Native American Soul uniquely crafted and supported by her mothers unrelenting persistence. Toni Ann fully embraced her Native American musical roots and artistry as her mother wished after her mothers transition from this world to the spiritual one occurred.
        So when you hear her sing, her voice, her sound, her music you know right away it has real meaning for her and as a listener it is that real emotion, passion, power, tenderness and  true originality  which moves  and evokes sensations through you touching your very soul.
       This young composer is stirring up the pot in the industry for  fresh new original music. She's the real deal, with the ability  to perform and power to sing thirteen songs  straight  during her own showcases while leaving you in a trance. Las Vegas look out...It's the many years in the industry performing with such greats as *Will Downing, *Jazz Pianist Mark Adams* Al B. Sure,* Merlene Ward,* Bassist extraordinaire* Freddie Cash, *Toshi Kankawa,* Ty Stephens,* Tom Barney,* The Random* Schwartz Leslie Ford Connection  to name a few.
About Wes Felton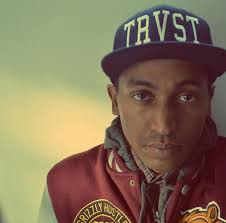 W. Ellington Felton is the son of jazz pianist Hilton Felton, music is in his veins, Its tempting to describe W. Ellington Felton with slashes: Hes a singer/ poet/ actor/emcee. Crowned the future folk-soul hero by Complex Magazine for his vocals on Prince Pauls Politics of the Business album, Ellington is using every weapon in his arsenal to resuscitate soul music. Hes a real talented brother, a Renaissance cat, who paints, writes, does books. Hes one of those Sammy Davis, Jr. types, but on kind of a millennium style, Prince Paul says of W. Ellington Felton, or Dub Ell, as hes known in his native Washington, DC.
Ellington knows that poems often make the best songs. His hip-hop rhapsodies paint vivid images that engage, and sometimes unnerve listeners. There's no element of originality, or surprise, or spontaneity. The only thing I try to consciously do with music...is try to figure out ways to push the buttons. And of course, he writes lots and lots of stories about lovefalling in it, getting over it, and making it work. Rather than the sappy, clich-ridden variety, Ellingtons songs address the complexities of love in real life. On the track Love is Somethin More from his 2002 CD Soul Sonnets he admonishes, Love is somethin more/Than love songs, love poems, and temporary highs. People are taking his music to heart. I get very specific comments in terms of the individual, Ellington says of his fans reactions, which range from you saved my marriage and you helped me get over a divorce.
Having performed on the Lollapalooza tour and at the Apollo Theater as a teenager, Ellington is as comfortable on stage with Mos Def, De La Soul, and Meshell Ndegocello as he was in the smoky, candlelit cafs of his open mic days. He quickly gained a following on Washingtons poetry circuit with his confessional lyrics, quirky pitch, and spontaneous style, also shared the stage with his mentor UK Soul legend Omar.  When hes not making music, Ellington commands the spotlight as a classically trained actor. He studied theater for four years at Carnegie Mellon University.
In 1999, he starred in the critically acclaimed hip-hop play Rhyme Deferred, performed at the Kennedy Center, the National Black Theater Festival, and the Nuyorican Poets Caf. Ellington also graced the silver screen in Breakfast at Bens, part of Spike Lees 2000 and the most recent movie"multitudes of mercie' that aired on BET worldwide Dec 1, 2005 where W.Elllington Felton starred as the lead in the movie( with guest apppearances by Raheem Devaughn & Malcolm-Jamal Warner) that brings AIDS awareness to the youth of today.
He just completed his highly anticipated LP "Postcards From The Edge" featuring guest appearances and production by: Eric Roberson, Yahzarah, Raheem Devaughn, Kev Brown, Nick tha 1da, K'Alyn, and Wajeed of PPP. You can currently hear W.Ellington's comedic writting skills and performance featured on Chris Rock's "Never Scared" LP. Ironically, helped pen and perform a skit called, "Black Poet", making fun of the torture of spoken word....You will hear & see more of W.Ellington Felton overseas as well as the US where tours are being planned for spring 06.
About The CooLots

The CooLots are an original rock/soul band hailing from the Washington, DC area. A melting pot of different styles and talents, The CooLots come together to create feelings never before experienced. These creations embody sincerity, musicality, rock and funk, with influences including: N.E.R.D, Me'Shell N'Degeocello, Sade, Staind, Erykah Badu, Kanye West and System of A Down. You can hear all these influences on The CooLots EP - their debut effort, released January 7th, 2014.
When & Where

Takoma Station Tavern
6914 4th Street Northwest
Washington, DC 20012


Sunday, May 3, 2015 from 8:00 PM to 11:30 PM (EDT)
Add to my calendar
Organizer
Briggs Enterprises
Voted by CBS, as one of the rising producers of quality live music and events, Briggs Enterprises headed by Delonte' Briggs has been instrumental in developing platforms for independent artists around the nation.  These events are always equipped with great food & drinks, quality live music, mature audiences and the best the city has to offer. 
STAY IN TOUCH 
twitter: @mrbriggsmanager @thebriggsreport
facebook: Delonte Briggs
instagram: @thebriggsreport
ALTER|SWAG II : An Alternative Live Music Event Part Deux