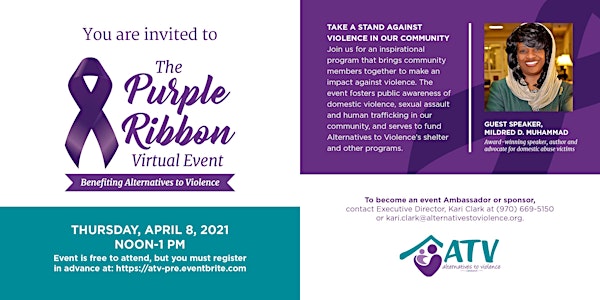 Alternatives to Violence Purple Ribbon Virtual Event
The Alternatives to Violence Purple Ribbon Virtual Event
Refund Policy
Contact the organizer to request a refund.
About this event
Want to make a donation in advance of the event? Click here.
The Purple Ribbon Virtual Event brings philanthropists and business professionals together to take a stand and make an impact against violence, while also serving to fund Alternatives to Violence's shelter and other programs. Although we can't come together in person like we've done in past years, we can still come together virtually to advocate for victims of violence in our community.
The event will by held virtually on APRIL 8, 2021 at 12:00pm Mountain Daylight Time.
Please click on the registration link for free registration and you will be then sent a unique Zoom link to attend on the day and time of the event.
OPTIONAL LUNCH FROM DADDY-O's GREEN ONION
Enjoy The Purple Ribbon Event while enjoying a delicious meal from Daddy O's Green Onion! For only $20 we will have lunch delivered to your door- no hassle, no tip! A popular local favorite, Daddy O's Green Onion is locally owned and located right here in Loveland.You will have a chance to order lunch during registration. Please be sure to add your address and phone number so we can get your lunch delivered between 11am and noon to enjoy during the event.
FEATURED SPEAKER
We are honored to have Mildred D. Muhammad, award-winning speaker, author and advocate for domestic abuse victims as our special guest speaker. Mildred Muhammad is the ex-wife of the D.C. sniper, John A. Muhammad, who went on a three-week rampage with the intent to ultimately find and kill her too. Ms. Muhammad will be sharing her personal experience involving fear and abuse. She will open up about her expertise on what it's like to be a victim and survivor of domestic violence "without physical scars." Her authenticity is as remarkable as her unforgettable story. Ms. Muhammad has made it her mission to be a vessel of support and healing to all those affected by domestic abuse and violence. She is an award-winning speaker, international expert speaker for the U.S. Dept. of State, certified consultant with the Office on Victims of Crime and CNN contributor.