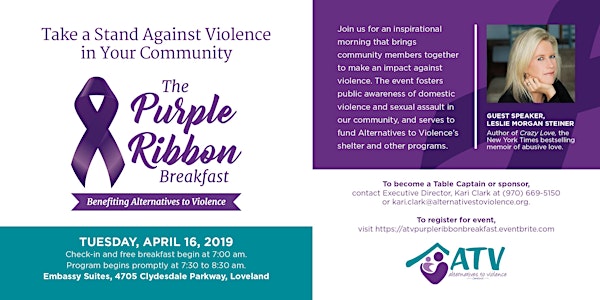 Alternatives to Violence Purple Ribbon Breakfast
When and where
Location
Embassy Suites by Hilton Loveland Hotel Conference Center & Spa 4705 Clydesdale Parkway Loveland, CO 80538
Description
Take a Stand Against Violence in Your Community
The Purple Ribbon Breakfast is an inspirational morning that brings philanthropists and business professionals together to take a stand and make an impact against violence. The third annual free event will take place on Tuesday, April 16 at Embassy Suites in Loveland. The event fosters public awareness of domestic violence, sexual assault and human trafficking in our community, and serves to fund Alternatives to Violence's shelter and other programs.
Bestselling New York Time Author, Leslie Morgan Steiner
Leslie Morgan Steiner is a New York Times bestselling author and advocate for domestic violence survivors. Her memoir, Crazy Love, is her own story about her marriage to a man who routinely abused and threatened her. In it she describes the warm, loving, man she first met on the subway, to the man he became when he grabbed her neck just days before their wedding. Her TED Talk about surviving domestic violence, titled, "From the Ivy League to a Gun at My Head," has been viewed by over three million people. She is a regular television and radio guest, appearing on NPR, Today Show, MSNBC, and other programs.
If you were invited by a Table Host, please click register and locate the name of the Table Host who invited you. If you were not invited by a Table Host, or do not see their name listed, please reserve your spot under General Admission.
Check-in and breakfast start at 7:00 am. The program will begin promtly at 7:30 am and will end at 8:30 am.