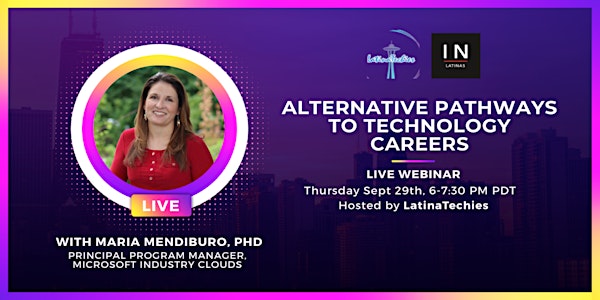 Alternative Pathways to Technology Careers
Come join us to learn about alternative pathways to careers in the technology industry!
About this event
Hola!
Are you thinking about making a career change to the technology industry but unsure how to get your foot in the door? This workshop is for you! Join us for a learning session and panel discussion about alternative pathways to technology careers. Our speakers will provide an overview of job roles in the technology industry and help you understand the skills needed to succeed in these job roles. They will also help you understand what to expect from bootcamps, apprenticeships, industry certifications, and other alternative skilling programs.
We are hosting this online session on Thursday, September 29, 2022 via Teams from 6:00 to 7:30pm PT.
We hope you can join us!
Gracias,
- LatinaTechies Leadership Team -
Agenda:
6:00pm - Welcome from LatinaTechies and main speaker introduction
6:10pm - Learning session led by Maria Mendiburo
6:30pm - Q&A with main speaker
6:40pm - Panel discussion with Melanie Chavez, Lindsay O'Connor, and Catalina Otarola
7:25pm - Announcements
7:30 pm - Event close
Main Speaker:
Maria Mendiburo is currently a Principal Program Manager at Microsoft on the Industry Incubation & Solutions team. She started her career as a mathematics teacher and then an education policy researcher. She joined Microsoft in 2017 via the LEAP Apprenticeship Program, which is a Microsoft program designed to recruit, develop, and upskill unconventional talent for employability in the technology industry. She is a founding leadership team member of LatinaTechies and an active volunteer with the Microsoft TEALS program that builds sustainable computer science programs in high schools.
Panelists:
Melanie Chavez - Talent Sourcer at Highspot
Lindsay O'Connor - Junior Business Analyst - Salesforce at Booz Allen Hamilton
Catalina Otarola - Senior Product Support Engineer at Finix