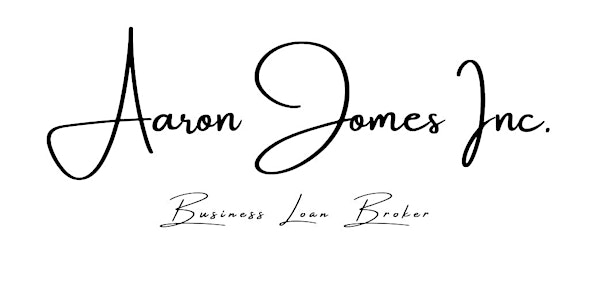 Alternative Lending Industry Opts/SBA & Real Estate Investor Info. Session
We can get you money quick, fast, and easy. Chime into the zoom link to learn about the options that you have available for your industry.
Refund Policy
Contact the organizer to request a refund.
Eventbrite's fee is nonrefundable.
About this event
Aaron Jomes Inc.
Tobin T. Pharaoh CEO
Online @ www.aaronjomes.com
Text Us @ 704-651-1135
Charlotte, NC
Dear Attendees,
Aaron Jomes is a proud business loan broker, representative, and advocate for small businesses in the alternative lending industry/financial private sector. The alternative lending industry is a prime choice for acquiring business funding even during recessions in order to keep you and your great business thriving on the marketplace.
Banks have blatantly made it clear that they have no driven desire to support any business or business transaction that does not guarantee favorable returns on investments by their standards. Meaning you can be the perfect candidate for a bank loan and the bank will deny your application because they can or they regard your business to be a financial liability based on their criteria.
The alternative lending industry offers so much more to small businesses regarding the ease, and accessibility to getting working capital, and many other avenues of funding for both business hardship and business start-ups. The alternative lending industry is an emerging powerhouse in the financial industry because of its transparency, and how quickly you can acquire funding.
If you are a thriving business owner having any difficulties acquiring funding for your business, Aaron Jomes Inc. is the one stop solution for you because when your business needs funding, we can get you money, and great rates by utilizing and leveraging our broad sphere of influence, networking, and partnerships in the alternative lending industry.
There is no cost to serve you. All you need to do is reference our website regarding minimum qualifications, and paperwork. Schedule an appointment phone call. Finally, submit all documentation with your name and date in the email heading to info@aaronjomes.com to initiate processing.
Sincerely, Aaron Jomes Inc.