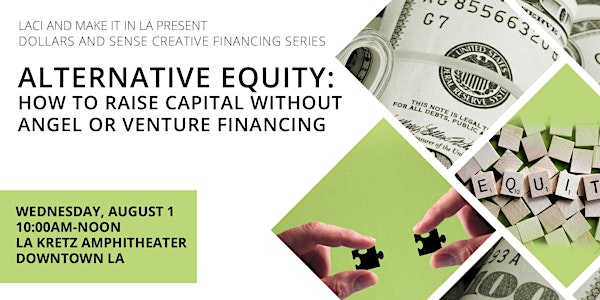 Alternative Equity - Raise Capital Without Angel or Venture Financing
Event Information
Location
La Kretz Innovation Campus
525 South Hewitt Street
Los Angeles, CA 90013
Description
Do you need to invest in equipment and people to grow your company, but don't know where to get the capital? Your company doesn't have to be a unicorn to raise money. Angel funding and venture capital are not the only answers.
This isn't your typical startup event! You'll review creative equity financing approaches you've probably never heard of. You'll learn about strategic investing, family offices, partnering with your suppliers and customers, public offerings on the Toronto Stock Exchange, and reverse mergers. We'll even touch on equity crowdfunding, ICOs, and convertible debt.
You'll learn what equity is and what investors expect in return. Hear about traditional forms of equity funding and their limitations and downsides. We'll think beyond the exit, and explore options for revenue, dividend, and royalty-based structures. Learn to be true to your company's purpose and grow the pie by sharing ownership in your company.
AGENDA

10:00 Arrival
10:15 Welcome & Overview
10:30 Deep Dives to include:
Intro: equity overview, what is it and what investors expect in return, traditional equity (angel, VC, PE) and their limitations and downsides

Thinking beyond the exit: investing for revenue-, dividend-, and royalty-based structures

Unconventional public equity: Toronto Stock exchange, APOs: reverse merger + PIPE, OTC/pinksheet

Family offices, strategic investing, partner financing

Wrap-up, including other strategies to consider
11:50 Q&A
12:00 Adjourn
ABOUT THE SERIES
Let us guess...One of the biggest hurdles for your company's growth is access to financing, right? But your company doesn't fit the profile that venture capitalists, angel investors, and traditional bank loan officers are looking for.
Welcome to the club! But good news: There are many more avenues to finance your business than you typically hear about. And we're here to share them with you. You'll get inspired with new ideas, discover which ones might be a fit for you, and learn what you need to do to pursue them.
---------------------------------------
SPEAKERS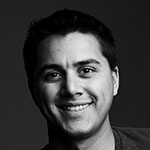 Romi Kadri
Mr. Kadri is a venture investor based in Santa Barbara, California, with a lifetime passion for bringing high-impact technologies to market. He is the Founder & Managing Partner of Capella Partners, a Zurich-based investment firm that facilitates strategic investment relationships between global family offices and technology companies solving tough problems.
Born and raised in Scotland, Mr. Kadri built and sold a number of technology ventures in the UK's adventure sports and aquaculture industries prior to moving to the US to study Mechanical Engineering & Entrepreneurship at MIT. He was an Artist Manager and A&R at Interscope Records, worked in venture capital at Alsop-Louie Partners, was a manufacturing engineer with Rolls-Royce's gas turbine division, and managed innovation & patent development at Sonos. In 2017, Sonos was recognized by IEEE as having the most valuable patent portfolio in global Consumer Electronics, after Apple. Mr. Kadri is an avid mountain biker, owns an ethics-driven modeling agency in Las Vegas, and volunteers as a Search & Rescue and Disaster Relief Pilot in the Civil Air Patrol. He holds 14 patents, numerous board seats in small- to mid-size technology ventures, and is a member of the External Advisory Board of the Martin Trust Center for MIT Entrepreneurship.
Tracy Gray
Tracy Gray has over 20 years experience assisting organizations in a variety of industries to reach their international, investment, strategy and marketing/communications goals.
As an Executive in Residence, Ms. Gray advises LACI's portfolio companies on all aspects of their business and leads the Incubator's Diversity in Entrepreneurship Advisory Council and its initiatives. Ms. Gray is currently the Founder and Managing Partner of The 22 Fund, a social impact, growth venture capital and advisory firm with a job creation mission to increase the export capacity of Southern California manufacturing companies, targeting women- and minority-owned businesses. In addition, Ms. Gray is the founder of the non-profit We Are Enough (WAE). WAE's only mission is to increase the flow of capital to women entrepreneurs by educating ALL women on how and why to invest in women-owned for-profit businesses or with a "gender lens." Ms. Gray was recently named one of the 50 "Women of Influence" in business in Los Angeles.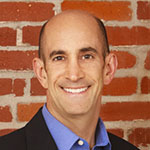 Mr. Winett is the Founder and Managing Director of the DPAA Group, a boutique-consulting firm focused on creating strategy and providing operational execution services. Jim also is an entrepreneur and takes management and equity positions in emerging companies and technologies.
Jim is a hands-on operations and finance executive. As a business consultant and advisor, Mr. Winett has provided consulting services since 1987 to over 70 clients ranging from early-stage startups and turnarounds to large U.S. and overseas manufacturers, distributors, retailers and service corporations. Mr. Winett has particular strengths in strategic planning, organizational change, operational execution, restructurings, business development and finance.
As an entrepreneur, Mr. Winett has founded and developed numerous successful companies in Internet Fulfillment, Consulting, Health, Fitness and Wellness, and Consumer Products industries. These include co-founding and running ICCS Partners, a financial services and business consulting firm, founding and managing ShipMax.com, a third-party fulfillment company for online retailers, co-founding The Agency for Sports Ethics, LLC the world's premier independent anti-doping program for professional cycling and other sports, and serving in interim and executive roles with various consulting clients.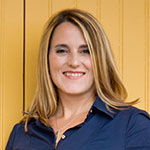 Delilah Panio
As the VP of Capital Formation for Southern California for TMX Group, Ms. Panio advises U.S. companies on the opportunity to list and finance on Toronto Stock Exchange or TSX Venture Exchange.
As the founder of Stiletto Dash (a consulting firm), she works with early-stage companies on their business and funding strategy and on getting investor-ready. Ms. Panio is also the Executive Director and Co-Founder of We Are Enough, a non-profit that educates women on why and how to invest in women-owned businesses and/or with a gender lens.
Her background is as a capital markets expert with 10 years previously in business development at Toronto Stock Exchange, including as the Director, Business Development & Strategy. She have advised many companies on the going public process and can provide an understanding of private and public financing options in Canada and the United States.
Ms. Panio holds an MBA in Enterprise Development and a BA in English, and have completed a certification as a Neuro-Linguistic Programming (NLP) Master Practitioner.
This series brought to you by:

With special thanks to our sponsors:

Date and time
Location
La Kretz Innovation Campus
525 South Hewitt Street
Los Angeles, CA 90013
Refund policy