Description
Hawaiʻi SEED and Hawaiʻi Center for Food Safety invite you to an exciting panel discussion and interactive workshop titled Altering the Future: Synthetic Biology & Hawaiʻi!
The Hawaiian Islands have long been used as a testing ground by the military and the agrochemical and biotechnology industries. Today, the latest and most extreme edition of this technology is being proposed for our sensitive and remote island chain including the testing of the gene drive mosquito and the engineering of 'awa and 'ohi'a trees.
Through presentations from leading experts and thought-provoking exercises, we will discuss the challenges these new genetic engineering proposals pose to the Islands' biodiversity and indigenous Hawaiian cultural practices and sovereignty.
Should we allow our fragile ecosystem to be used for testing unproven, genetic engineering technologies or should we explore how we can develop holistic strategies and responses to environmental crisis built upon indigenous knowledge? Hear from experts and join the conversation!
Complimentary pupus and drinks will be served at the event.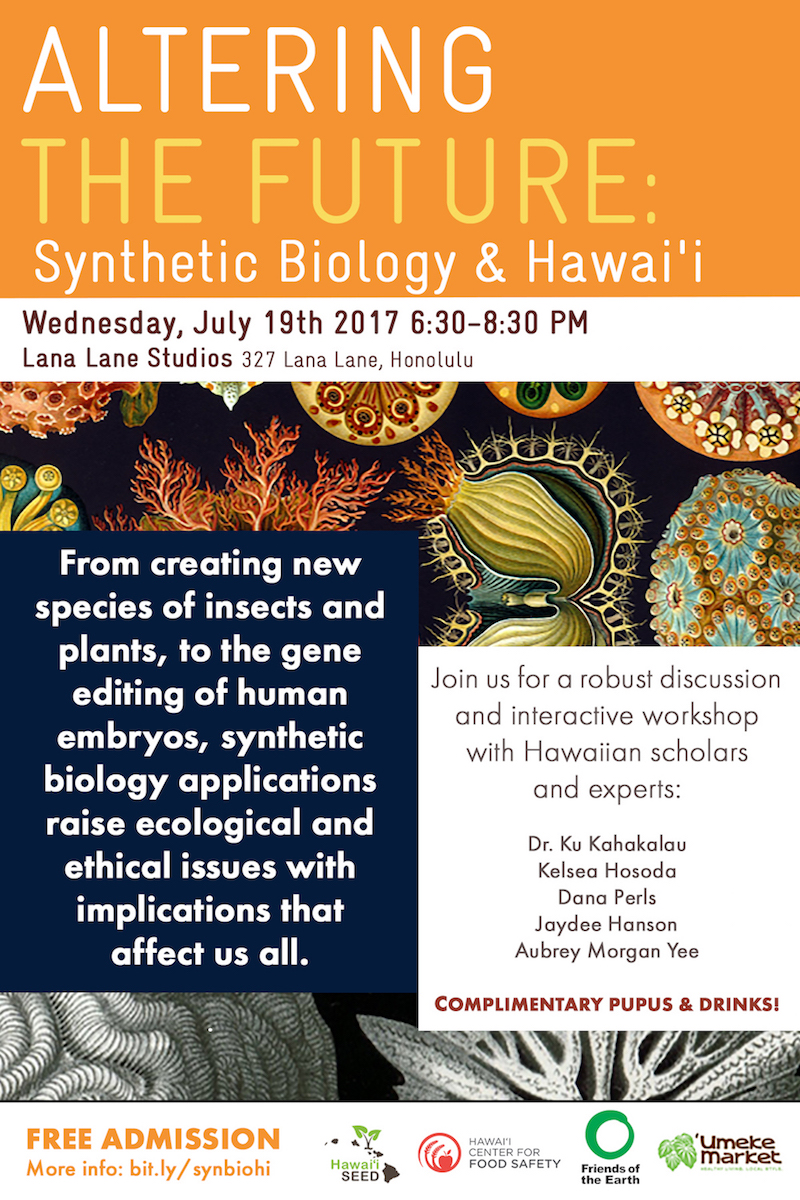 ---
OUR EXPERT PANEL:
Dr. Kū Kahakalau is an award-winning native Hawaiian educator, song-writer, story teller, researcher, grassroots activist, cultural practitioner, expert in Hawaiian language, history and culture, and international lecturer and consultant. For the past 20 years, Dr. Kahakalau has been on the forefront of Indigenous education and research worldwide, developing an Indigenous methodology called Mā'awe Pono, grounded in a Hawaiian worldview.
Kelsea Kanohokuahiwi Hosoda is a cultural practitioner, scientist, and educator. She obtained her Masters in Molecular Biosciences & Biological Engineering. Her doctoral research focus at UH Mānoa is at the intersect of Hawaiian Language and Computer Science. She is committed to advancing the people of Hawaii via education in both the Native Hawaiian culture and 21st century science skills.
Dana Perls is Senior Food and Technology Campaigner with Friends of the Earth U.S. Friends of the Earth is the North American representative to Friends of the Earth International, the world's largest grassroots federation of environmental organizations. Dana leads Friends of the Earth's market and policy work on the environmental impacts of emerging technologies such as genetic engineering and synthetic biology. Dana brings a strong background in campaign organizing and environmental policy and combines them with her commitment to environmental justice. She holds a Masters in City Planning from UC Berkeley in CA, and a B.A. from Cornell University.
Jaydee Hanson is the Senior Policy Analyst for Emerging Technologies, particularly biotechnologies and nanotechnologies at the Center for Food Safety. He co-authored The Principles for the Oversight of Synthetic Biology and recently published in and edited a special issue of GeneWatch magazine on gene drives. He serves on the Ad Hoc Technical Expert Group on Synthetic Biology established by the UN Convention on Biological Diversity. His MA in Geography is from the University of Hawai'i. His BA is from University of the Pacific in International Studies and Ecology.
Futurist Aubrey Morgan Yee will lead the interactive workshop following the panel.
---
"As tempting as it might seem to try to eliminate mosquitoes carrying bird malaria in Hawaiʻi, the long term effects of genetic engineering these mosquitoes must be fully considered. Eradicating a single species of mosquito does not eliminate the disease as other mosquitoes capable of moving into the niche of the first mosquito can transmit the same diseases, including malaria. All Hawaiian mosquitoes came from other places; the next mosquito pest may come on the next flight to Hawaiʻi. We need to compare all ways of control and find the safest."
Jaydee Hanson, Sr Policy Analyst at Center for Food Safety
---