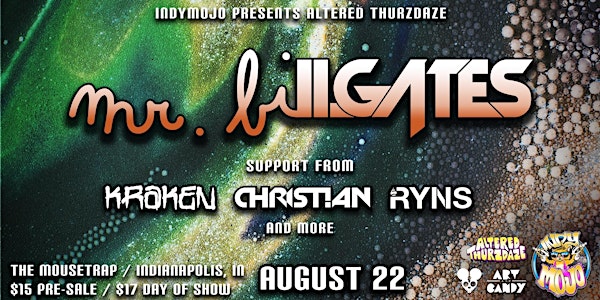 Altered Thurzdaze w/ Mr. Bill Gates
Celebrating 9 Years of Altered Thurzdaze at The Mousetrap the entire month of August....
When and where
Location
The Mousetrap 5565 N. Keystone Ave Indianapolis, IN 46220
Performers
Headliners
More Performers
About this event
IndyMojo is proud to bring you your weekly dose of bass fueled mischief - for 9 years and counting....
~ ALTERED THURZDAZE ~
with special guests....
* MR. BILL GATES (Mr. Bill x Ill Gates)
Sydney, Australia // Toronto, CA
https://live.mrbillstunes.com/
https://soundcloud.com/mrbillstunes
https://soundcloud.com/ill-gates
Mr. Bill has been a leader in the audio production world for years. Beyond producing dazzlingly intricate originals, remixes, and collaborations with other stars of the industry, his eagerness to share his massive library of technical know-how has made him just as sought-after for studio work as he is for highly energetic and crowd-pleasing live performances.
Mr. Bill has toured North America and Australia with a live drummer, supported Beats Antique on multiple U.S. tours, and has played major festivals around the world. He scored the Nicolas Cage horror-comedy MOM AND DAD, and his techno side project Electrocado was signed to deadmau5' mau5trap label for a multiple EP contract. Mr. Bill released his IDM album, Apophenia also on mau5trap, as well as the collab "10.8" with deadmau5 featuring an epic animated video by Bill's longtime artist, Funilab. Mr. Bill also released a collaborative EP with Esseks, DeadLanguage on Ganja White Night's Subcarbon label, and has current and future collabs slated for release on
ill.GATES is a bass droppin', educatin', oscillator modulatin' space genius from the future.
DJing since age 13 ill.Gates has had a long and lavish career in the music business. Known for his epic collaborations with Bassnectar, Beats Antique, Datsik, Mimosa and Opiuo he is no stranger to the top of the charts. With 4 studio albums under his belt and hoards of unreleased original music ill.GATES is known for unforgettable live sets peppered with improvised finger drumming and original visuals.
When he isn't traveling or rocking the studio ill.GATES is mentoring the next generation of producers over at his training camp www.MyProducerDJ.Club. Many up and comers credit ill.GATES with breaking them out of their shell and into the music business. Watch out for The Class of 808 on his new record label Producer Dojo.
You can catch ill.GATES slaying dance floors on five continents as well as on the interwebs over at illgates.com.
Support from:
* Christian
IndyMojo // G-9 Collective
https://soundcloud.com/christianthedj
* Kraken
IndyMojo // G-9 Collective
https://soundcloud.com/officialkrakendubstep
* RYNS
https://soundcloud.com/rynsmusic
More TBA!
________________
Thurzday, August 22nd
The Mousetrap
5565 N. Keystone Ave
Indianapolis, IN
$15 pre-sale
$17 day of show
21+
________________________
Produced by:
www.indymojo.com
Hosted by:
The Mousetrap
www.themousetrapbar.com
Sponsored by:
No Bad Ideas
www.nobadideas.com