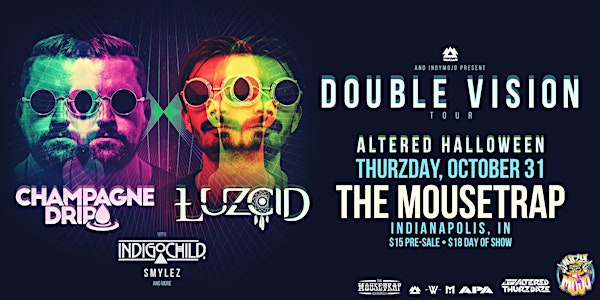 Altered Thurzdaze: Altered Halloween w/ Champagne Drip & Luzcid
This is Halloween! This is Halloween!....Altered Halloween!
When and where
Location
The Mousetrap 5565 N. Keystone Ave Indianapolis, IN 46220
About this event
* Champagne Drip
Los Angeles, CA
Wakaan // Deadbeats // Mad Decent // Quality Goods // Saturate Records
https://soundcloud.com/champagnedrip
Champagne Drip, the newest musical incarnation of Los Angeles-based producer Sam Pool, was born out of a philosophy that innovation springs from inspiration. Pool had carved out a unique place for himself in the bass music community; performing under the moniker of SPL for over 10 years and releasing drum & bass, dubstep, and other styles of bass music on respected labels such as Barcode, Tech Itch, Evol Intent, Rottun, SMOG and his own label Hollow Point Recordings. SPL's music was fully immersed in sound design, from which created musical landscapes showcasing melodic, dark, and refined touches.
By the Summer of 2014, Pool came to the realization that he had pushed the SPL project to its sonic boundaries and in order to evolve musically, he would need a new project to explore more diverse textures and richer melodies. Rooted in jungle and bass music and built around elements of blippy 8-bit sounds, arpeggios, and lush 80s synths, Champagne Drip launched as a decidedly aquatic and uplifting sounding project. Operating at first in anonymity, Champagne Drip made a big splash thru the release of official remixes of Bassnectar (Amorphous Music) and Elliphant (Mad Decent). Shortly thereafter, he released his debut EP "Radio Bikini" on Mad Decent in September of 2014.
Over the first year of the project's history, press outlets were fascinated with the unique sound, but also with uncovering the identity of the secretive producer behind the music. "Radio Bikini" was subsequently remixed by electronic upstarts Big Wild, Lazerdisk, Mayhem, and Son of Kick and released in the Spring of 2015 as "Remix Bikini". In the Fall of 2015, Champagne Drip released his 2nd EP for Mad Decent, "Journey Into The Champagne Sea". Whereas his first EP explored more overtly tropical overtones, "Journey" went into deeper and darker musical territory.
After spending one full year refining his sound in the studio, he finally revealed himself as the former SPL in 2016; performing across the US at such festivals as Mysteryland, WTFest?, Imagine, Enchanted Forest, and Lights All Night. Building up anticipation for his next original recordings, Champagne Drip released the stand alone single "Open Your Eyes". Official remixes for Grandtheft (Mad Decent), Cardinox (Warner Brothers), and Dillon Francis & NGHTMRE (Mad Decent) followed.
Champagne Drip capped off an already busy 2016 with the release of two new EPs; "Poseidon" via Quality Goods Records and "Of Course I Still Love You" via Saturate Records. Official remixes for Zeds Dead & Diplo, 12th Planet, UZ, and DAWN all saw 2017 releases. Champagne Drip followed up in 2018 with multiple EPs released across Deadbeats, Bassrush and Wakkan as well as remixes for What So Not & Skrillex, Black Tiger Sex Machine & Sullivan King and GG Magree.
Champagne Drip is set to have his biggest year yet in 2019 with more releases on Wakaan and a nationwide tour alongside Liquid Stranger.
* Luzcid
Houston, TX
Wakaan
Luzcid's music is a sonic odyssey. A series of auditory adventures in which the participants completely escape time and space. He meticulously eludes genres in order to welcome a variety of enthusiasts to gather and celebrate the rewards of community. Luzcid hopes music can become platform in which the peoples of the world can reconnect and begin to restore our home to a place in which we all enjoy living.
He has already performed in almost every major US city and continues to spread his wings across the music community.Although his production stands proudly on its own ,Luzcid has proven he is one of those acts you need to experience live to get the full picture. He uses ableton live to weld a sonic quilt of sensationally hefty hip-hoppy psychedelic bass music.
His song with Bassnectar "Science Fiction" is a splendid illustration of Luzcid's ability to collaborate and conceive a fierce beauty with one of EDM's most revered artists.
Support from:
* Indigo Child
Deep, Dark & Dangerous
https://soundcloud.com/indigochildindy
* Smylez
https://soundcloud.com/jake-hennis-smylezzz
More TBA
_______________
Thurzday, October 31st
The Mousetrap
5565 N. Keystone Ave
Indianapolis, IN
$15 pre-sale
$18 day of show
21+
________________________
Produced by:
www.indymojo.com
Hosted by:
The Mousetrap
www.themousetrapbar.com
Sponsored by:
No Bad Ideas
www.nobadideas.com