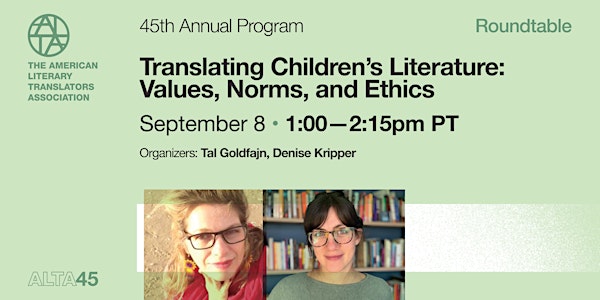 ALTA45 Roundtable Recording: Translating Children's Literature
Use this page to purchase access to the recording of the ALTA45 roundtable "Translating Children's Literature," which took place on Sept 8!
About this event
Translating Children's Literature: Values, Norms, and Ethics (Roundtable)
This roundtable will explore the ethical issues involved in the translation of children's literature, and will address the following questions: What is the role of translators in children's literature? What are some of the ethical challenges posed by the translation of children's literature? How much of the 'other' culture is or can be preserved in translated children's literature? What are some of the social and cultural norms that shape translation strategies? How are values implicated in translating picture books? What is the power of translated children's literature to transform society?
Format: This roundtable will approach its main theme and central questions via the discussion of specific cases of translations of children's literature into English from various languages.
Accessing the Roundtable Recording
Remember that if you have already paid for an ALTA45 All-Access Registration, you can use the promo code sent to your email to sign up to attend this event at no additional charge. If you are interested in purchasing an ALTA45 Registration to access all our events this year, you can do so at this link.
ALTA members receive 20% off of all tickets and registration using the member promo code. If you need your code, please search your email for "ALTA member promo code" or write to info@literarytranslators.org.
To use your 20% off ALTA member promo code or the 100% off promo code you received when you registered for an all-access pass, click "Tickets" in the event you want to sign up for, then input the code at the top of the list of tickets where it says "Enter promo code" in blue (for reference, see the screenshot at the very bottom of this page). Be sure to click "Apply," and you'll see the price change.
This event was captioned using Zoom's automatic transcription feature.
All participants in ALTA's 2022 programming agree to abide by and uphold ALTA's Terms and Conditions and Code of Conduct. Email info@literarytranslators.org with questions.
Organizers
Tal Goldfajn is Assistant Professor at the University of Massachusetts Amherst. Her English translations and translation reviews have appeared in Restless Books, The Common, ActionBooks, Saccades and LARB. She directs the Pipa Project (Brazilian Picture Books in Translation) and collaborates with The Eric Carle Museum of Picture Book Art.
Denise Kripper is a literary translator and translation scholar. She is the translation editor at Latin American Literature Today and an Associate Professor at Lake Forest College. She lives in Chicago, where she's a founding member of the Third Coast Translators Collective.
Participants
Mia Spangenberg translates fiction, nonfiction and children's literature from Finnish, German, and Swedish into English. She is particularly passionate about international children's literature and is part of the team at WorldKidLit. Mia holds a PhD in Scandinavian Studies from the University of Washington, Seattle, where she resides with her family.
Helena Lipska is a retired German teacher. Helena is currently working on a part-time basis as a translator for New York State Court system. Helena was always interested in translating literature and has already translated a few children's stories.
Jasmine Hongyu Zhu (朱弘昱) hails from Chengdu, China, and is a high school student at Mercersburg Academy in Pennsylvania. She grows up surrounded by the beautiful, messy sounds of her mother tongue. In 2022 spring, she adapted her English translation of Sanmao(三毛)'s short story "吹兵" into an 8-minute monologue, and performed it at her high school's annual Declamation.
Corine Tachtiris is Assistant Professor of Translation Studies at the University of Massachusetts Amherst. She translates prose primarily by contemporary Francophone African, Caribbean, and Canadian, as well as Czech, women authors. She is a Translation Editor at The Massachusetts Review, specializing in prose, and an at-large member of the ALTA Board.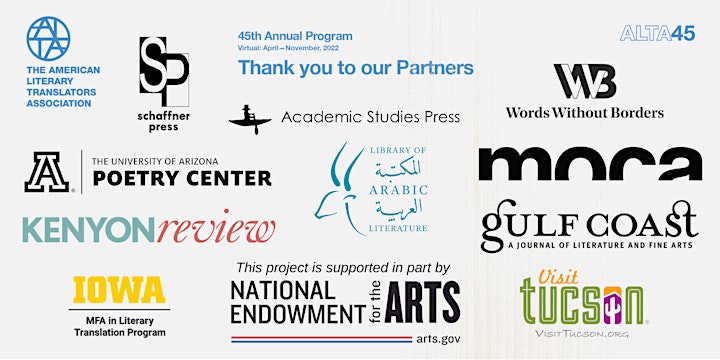 Put in your member promo code, all-access registration code, or roundtable participant code after clicking "Tickets," as shown in this screenshot: