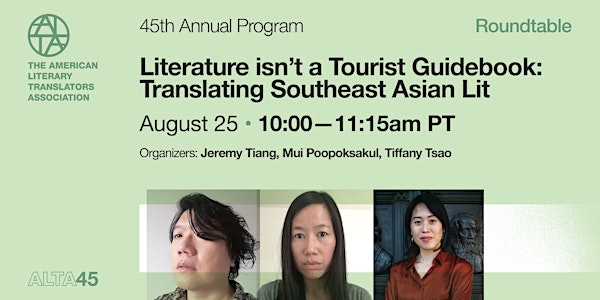 ALTA45 Roundtable Recording: Literature isn't a Tourist Guidebook
Purchase access to the recording of the ALTA45 roundtable "Literature isn't a Tourist Guidebook," which took place on August 25, 2022.
About this event
Literature isn't a Tourist Guidebook: Translating Southeast Asian Lit (Roundtable)
seams, a new collective of translators of Southeast Asian literature, will lead a discussion about the ways in which literature from this region is framed, discussed, marketed and translated. What are the decisions that come into play during this process, and how can Southeast Asian writing be made more accessible to everyone without compromising the complexity and multiplicity of languages that mix and mingle within the region? We will consider the journeys of several works of Southeast Asian literature that have made it into English translation as well as discuss challenges that translators continue to face, including the region's general lack of funding and the need to dismantle power structures left over from colonialism.
Format: If they wish, participants may present briefly on the translation and reception of a work of translated Southeast Asian literature -- their own or someone else's. We will then have a wide-ranging discussion about various issues affecting translators of this region's writing.
Accessing the Roundtable Recording
Remember that if you have already paid for an ALTA45 All-Access Registration, you can use the promo code sent to your email to sign up to attend this event at no additional charge. If you are interested in purchasing an ALTA45 Registration to access all our events this year, you can do so at this link.
ALTA members receive 20% off of all tickets and registration using the member promo code. If you need your code, please search your email for "ALTA member promo code" or write to info@literarytranslators.org.
To use your 20% off ALTA member promo code or the 100% off promo code you received when you registered for an all-access pass, click "Tickets" in the event you want to sign up for, then input the code at the top of the list of tickets where it says "Enter promo code" in blue (for reference, see the screenshot at the very bottom of this page). Be sure to click "Apply," and you'll see the price change.
This event was captioned using Zoom's automatic transcription feature.
All participants in ALTA's 2022 programming agree to abide by and uphold ALTA's Terms and Conditions and Code of Conduct. Email info@literarytranslators.org with questions.
Organizers
Jeremy Tiang has translated over twenty books from Chinese, including novels by Yan Ge, Yeng Pway Ngon, Chan Ho-Kei, Lo Yi-Chin, Zhang Yueran, You Jin and Liu Xinwu. He won the Singapore Literature Prize in 2018 for his novel State of Emergency, and also writes and translates plays. He lives in New York City.
Mui Poopoksakul is a lawyer-turned-translator with a special interest in contemporary Thai literature. She has translated two story collections and a chapbook by Prabda Yoon and a story collection and a novel by Duanwad Pimwana. Her translation of Saneh Sangsuk's novel tentatively titled The Understory is forthcoming in 2023.
Tiffany Tsao translates Indonesian fiction and poetry. Her translations include Happy Stories, Mostly and Sergius Seeks Bacchus by Norman Erikson Pasaribu and People From Bloomington by Budi Darma. Happy Stories, Mostly was awarded the 2022 Republic of Consciousness Prize in the UK and longlisted for the International Booker Prize.
Participants
Christina Ng is a Singaporean writer, journalist and translator based in Berlin. Her Chinese to English translations include poetry by Singaporean poets Liang Wern Fook, Ting Kheng Siong and Dan Ying. Some of her forthcoming translations include Liang Wern Fook's short story collection tentatively titled Joy of Being a Left-Hander.
Jasmine Hongyu Zhu (朱弘昱) hails from Chengdu, China, and is a high school student at Mercersburg Academy in Pennsylvania. She grows up surrounded by the beautiful, messy sounds of her mother tongue. In 2022 spring, she adapted her English translation of Sanmao(三毛)'s short story "吹兵" into an 8-minute monologue, and performed it at her high school's annual Declamation.
Soleil David's work has appeared or is forthcoming in Two Lines, LARB, and Cream City Review. She's received support from PEN America, VONA, and Bread Loaf Translators' Conference. She is a senior editor at The Margins.
YZ Chin is the author of Edge Case, a New York Times Editors' Choice, and Though I Get Home, winner of the Louise Meriwether First Book Prize. Her translation of The Age of Goodbyes by Li Zi Shu will be out in November. Born and raised in Taiping, Malaysia, she now lives in New York.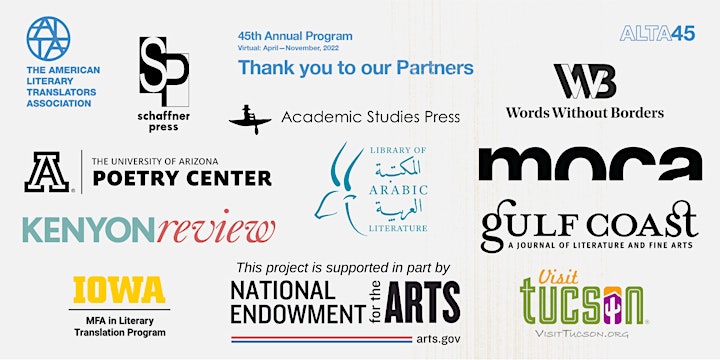 Put in your member promo code or all-access registration code after clicking "Tickets," as shown in this screenshot: