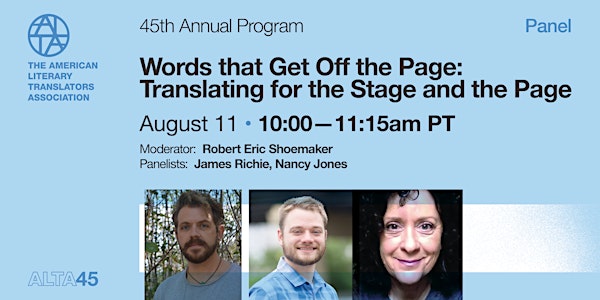 ALTA45 Panel Recording: Words that Get Off the Page
Use this page to purchase access to the recording of the ALTA45 panel "Words that Get Off the Page," which took place on August 11!
Refund Policy
Contact the organizer to request a refund.
Eventbrite's fee is nonrefundable.
About this event
Words that Get Off the Page: Translating for the Stage and the Page (Panel)
Literary translators of embodied texts including plays labor so that not only does the translation become a print object, it moves out into the air when other artists stage the work, perhaps in many iterations. How do theatre practitioners consider translation from different angles, including stageability and embodiment, than translators aiming for the form of the page? Each panelist presents a unique angle including the literary translator's perspective on the page, hybrid poetics' practical and formal considerations, and directing and staging for an audience. Bringing together experience translating and staging Spanish, French, Russian, and Italian plays as well as a broad spectrum of theatrical experience, we hope to spark lively conversations and devote considerable time to Q&A.
Accessing the Panel Recording
Remember that if you have already paid for an ALTA45 All-Access Registration, you can use the promo code sent to your email to sign up to access the recording of this event at no additional charge. If you are interested in purchasing an ALTA45 Registration to access all our events this year, you can do so at this link.
ALTA members receive 20% off of all tickets and registration using the member promo code. If you need your code, please search your email for "ALTA member promo code" or write to info@literarytranslators.org.
To use your 20% off ALTA member promo code or the 100% off promo code you received when you registered for an all-access pass, click "Tickets" in the event you want to sign up for, then input the code at the top of the list of tickets where it says "Enter promo code" in blue (for reference, see the screenshot at the very bottom of this page). Be sure to click "Apply," and you'll see the price change.
This event was captioned using Zoom's automatic transcription feature.
All participants in ALTA's 2022 programming agree to abide by and uphold ALTA's Terms and Conditions and Code of Conduct. Email info@literarytranslators.org with questions.
Panelists
Dr. Robert Eric Shoemaker (moderator) is a poet and interdisciplinary artist. Eric holds a PhD in Humanities from the University of Louisville and an MFA in Creative Writing & Poetics from Naropa University. Eric works in magical poetics, queer theory and poetry, public history, translation, and gender and sexuality.
James Richie is a translator and a researcher who holds an MA in Language, Literature, and Translation from the University of Wisconsin-Milwaukee. He translates works from Italian, Spanish, and Russian into English, and his translations have been featured in A Journal of Literature, Culture, and Literary Translation, Four Centuries: Russian Poetry in Translation, and the Journal of Italian Translation. He is currently a PhD student at the University of Louisville.
Nancy Jones is a professor of Theatre at the University of Kentucky. Her teaching, directing, and research interests include comedy, issues of equity, and interdisciplinary projects. She has translated Eugène Ionesco's The Lesson and Pierre de Marivaux's The Dispute into English, and she has directed staged versions of these plays based on her translations.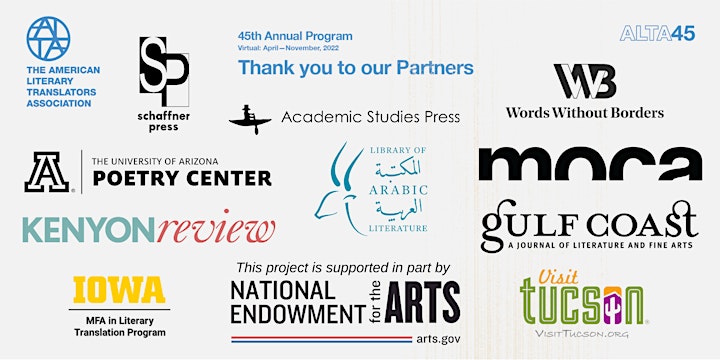 Put in your member promo code or all-access registration code after clicking "Tickets," as shown in this screenshot: