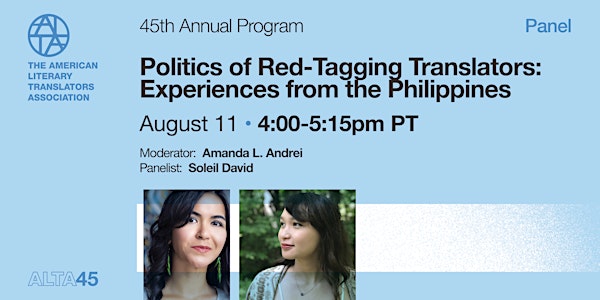 ALTA45 Panel Recording: Politics of Red-Tagging Translators
Use this page to purchase access to the recording of the ALTA45 panel "Politics of Red-Tagging Translators," which took place on August 11.
Refund Policy
Contact the organizer to request a refund.
Eventbrite's fee is nonrefundable.
About this event
Politics of Red-Tagging Translators: Experiences from the Philippines (Panel)
With the recent elections in the Philippines and the return of the Marcos dynasty to power, literature deemed "dangerous" by the Philippine government has been "red-tagged" as communist, terrorist, or otherwise not fully supportive of the current administration. Literature that has been red-tagged so far includes historical political texts, as well as children's story books. What happens when a translator is red-tagged? How do these new developments in politics affect our work?
Accessing the Panel Recording
Remember that if you have already paid for an ALTA45 All-Access Registration, you can use the promo code sent to your email to sign up to access this event recording at no additional charge. If you are interested in purchasing an ALTA45 Registration to access all our events this year, you can do so at this link.
ALTA members receive 20% off of all tickets and registration using the member promo code. If you need your code, please search your email for "ALTA member promo code" or write to info@literarytranslators.org.
To use your 20% off ALTA member promo code or the 100% off promo code you received when you registered for an all-access pass, click "Tickets" in the event you want to sign up for, then input the code at the top of the list of tickets where it says "Enter promo code" in blue (for reference, see the screenshot at the very bottom of this page). Be sure to click "Apply," and you'll see the price change.
This event was captioned using Zoom's automatic transcription feature.
All participants in ALTA's 2022 programming agree to abide by and uphold ALTA's Terms and Conditions and Code of Conduct. Email info@literarytranslators.org with questions.
Panelists
Amanda L. Andrei (moderator) is a playwright, teaching artist, and literary translator based in Los Angeles by way of Virginia/Washington D.C. Her plays have been produced and developed around the country, and her fiction, essays, and theatre reviews have appeared in Howl Round, Stage RAW, The Margins, Hyphen, and Hip Mama.
Soleil Davíd's work has appeared or is forthcoming in Two Lines, Ulirát: Best Contemporary Stories in Translation from the Philippines, LARB, and Cream City Review, among others. She has received support from PEN America, VONA, and Bread Loaf Translators' Conference. She is a senior editor at The Margins.
Ramon Guillermo is the director of the Center for International Studies (CIS) at the University of the Philippines Diliman. His current research projects are on the transmission, dissemination, reception, and translation of radical texts and ideas in Southeast Asia using techniques and approaches from translation studies and digital humanities. He is the author of several books which include Translation and Revolution: A Study of Jose Rizal's Guillermo Tell (Ateneo de Manila University Press, 2009), Pook at Paninindigan: Kritika ng Pantayong Pananaw (Site and Standpoint: A Critique of Pantayong Pananaw) (UP Press, 2009) and the novel Ang Makina ni Mang Turing (Mister Turing's Machine) (UP Press, 2013). He was the Faculty Regent of the University of the Philippines from 2019 to 2020. He is one of the initiators of the Network in Defense of Historical Truth and Academic Freedom.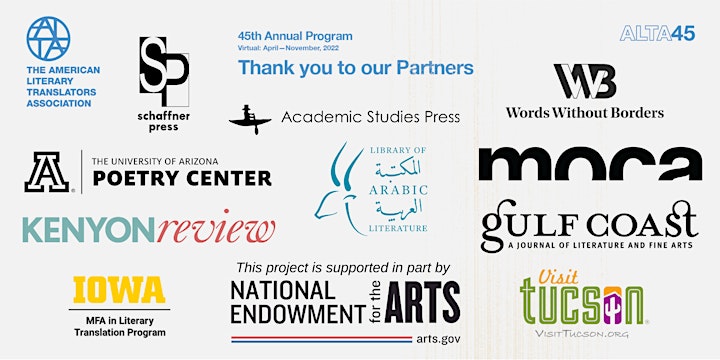 Put in your member promo code or all-access registration code after clicking "Tickets," as shown in this screenshot: