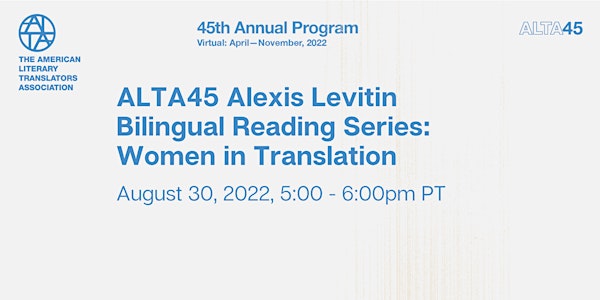 ALTA45 Bilingual Reading Series: Women in Translation (August)
Purchase tickets to attend the August ALTA Bilingual Readings
About this event
Use this page to purchase tickets to attend the August ALTA45 Bilingual Readings: Women in Translation, on August 30 from 5-6pm Pacific Time!
ALTA's Annual Alexis Levitin Bilingual Readings are a celebration of the work of our community. Readers typically read for a few minutes in the an original language of the text they have translated, and then read in their English translation.
Remember that if you have already paid for an ALTA45 All-Access Registration, you can use the promo code sent to your email to sign up to attend this event at no additional charge. If you are interested in purchasing an ALTA45 Registration to access all our events this year, you can do so at this link.
ALTA members receive 20% off of all tickets and registration using the member promo code. If you need your code, please search your email for "ALTA member promo code" or write to info@literarytranslators.org.
To use your 20% off ALTA member promo code or the 100% off promo code you received when you registered for an all-access pass, click "Tickets" in the event you want to sign up for, then input the code at the top of the list of tickets where it says "Enter promo code" in blue (for reference, see the screenshot at the very bottom of this page). Be sure to click "Apply," and you'll see the price change.
This event will be captioned using Zoom's automatic transcription feature.
All participants in ALTA's 2022 programming agree to abide by and uphold ALTA's Terms and Conditions and Code of Conduct. Email info@literarytranslators.org with questions.
August Readers
Laura Nagle will read from My Bespoke Life by Monique Debruxelles (fiction), translated from French
Monique Debruxelles is the author of four short story collections and co-author of three crime novels. Retired from a career in the civil service, she lives in a suburb of Paris. Her fiction is appearing for the first time in English in 2022, in The Southern Review. "My Bespoke Life" ("La vie cousue main") tells the story of a young woman whose obsession with an unusual painting prompts her to enter into a disastrous marriage and a criminal conspiracy.
Laura Nagle, a 2020 ALTA Travel Fellow, is a translator and writer based in Indianapolis. Her translations of prose and poetry from French and Spanish have recently appeared or are forthcoming in journals including AGNI, The Southern Review, and The Los Angeles Review.
Martha Kosir will read poetry by Alja Adam, translated from Slovenian
Alja Adam (1976) is a poet, literary critic, and Gestalt psychotherapist. She graduated from the University of Ljubljana with a degree in Comparative Literature and Sociology of Culture. She earned her doctorate in 2007 in Gender Studies and Feminist Literary Theory, likewise from the University of Ljubljana. Her poems have been translated into thirteen languages and have appeared in diverse publications and anthologies in Slovenia and abroad. She is considered one of the most prominent Slovenian authors of her generation.
Martha Kosir, Ph.D., translates poetry from English into Spanish, and from Slovenian into English and Spanish. She has also translated poetry from German into English and Spanish. Her translations have been published in Sirena: Poetry, Art and Criticism; Contemporary Slovenian Poetry; The International Poetry Review; The Drunken Boat; Plume, Solstice; Source, and SlavFile.
Adriana Jacobs will read poems from Avarice by Tahel Frosh, translated from Hebrew
Tahel Frosh's debut poetry collection Avarice (2014) examines how Israel's neoliberal economic policies have shaped Israeli lives for better or for worse. Shifting between constraint and excess, the poems of Avarice address the place and value of the arts in a society facing rising housing costs, the increased cost of living, and a widening gap between the rich and poor.
Adriana X. Jacobs is a poet, scholar, and translator based in Oxford and New York City. Her translations of Hebrew poetry include Vaan Nguyen's The Truffle Eye (Zephyr Press)- for which she received a 2015 PEN/Heim Translation Fund Grant, and Merav Givoni Hrushovski's End-- (Carrion Bloom Books). She was awarded a 2020 NEA Translation Fellowship for Tahel Frosh's Avarice.
Cynthia Hogue will read from Distantly by Nicole Brossard (poetry), translated from French
Nicole Brossard, known for her elliptical and materially grounded poetics, creates in Distantly an intimate series based loosely on urban experience. The poems are linked by their city settings, drawn from a woman's observations, emotions, perceptions, and dreams as she wanders the streets of her world. The cities of the individual poem titles are evocatively conjured rather than realistically described. These poems distill modern urban life through their sharp flash sketches of cultural and gendered histories of violence and beauty, personal and shared struggles for survival and intimacy. Distantly expresses a redolently postmodern sensibility, at once utopian and real.
Cynthia Hogue's most recent collections are Revenance and In June the Labyrinth. Her co-translations include Fortino Sámano (The overflowing of the poem), from the French of Virginie Lalucq and Jean-Luc Nancy, which won the Landon Translation Award from the Academy of American Poets. Hogue's honors include two NEA Fellowships.
Jenna Tang will read from Lin Yi-Han's Fang Si-Chi's First Love Paradise (Fiction), translated from Mandarin Chinese
Fang Si-Chi's First Love Paradise is a well-known Taiwanese feminist novel, narrating the stories through deep stream of consciousness, bringing the society's attention to the importance of #MeToo movement to reflect on topics of sexual violence and the very internal sense of belonging. It is one of the most influential novels in Taiwan since 2017 and has to date been translated to various languages.
Jenna Tang is a Taiwanese writer and literary translator based in New York. She translates from Chinese, French, and Spanish. Her translations or essays are published in Restless Books, World Literature Today, AAWW, Catapult, Mcsweeney's and elsewhere. She is one of the selected translators for the 2021 ALTA Emerging Translators Mentorship program with a focus on Taiwanese prose.
Miriam Adelman will read Now that I am no longer a horse by Germaine Calderón (poetry), translated from Spanish
Many years ago I found the poem, "Ya no soy un caballo" by Germaine Calderón, in Mexico City's La Jornada daily newspaper. I carried it - a flimsy newspaper clipping thrown into a manilla folder - over years of continent-crossings: from Mexico City to New York and then to Curitiba, Brazil. In recent decades, I have largely been devoted to English to Portuguese translations of women poets whose work I felt the urgency to share with Brazilian friends and students - from Beat Poets di Prima, Hettie Jones and Lenore Kandell to Sandra Cisneros and Natalie Diaz - but Calderon's poem, never forgotten, came back to me one day, calling for this attempt at Spanish-English translation.
Miriam Adelman is a poet and translator, retired university professor, born in Milwaukee, Wisconsin, in 1955, and living in Curitiba, Paraná, Brazil, since 1991. During the pandemic, she published two books: Found in Translation, her own bilingual poetry collection, and a Portuguese language version of Denise Duhamel's Kinky (published in Brazil under the title Mundo Barbie).
Put in your member promo code or all-access registration code after clicking "Tickets," as shown in this screenshot: