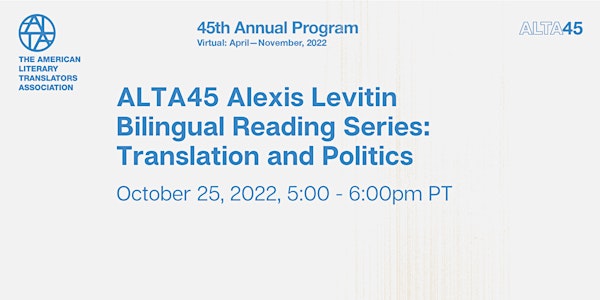 ALTA45 Bilingual Reading Series: Translation and Politics (October)
Purchase tickets to attend the October ALTA Bilingual Readings
About this event
Use this page to purchase tickets to attend the October ALTA45 Bilingual Readings: Translation and Politics, on October 25 from 5-6pm Pacific Time!
ALTA's Annual Alexis Levitin Bilingual Readings are a celebration of the work of our community. Readers typically read for a few minutes in the an original language of the text they have translated, and then read in their English translation.
Remember that if you have already paid for an ALTA45 All-Access Registration, you can use the promo code sent to your email to sign up to attend this event at no additional charge. If you are interested in purchasing an ALTA45 Registration to access all our events this year, you can do so at this link.
ALTA members receive 20% off of all tickets and registration using the member promo code. If you need your code, please search your email for "ALTA member promo code" or write to info@literarytranslators.org.
To use your 20% off ALTA member promo code or the 100% off promo code you received when you registered for an all-access pass, click "Tickets" in the event you want to sign up for, then input the code at the top of the list of tickets where it says "Enter promo code" in blue (for reference, see the screenshot at the very bottom of this page). Be sure to click "Apply," and you'll see the price change.
To sign up to read at this event, please use this link. The deadline to sign up to read is October 18.
This event will be captioned using Zoom's automatic transcription feature. Following the reading, we invite you to stay in the Zoom meeting for a period of informal social time in breakout rooms.
All participants in ALTA's 2022 programming agree to abide by and uphold ALTA's Terms and Conditions and Code of Conduct. Email info@literarytranslators.org with questions.
October Readers
Jess Jensen Mitchell will read from Dominika Słowik's Blizzard (fiction), translated from Polish
Dominika Słowik (1988) is a novelist and short story writer. She published her debut novel at 26 and her subsequent novel, Zimowla, won the Paszport Polityki award. This story is taken from Samosiejki (2021) an inventive collection of stories centered on women, the earth, and the oppressive force of the climate crisis. Słowik was a 2021 fellow at Iowa's IWP. Blizzard is a poignant fairytale about the loss of winter. The narrator recalls the rhythms of her childhood, centered on a mother who must hibernate every winter. When her mother loses her ability to sleep, the narrator is forced to take action...
Jess Jensen Mitchell is a beginning translator. Her favorite novel is The Doll by Bolesław Prus and she adores reportage. She was the 2021 mentee in Polish in the NCW Emerging Translators' Mentorship. Currently a PhD candidate at Harvard, she is writing a dissertation about contemporary Polish memory writing and community.
Shelley Fairweather-Vega will read from Rena Zhuman's Sonnets to Walikhanov (poetry), translated from Russian
Rena Zhuman's sonnet cycle is dedicated to the Kazakh explorer and ethnographer Shoqan Walikhanov, who was a heroic heartthrob on Soviet TV and a real-life spy for the Russian Empire. Where did his loyalties really lie, and what would he think of Kazakhstan today?
Shelley Fairweather-Vega is a professional translator from Russian and Uzbek. Her recent translations of poetry and prose from Central Asia can be found in Amanat: Women's Writing from Kazakhstan, out in July 2022, as well as in World Literature Today and other journals.
Suzanne Jill Levine will read from Luisa Valenzuela's Attorney General Dies (fiction), translated from Spanish
Valenzuela's latest is a compact a novel-within-a-novel that moves with a deceptive lightness and aura of romance, toward a swift conclusion that offers a theory on the still unresolved death of (the real-life) Alberto Nisman, the Argentine prosecutor in charge of the 1994 terrorist bombing of the AMIA Jewish Center in the heart of Buenos Aires. Until 9/11, the AMIA bombing was the worst act of terrorism in the Americas, killing 85 and injuring over 300. Dexter Filkins in The New Yorker wrote about the incident: the highest powers in Argentina do not wish to solve either the bombing or Nisman's death.
Suzanne Jill Levine's 1971 translation of Betrayed by Rita Hayworth has just been reissued by McNally Editions. A Guggenheim Fellow, her FSG biography of Manuel Puig, reviewed by Mario Vargas Llosa, was featured in the Sunday New York Times Book Review as one of the 25 most important reviews in the last 125 years.
Marian Schwartz will read from Eugene Vodolazkin's Brisbane (fiction), translated from Russian
After world-famous guitarist Gleb Yanovsky is diagnosed with Parkinson's at the height of his career, he tries to adapt as a musician and human being and also agrees to a biography about his Kyiv childhood and musical coming-of-age. When the book first came out, Yanovsky's Ukrainian-Russian identity, which Vodolazkin does explore in the novel, was barely remarked upon—precisely because this kind of dual identity is so common in Ukraine and Russia. In light of current events, though, the spotlight has turned disproportionately but understandably to this thorny issue.
Marian Schwartz's latest translations include Aleksandr Solzhenitsyn's March 1917: The Red Wheel, Node III, Nina Berberova's first novel, The Last and the First, and Eugene Vodolazkin's Brisbane. She is also a past president of ALTA. For more info, visit her website: www.marianschwartz.com.
Marguerite Feitlowitz will read from Ennio Moltedo's Night (prose poetry), translated from Spanish
La Noche is a collection of 113 prose poems written during and against the Pinochet dictatorship but not published in Chile until the return of democracy in 1999. Moltedo's small texts range from lyric to mini-drama to what the poet called "micro-fiction," some being all three at once. He narrates through images; and while the images are unfailingly clear, they often challenge our usual ways of discovering or making meaning. Some of the most surreal images are actually grounded in material and political fact.
Marguerite Feitlowitz's translations of Ennio Moltedo are supported by an NEA Translation Fellowship. Night, from which the poems here are excerpted, is forthcoming from World Poetry Books in November 2022. She has published five volumes of translation from Spanish and French, including works by Griselda Gambaro, Salvador Novo, and Luisa Valenzuela. She teaches at Bennington College in Vermont.
Josephine von Zitzewitz will read poems by Olga Bragina, translated from Russian
The proposed texts by Olga Bragina, a Russophone Ukrainian who had to flee her native Kyiv and leave behind the male members of her family in the wake of the Russian invasion in February 2022, appeared on her Facebook feed in summer 2022. They are meditations about the impact of war and displacement on a writer not at the front line and on writing as such, in unadorned language that never ceases to question itself.
Josephine von Zitzewitz has been translating from Russian, mostly poetry, for several years. Her publications include Young Russophonia (Words Without Borders Feb 2021, with Hilah Kohen).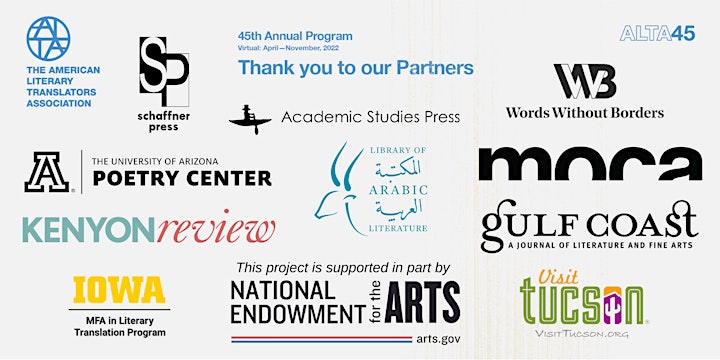 Put in your member promo code or all-access registration code after clicking "Tickets," as shown in this screenshot: