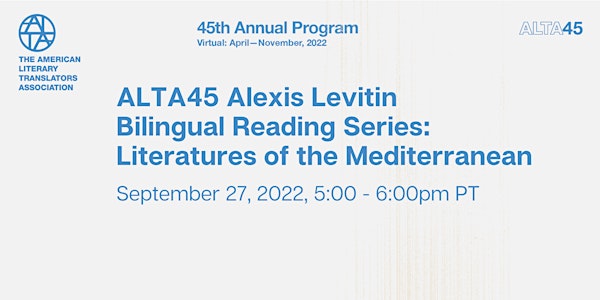 ALTA45 Bilingual Reading Series: Literatures of the Mediterranean (Sept)
Purchase tickets to attend the September ALTA Bilingual Readings
About this event
Use this page to purchase tickets to attend the September ALTA45 Bilingual Readings: Literatures of the Mediterranean, on September 27 from 5-6pm Pacific Time!
ALTA's Annual Alexis Levitin Bilingual Readings are a celebration of the work of our community. Readers typically read for a few minutes in the an original language of the text they have translated, and then read in their English translation.
Remember that if you have already paid for an ALTA45 All-Access Registration, you can use the promo code sent to your email to sign up to attend this event at no additional charge. If you are interested in purchasing an ALTA45 Registration to access all our events this year, you can do so at this link.
ALTA members receive 20% off of all tickets and registration using the member promo code. If you need your code, please search your email for "ALTA member promo code" or write to info@literarytranslators.org.
To use your 20% off ALTA member promo code or the 100% off promo code you received when you registered for an all-access pass, click "Tickets" in the event you want to sign up for, then input the code at the top of the list of tickets where it says "Enter promo code" in blue (for reference, see the screenshot at the very bottom of this page). Be sure to click "Apply," and you'll see the price change.
To sign up to read at this event, please use this link. The deadline to sign up to read is September 20. The September theme is Literatures of the Mediterranean. We welcome both classical and contemporary works from any nation or culture with a border on the Mediterranean Sea.
This event will be captioned using Zoom's automatic transcription feature. Following the reading, we invite you to stay in the Zoom meeting for a period of informal social time in breakout rooms.
All participants in ALTA's 2022 programming agree to abide by and uphold ALTA's Terms and Conditions and Code of Conduct. Email info@literarytranslators.org with questions.
September Readers
Samantha Schnee will read from Chantal Maillard's The Complexity of Compassion (nonfiction), translated from Spanish, together with the author
Chantal holds a doctorate in philosophy and has spent a significant amount of time in Asia. This book is about the complicated nature of compassion, and is split into three sections. Part One, "Hunger", contains essays and meditations on everything from vegetarianism (compassion for animals) to motherhood (and the bond between mother and child). Part Two draws on Euripides' classic play, Medea, to demonstrate compassion for a mother who kills her children after their father (her husband) has abandoned them, perhaps to protect them or perhaps in revenge. Part Three dramatizes Medea's plight in a script that gives Medea her own voice to express her complex emotions around the murders.
Samantha Schnee is the founding editor of Words Without Borders. Her translation of Carmen Boullosa's Texas: The Great Theft was shortlisted for the PEN America Translation Prize in 2015. Her translation of Boullosa's El libro de Eva, which was shortlisted for the Mario Vargas Llosa Biennial Novel Prize, will be published by Deep Vellum in 2023.
Chantal Maillard holds a doctorate in philosophy and has spent a significant amount of time in Asia. New Directions published her award-winning poetry collection, Killing Plato, in 2019, the same year that The Complexity of Compassion was published in Spanish; and Ugly Duckling Presse published her long essay, "The Semblable: Is A World Without Violence Possible?" at the end of 2020.
Siân Valvis will read from Gkiak: Tales in Blood by Dimosthenis Papamarkos (fiction), translated from Greek, together with the author
Gkiak: Tales in Blood earned Papamarkos the Academy of Athens Prize and the O Anagnostis short story award, and has been translated into German and Russian. Written in the local vernacular, the stories relate to the experiences of ex-soldiers who fought in the Greco-Turkish War (1919-1922). The book challenges readers' perceptions on trauma, violence and revenge.
Siân Valvis is a British-Greek literary translator, working from Greek, Russian, French and Portuguese. In 2020, she took part in the National Centre for Writing mentorship for literary translation. Her first book, Kolobok, a rhyming adaptation of a Slavic folktale, won a PEN Translates award in 2021. Siân will be reading an extract from the opening short story of the collection, 'I'll cut off your braids', in which the narrator is bound by honour to avenge his sister's murder.
Dimosthenis Papamarkos was born in Greece in 1983. First published at the age of 14, his work includes novels, short stories, plays, screenplays, and graphic novels. Versatile and prolific, he is widely acknowledged in Greece as one of the main voices of his generation.
Heather Green will read from Speaking Alone by Tristan Tzara (poetry), translated from French
Speaking Alone, or Parler seul, is a collection of poems originally published in 1948 in a seminal poet-artist collaboration between Tristan Tzara and Joan Miro. Tristan Tzara wrote the poems while staying at the Saint-Alban psychiatric hospital, as the guest of progressive doctor Lucien Bonnafé. This work grapples with his own displacement during and after the Nazi occupation of France, as well as the traumatic experiences of the many displaced people he encountered and befriended in Saint-Alban. This work represents some of Tzara's most powerful and nuanced lyric poetry, full of surprising and vibrant images spoken from a mature, vital voice.
Heather Green is the translator of Tristan Tzara's Noontimes Won (Octopus Books) and Guide to the Heart Rail (Goodmorning Menagerie) and the author of the poetry collection No Other Rome (Akron Poetry Series). Her translation of Sarah Manigne's 2019 novella Leaving Madrid recently received a French Voices award.
Don Bogen will read from Labyrinths of Light: Selected Poems of Juan Lamillar, translated from Spanish
Born in Seville in 1957, Juan Lamillar is the author of ten books of poetry, including Entretiempo (Renacimiento, 2015), a volume of selected poems. Prizes for his poetry include the Premio Luis Cernuda, the Premio Vicente Nuñez, and the Premio Villa de Rota. Don Bogen has completed a translation of his selected poems, Labyrinths of Light, that includes work from each of his books.
Don Bogen is the author of five books of poetry, most recently Immediate Song (Milkweed, 2019) and the translator of Europa: Selected Poems of Julio Martinez Mesanza (Dialogos, 2016). His translations from Juan Lamillar have appeared in The Arkansas International, Notre Dame Review, and other journals. His website is www.donbogen.com.
Carmela Ferradans will read from Nieves García Benito's Al-Jazeera (fiction), translated from Spanish
Nieves García Benito is a writer, a human rights activist, and an educator from Spain. She lives and works in Tarifa, the southernmost point of Europe, a mere nine miles from the coasts of Africa. She is the author of the short story collection Por la vía de Tarifa (By Way of Tarifa) first published in Spanish in 1999. The 12 stories in the collection are a poignant document of the migration crisis in the Mediterranean at the turn of the 21st century. García Benito is currently working on a documentary titled Iñigo's Dream: An Imaginary Script, tracing the tragic death of her son Iñigo in a helicopter accident during a search and rescue mission in the Almería Bay in 2010.
Carmela Ferradáns is a Professor of Spanish at Illinois Wesleyan University. She is the editor and translator of the bilingual poetry collection Incessant Beauty: A Bilingual Anthology of Ana Rossetti's Poetry (New York: 2Leaf Press, 2014), and she is currently working on an annotated English translation of the short story collection By Way of Tarifa by Nieves García Benito.
Anna Chiafele and Lisa Pike will read from Luigi Malerba's I Salute You Philosophy (fiction), translated from Italian
Ti saluto filosofia is a collection of twenty short stories which was first published in 2004. Malerba's short fiction is characterized by wit, humor, and a strategic use of irony. This collection encourages readers to ponder upon progress and upon the myth of human perfectibility; individuals tremble, shatter, and find themselves in a network of complex sexual, affective, vulnerable and material relations. This collection mainly depicts the Italian middle-class at the turn of the century.
Anna Chiafele is an Associate Professor of Italian at Auburn University. Lisa Pike is a Canadian writer. Together Chiafele and Pike have translated and published Penelope (Bordighera Press 2021), a novel by Silvana La Spina. Right now, they are translating a collection of short stories by Luigi Malerba and a novel by Francesco Aloe.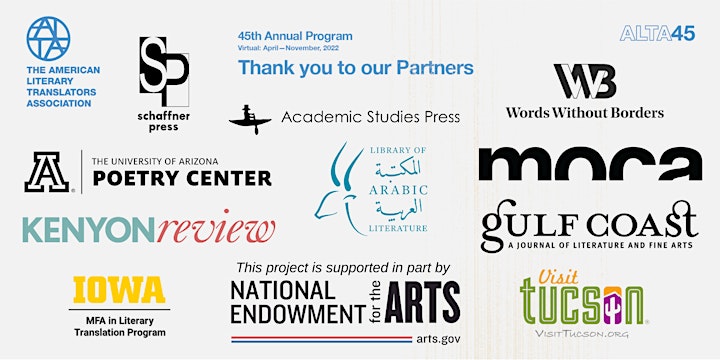 Put in your member promo code or all-access registration code after clicking "Tickets," as shown in this screenshot: