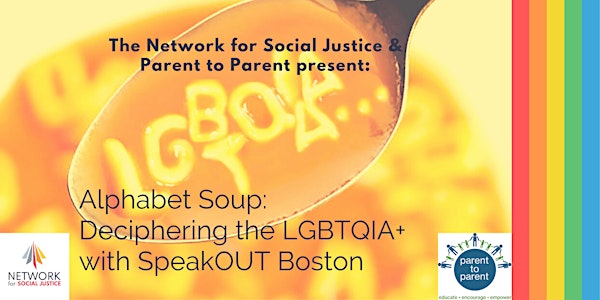 Alphabet Soup: Deciphering the LGBTQIA+ with SpeakOUT Boston
Tune in to listen and learn from members of SpeakOUT Boston about their personal experiences as members of the LBGTQIA+ community.
About this event
In honor of Pride Month, please join us and our co-sponsor, Parent to Parent, as we welcome members of SpeakOUT Boston to share their personal stories in an online panel discussion format. SpeakOUT is a community of speakers that has worked since 1972 to create a world free of homo-bi-transphobia and other forms of prejudice by telling the truths of their lives.
SpeakOUT's motto is "Ask Us Anything," so along with hearing the experiences of our panelists, audience members will have ample time to ask questions. This event is free and is intended for parents and caregivers.
Attendees will receive an email with the Zoom link on the day of the event.