Description
Alphabet Soup: An A to Z of Gift Planning
A Gathering for Organization Fundholders

Presented by:
Sheryl Aikman, Vice President, Development, CFWNC
Becky Davis, Senior Development Officer, CFWNC

12:00pm – 1:30pm
Wednesday, February 27, 2019
$10 (includes lunch)

Location:
The Community Foundation of Western North Carolina
4 Vanderbilt Park Drive, Suite 300, Asheville, NC 28803
In the Historic Biltmore School building; enter at the back; directions at www.cfwnc.org.

What better for cold February than hot soup? This workshop will be a fast-paced introduction to gift planning terms and concepts, with special attention to the topics most relevant for how your donors may be thinking about their giving after tax reform. There will be time for Q&A and networking. Your board members, staff, and volunteers are always welcome.

We hope you can join us!
Space is limited, so please register by Friday, February 22.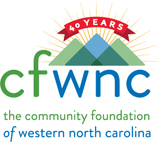 The Community Foundation of Western North Carolina (CFWNC) is marking its 40th anniversary in 2018. CFWNC works with families, businesses and nonprofits to strengthen communities through the creation of charitable funds and strategic grantmaking. A permanent charitable resource, the Foundation manages more than 1,120 funds and has facilitated more than $234 million in philanthropy since its founding in 1978. CFWNC continues to evolve to help donors and nonprofits meet their charitable goals and to serve the ever-changing needs of Western North Carolina and beyond. Learn more.