Alpha Phi Omega Region V Conference

Friday, November 15, 2013 at 6:00 PM

-

Sunday, November 17, 2013 at 11:00 AM (EST)
Event Details
Who's ready for Region Conference!!!! The brothers of Eta Upsilon chapter are pumped to host this year's Region V Conference! The theme for the conference is Family Game Night and we promise a fun filled weekend full of Leadership, Friendship and Service.
As you can see there are two different options for registration:
          -With banquet
                   or
          -Without banquet
Unfortunately our facilites have a limited amount of space for banquet. There are only 400 seats available in the banquet hall. This means that if you want to go to banquet you better register early or you may not get a spot! Believe me this a banquet you will NOT want to miss. We have a few surprises up our sleeves for banquet this year and we will be dropping CLUES about them over the next couple of months to get everyone excited! So get your registration in and check the facebook page often for updates! You can find us at: 
https://www.facebook.com/RegionVConference
You have the option to pay online via PayPal, pay by check or pay at the door. Checks can be sent to the following address:
Alpha Phi Omega                       
Memorial Student Center Box A6
1 John Marshall Drive
Huntington, WV 25703
We have blocked off rooms at the following hotel:
     -The Pullman Plaza Hotel
       1001 3rd Ave  Huntington, WV 25701
       (304) 525-1001
The conference rate is $99 a night. Make sure you call to reserve a room rather than try to do it online because they will not apply the conference rate to your room if you book it online. 
Early registration ends on November 1. If you register after November 1 there is a late fee of $5 and you will not be guaranteed a t-shirt. 
GAMES! GAMES!! GAMES!!!
*** All games are subject to change
Arcade
-       Mario Kart ( main screen) Tournament style
-       Just Dance
-       Guitar Hero
-       Wii Sports ( multi selection of games)
-       Super Smash brothers
-       Tower fall (*** Space providing )
Game Room
-       Monopoly
-       Twister
-       Yahtzee
-       Scrabble
-       Candy Land
-       Jeopardy
-       Trouble
-       Sorry
-       Clue
-       Shoots and Ladders
-       Don't break the ice
-       Apples to Apples
-       Operation
-       Jenga
-       Mouse Trap
-       Life
-       Cards ( several decks)
-       Uno
The Club House
-       Billiards ( Pool tables)
-       Ping pong
-        Karaoke (space providing)
-       This room will be the lounge area, with the candy bar with lots of different treats! 
*** ALL CLASSES/ TIMES ARE SUBJECT TO CHANGE

ReCon V Classes

1st block
-Risk Management
-Ohio Split
-ROTC Leadership
-Pledge 2 Officer 
-Dance/Choreo
-Nationals Bid
-Judo

2nd block
-Toast Master
-Yoga
-Interviewing workshop
- Brother in Town
- Pledge Class
- Belly Dancing 
- Long Boarding

3rd Block
- Advanced Active
- Focus Groups
- Fund Raising
-Launch
- CPR
-Brotherhood
-Self Defense

4th Block
- Historian
- GIS 
-Board Restructuring 
-Budgeting for Officers 
-How to be professional and get your job done
-Felllowship Round Table
- Arts and Crafts 

*** Achieve is in the works to be offered as well. An official announcement will be made when it is 100% official.
If you have any questions on Classes/ or ReCon in general please feel free to contact us!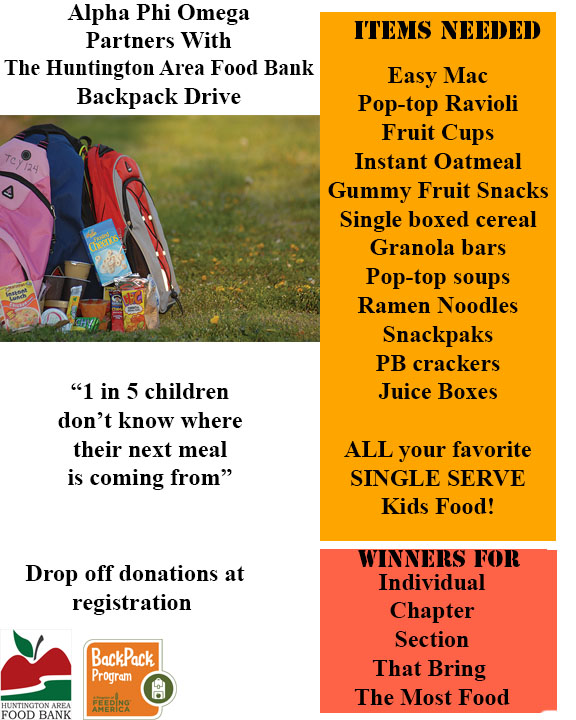 2013 Alpha Phi Omega Region V Conference hosted by Eta Upsilon (Marshall University)
When & Where
1 John Marshall Drive
Huntington, WV 25755


Friday, November 15, 2013 at 6:00 PM

-

Sunday, November 17, 2013 at 11:00 AM (EST)
Add to my calendar