Alpha Phi Alpha Fraternity Inc.'s Juneteenth Summer Formal

Friday, June 20, 2014 at 9:00 PM

-

Saturday, June 21, 2014 at 2:00 AM (EDT)
Event Details
Teresa R. Martin, Esq.,Speaker, Financial Health Coach, Real Estate Investor, Attorney is Being Honored
On Friday June 20, 2014 over 150 guests will gather to attend the annual Juneteenth Summer Formal, hosted by the Memorial Scholarship Endowment Fund, Inc., of the Gamma Iota Lambda chapter ("GIL") of Alpha Phi Alpha Fraternity, Inc.Juneteenth 2014.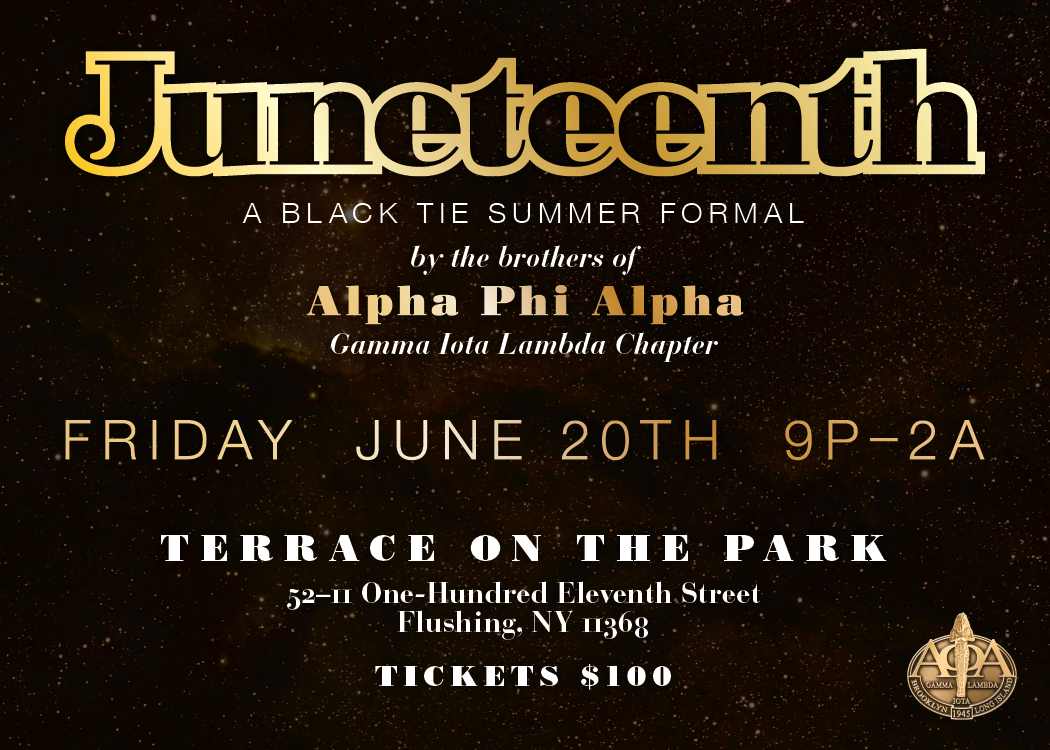 Event Overview
Each year our dinner dance event is held during the time of the Juneteenth holiday. This event is a venue to both showcase leaders in our community and celebrate our accomplishments over the year. Our event attracts tri-state media attention and in many ways kicks off the summer. This year we will celebrate our 69th anniversary of service in Brooklyn and Long Island communities.
The event will be filled with dancing, laughter and socializing on both the beautiful penthouse ballroom and stunning outdoor terrace of Terrace on the Park in Queens, New York. Additionally, we will award our annual Memorial Scholarship to a deserving high school senior from Brooklyn or Long Island. We also will be honoring several giants in our community with our PHI Award, highlighting those who have
made an impact through politics, community service or education.
The 2014 Juneteenth Honorees and recipients of the prestigious PHI Award include the following:
Rev. Anthony Trufant – Emmanuel Baptist Church

Teresa R Martin, Esq. – Financial Advisor, Coach, Attorney

Justice of the Supreme Court, Queens County*
A few of the past PHI award recipients include the following:
Representative Yvette Clarke – 11th Congressional District, State of New York

Kenneth Chenault – President & CEO of American Express

Dwayne Ashley – President & CEO, Thurgood Marshall Scholarship Fund

City Council Woman Letitia James – New York City Council

Bob Slade, James Mtume & Bob Pickett – WRKS Kiss FM Open Line program
Brief History of Juneteenth
Almost Two and a half years after the emancipation proclamation was signed, on June 19, 1865, Union soldiers sailed into Galveston, Texas, announced the end of the Civil War, and read aloud a general order freeing the quarter-million slaves residing in the state. It's likely that none of them had any idea that they had actually been freed more than two years before. It was truly a day of mass emancipation. It has become known as Juneteenth.
Visit http://gil1906.com to learn more about Alpha Phi Alpha Fraternity, Inc.
When & Where

Terrace on the Park
52-11 111th St.
Flushing, NY 11368


Friday, June 20, 2014 at 9:00 PM

-

Saturday, June 21, 2014 at 2:00 AM (EDT)
Add to my calendar
Organizer
THE BRAND
Dr. Teresa R. Martin is the Founder, President & CEO of Generational Wealth Zone LLC, a premier full-service wealth creation company featuring a portfolio of category-leading brands that include Real Estate Investors Association NYC (REIA NYC), REIAWealthAcademy.com, Enjoy Your Legacy / Legacy Coaching, a leading business, business finance and real estate coaching brand.

BEHIND THE BRAND
Teresa is one of the most-sought after business finance and real estate strategist in the industry and a competent consultant, attorney, real estate investor, entrepreneur, educator, facilitator and a steward of hope as well as financial peace who deeply understands and emphasizes the importance of financial education both in business and in life. Dr. Teresa is dedicated to showing individuals and entrepreneurs how to become financially empowered by turning the work they love into a profitable and sustainable business. She reveals the secret to finding hidden money in client's bank accounts through a simple mindset and business-model shift which quickly attracts new money.​

THE MOVEMENT
Aside from being a successful attorney and founder of Enjoy Your Legacy, Teresa is also a well-seasoned real estate investor who took the industry in awe with her focus on creative acquisition strategies that she has developed alone, has implemented and taught to others as the Founder/ Counsel of Real Estate Investors Association NYC. She was looked up by many people as well for being an inspiring Director as well as past President of the nation's largest non-profit organization that is very much dedicated to investment education, New York Chapter of Better Investing.

Teresa also sits on the Board of Directors for National Real Estate Investors Association and represents the interests of about 40,000 members across the United States. Her extensive legal experience which is coupled with her great passion for financial ministry and consumer education made her join as well as complete her Group Leader training with the Fellowship of Companies for Christ International (FCCI) in 2005. Teresa continues to equip, encourage and help the others to understand sound financial biblical principles through Generational Wealth Zone LLC. It is a conduit for a person to achieve financial freedom through a tutelage in the areas of business ownership, financial education and real estate investing. Her core interest is the financial literacy of young adults, women and other possible emerging markets that represent the financially disenfranchised segments in the population.