Alpha Kappa Alumni Network presents the "AK Blue Room" Homecoming Celebration
About this event
The History behind the Blue Room Celebration.
As most of you all know, for many, many years Brother James 'Blue' Ragin and his wife Diane opened their home for local and visiting Brothers during homecoming celebrations. Their generous hospitality which included food and drinks served as a way on Friday and Saturday nights for Brothers to fraternize, see who was in town, share war stories, and to just have a good time. Brother James 'Blue' Ragin entered Chapter Invisible in October 2008.
We feel the "Blue Room" is an excellent way to honor the memory of our beloved Brother and continue his legacy of bringing Brothers together at NCCU Homecoming.
Friday, November 5, 2021
7:00 pm -1:00 am
Saturday, November 6, 2021
6:00 pm -1:00 am
Sounds provided by DJ Icy Stan
THIS CELEBRATION IS FUNDED BY YOUR SUPPORT. PLEASE SELECT YOUR DONATION AMOUNT LEVEL:
$1000 PLUS DIAMOND (Allowed 10 Guests)
$500-$999 CRIMSON (Allowed 8 Guests)
$250-$499 CREAM (Allowed 6 Guests)
$150-$249 AK SPONSOR (Allowed 4 Guests)
$100-$149 AK SUPPORTER (Allowed 2 Guests)
$50-$99 DONOR (Allowed 1 Guests)
***Brothers less than 10 years in the Bond $20.00 for Friday and Saturday
We will acknowledge Diamond, Crimson and Cream supporters with a gift.
PLEASE SEND CHECK PAYABLE TO "The Blue Room" to:
John C. Rogers
900 Medina St
Durham, 27707
Or
Pay Palpaypal.me/johncrogers
Or
Cash App$JohnCRogers
(Do not pay through this App…pay as described above)
We are humbled yet excited about continuing to honor this outstanding Brother and his love for Kappa Alpha Psi.
For Brothers interested in getting a room at the Comfort Suites RTP you can make your reservation by clicking on the link below (or copy and Paste into your web browser):
https://www.choicehotels.com/reservations/groups/VG26P0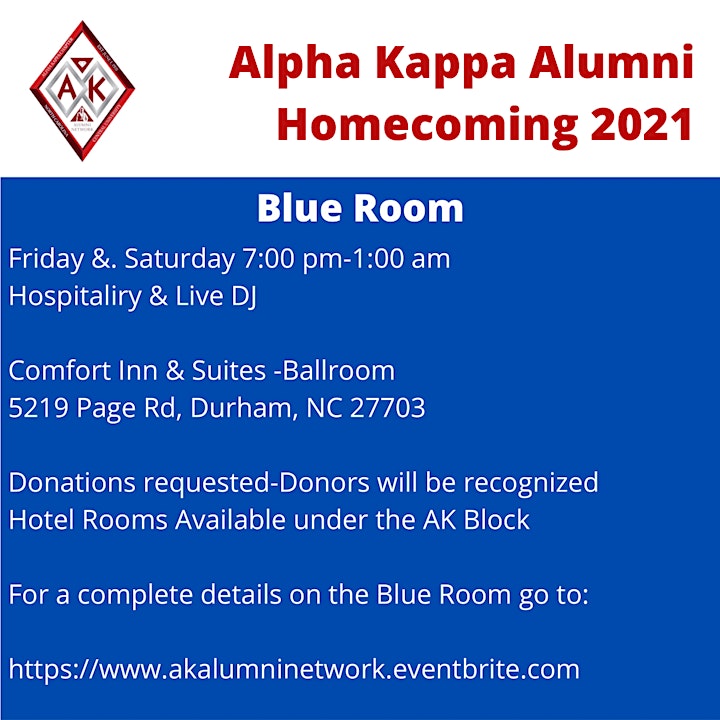 Organizer of Alpha Kappa Chapter Blue Room Homecoming Hospitality