Description
The ALPFA Orange County (OC) Chapter invites you and your friends to join us for an Industry Roundtable Event on the Financial Industry. Sponsored by UnitedHealth Group with Altria Group Inc., Boeing, RSM International and Prospanica.
Join us for our Financial Industry Roundtable discussion with accomplished business executives and Chief Financial Officers. Our panelists will share how to navigate a career in the ever-changing financial services industry and personal career insight. Learn about opportunities in Accounting and Finance in the medical, software, consumer products, and banking industries. Q&A session will follow the panel discussion. Join us early for a light breakfast, coffee and great networking opportunities!
Tickets are limited - You do not need to be a member of ALPFA to come to this event, registration open to the public!

#ALPFAOC #RoundTable #ALPFA

Agenda
8:30 a.m. Registration & Networking Breakfast
9:30 a.m. Event Starts: Welcome Remarks / Introductions
9:40 a.m. Industry Specialist: Gary Aguirre - Attorney and former SEC Investigator
10:00 a.m. Panel Discussion Part 1: State of the Financial Services Industry
10:20 a.m. Panel Discussion Part 2: Regulations
10:40 a.m. Short Break
10:45 a.m. Panel Discussion Part 3: Job Opportunities for Students/Professionals
11:05 a.m. Panel Q & A
11:25 a.m. Closing Remarks
11:30 a.m. Event Concludes
(The program is subject change without notice.)
Speakers/Panelists: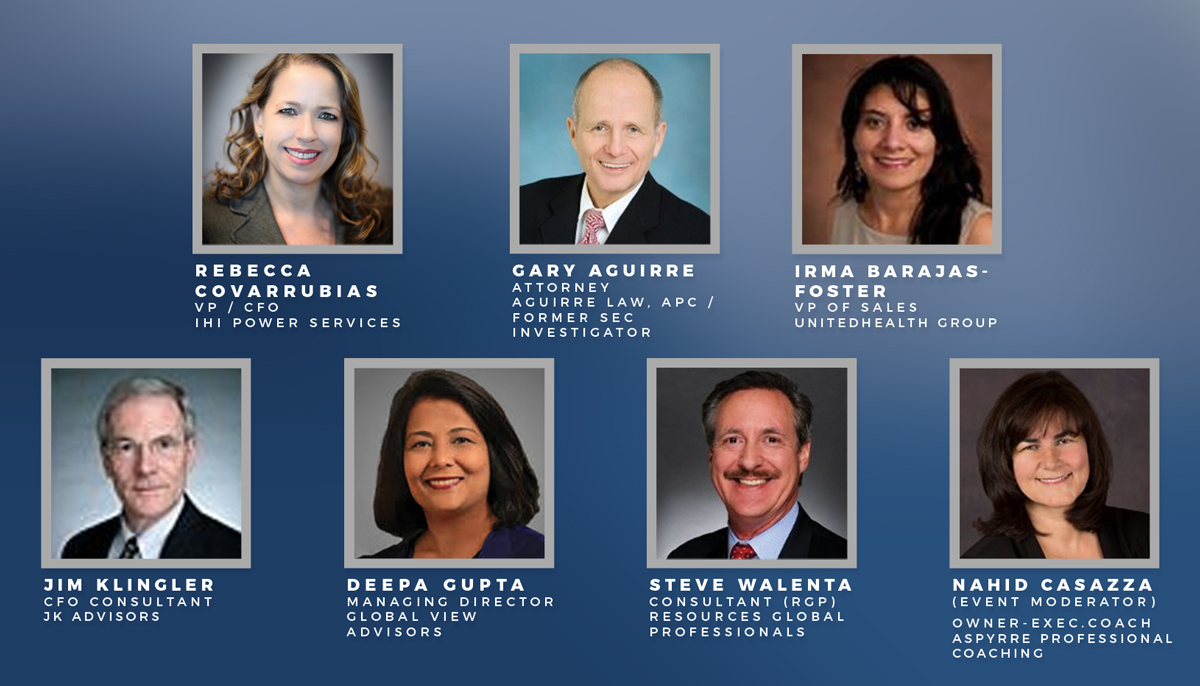 Gary Aguirre: Attorney? - Aguirre Law, APC / former SEC? Investigator?
Steve Walenta: Consultant - ?Resources Global Professionals? (RGP)
Irma Barajas-Foster: VP of Sales ?- UnitedHealth Group?
Rebecca? Covarrubias: VP / CFO? - IHI Power Services Corp.
Jim Klingler: CFO Consultant? - JK Advisors
Deepa Gupta: Managing Director ?- Global View?Advisors ?
Nahid Casazza (Event Moderator): Owner-Executive Coach? - Aspyrre Professional Coaching?
Sponsored by UnitedHealth Group
with Altria Group Inc., Boeing, RSM International and Prospanica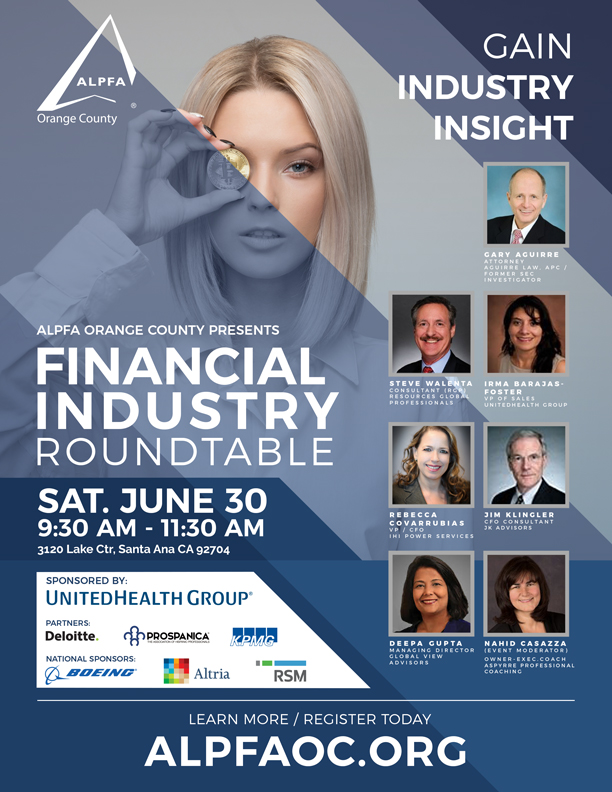 Additional sponsorship opportunities available.
If any questions, please contact us:info@orangecounty.alpfa.org

Learn more about ALPFA OC, visit ALPFAOrangeCounty.org
Thank you
ALPFA Orange County Professional Chapter