About this Event
ALPFA Charlotte is dedicated to enhancing opportunities for Latinxs in the Charlotte Area, and building leadership and career skills. Our First Annual Diversity Expo has a meaningful and bold goal: Build a stronger Latin Leader base by tapping into their passions and finding a balance that will enrich, energize, and inspire them.
This year's inaugural program will engage several leaders from multiple Fortune 500 companies represented in Charlotte; including banking, technology, etc...
We invite you to attend a great day of training, networking, and empowerment where you will also meet and interact with leaders and experts from across the Charlotte Area.
Meet us at the Queens University Campus on Saturday, October 26, 2019.
Schedule
Registration Opens ……………………………………… 8:00 AM – 9:00 AM
Diversity Panel ...................................………. 9:00 AM – 10:00 AM
Workshops .........................…………..….……..10:05 AM - 11:05 AM
BREAK ………………………………………….………….11:05 AM – 11:15 AM
Workshops ………………………………..……….......11:15 AM - 12:15 PM
Lunch / Networking/ Diversity Expo ……....…12:15 PM – 2:00 PM
Light refreshments and snacks will be provided. We look forward to seeing you there!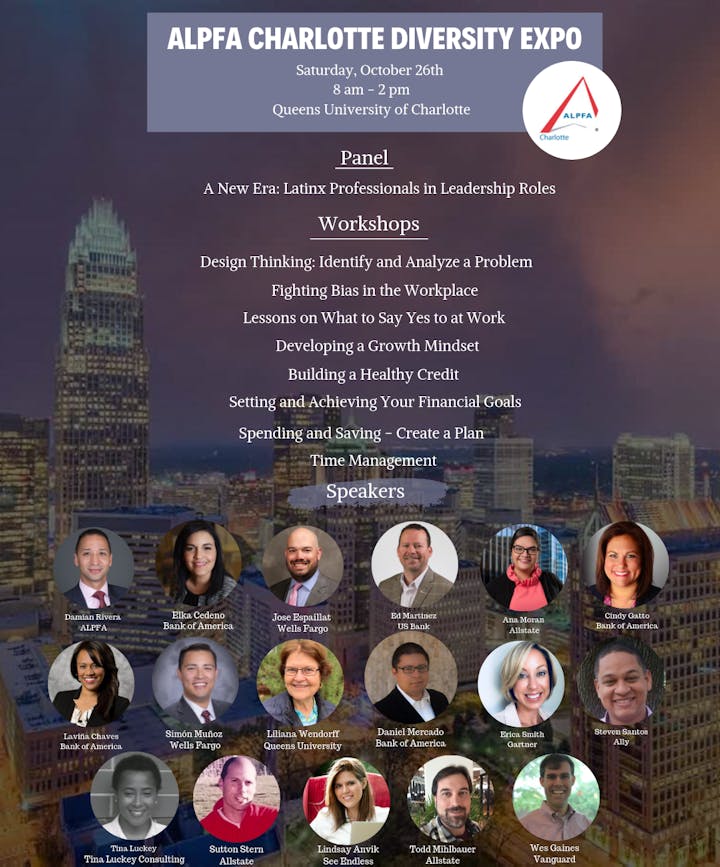 Fun Grazing Tables from Charlotte's own Babe and Butcher will be available throughout the Expo, in addition to a Local Breakfast & Lunch!