Location
Crystal Mountain Resort
33914 Crystal Mountain Boulevard
Enumclaw, WA 98022
Enjoy a guided snowshoe tour through the towering forests surrounding Crystal Mountain Resort, drinks and a delicious dinner.
About this event
Crystal Mountain Resort is excited to offer an evening snowshoe adventure. Climb through the snow-covered forest, indulge in tasty food & drink while enjoying the mountain environment with other like-minded individuals. Discover the wonder of winter adventure in the Cascade Mountains through snowshoeing with experienced guides.
In the afternoon, participants will meet up in the base area and start making their way uphill. The route will begin at the Crystal Mountain base area (4,400 ft) and wind up through the towering forest along the Silver Creek Trail. Once you've got your fill of views and uphill travel, the group will warm up with drinks and make their way down to a delicious dinner and music back at the base area.
This unique snowshoeing experience is only offered a few times a season so take full advantage of a great workout and connect with other fun mountain merrymakers.
TICKET: $94 includes a swag bag, guided tour, dinner, one (1) hot drink ticket and one (1) alcoholic drink ticket.
SNOWSHOE + POLE RENTAL (add on): $30
WHO: Snowshoers of any level are welcome. Previous experience is not required but participants need to have a clear understanding of the physical requirements of traveling uphill.
WILL I ENJOY SNOWSHOEING?
Snowshoeing is one of the most peaceful ways to explore the snowy alpine. The footprint of the snowshoes keeps you elevated above the deep snow and makes it nearly as easy as walking. Snowshoes also have metal teeth that grip on steep or icy surfaces, making it easy to climb steep slopes if you desire. Crystal Mountain has set up a trail system that should make your adventure very easy and fun.
Useful tip: Think about bringing a dedicated camera instead of using your phone, as the cold can wear out phone batteries pretty quickly. You may need to use your phone in case of an emergency so a dedicated camera is a better idea. At the very least make sure someone in your party has a fully charged phone and keeps it warm.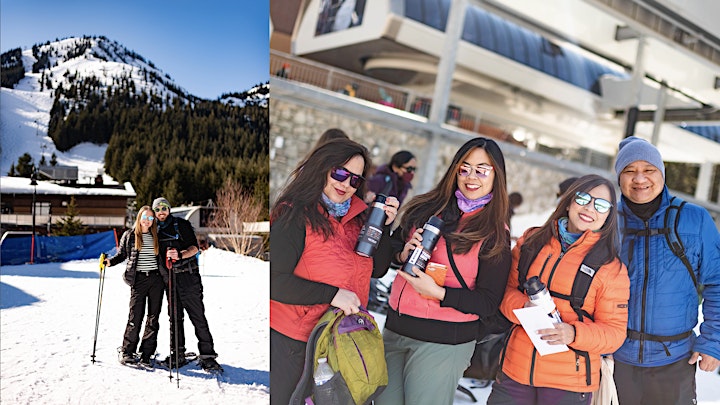 WHAT TO BRING
Consider bringing/wearing the following items on your snowshoe trip to ensure a fun, warm, dry time.
Snowshoe Clothing
Moisture-wicking base layer (Polyester blend or wool). Cotton doesn't dry well and won't keep you warm if it gets wet.
Insulated Layer (Fleece or Vest)
Waterproof/Breathable jacket
Hat or Beanie
Socks (Wool or Synthetic)
Gloves or mittens
The Gear
Snowshoes - Rent these at Crystal Mountain
Boots - Waterproof hiking boots or insulated winter boots.
Poles - Rent these at Crystal Mountain
Headlamp - sunset is at 5:30pm
Backpack - Keep all of your essentials in your backpack. Don't bring anything you won't need, the weight will slow you down.
Crystal Mountain is closely following CDC and local state guidelines regarding COVID-19 to create new activities that can be enjoyed with safety as top priority. Please read our In The Know Guidebook before visiting the resort for this event.
All tickets and services are non-refundable and non-transferable.