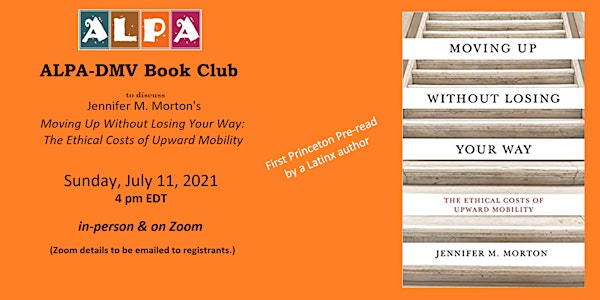 ALPA-DMV Book Club: 7/11/21 in-person and on Zoom
Join us for a lively discussion of "Moving Up Without Losing Your Way: The Ethical Costs of Upward Mobility" by Jennifer M. Morton '02
When and where
Location
1701 Massachusetts Ave NW 1701 Massachusetts Avenue Northwest Washington, DC 20036
About this event
Our next book club event will be held on Sunday, 7/11/2021 in person and on Zoom. Our in-person book club last month was fabulous. We want to do it again. We will also have our first ALPA-DMV Eating Club (of 2021) after the book club discussion. Hence, we will begin the 7/11 book club at 4 pm and the Eating Club will begin at 6 pm. [There is a separate evite for the eating club.] The venue for the book club is the rooftop lounge of Ezra Vazquez-D'Amico's building. As in May, for those that prefer not to meet in person, a Zoom call will be available. Please register today.
Our next book is Moving Up Without Losing Your Way: The Ethical Costs of Upward Mobility by Jennifer M. Morton '02. This book was selected as the Princeton Pre-read for the incoming Class of 2025. It is the first Pre-read selection by a Latinx author. The following are excerpts from a 4/27/21 Princeton announcement:
Published by Princeton University Press in 2019, "Moving Up Without Losing Your Way" examines the ethical and emotional tolls paid by disadvantaged college students seeking upward mobility and discusses what educators can do to help these students flourish. The book draws on Morton's own experiences as a Peruvian immigrant and first-generation college student.
"Professor Morton's book is a philosophical reflection on the challenges of being a college student," (President) Eisgruber said. "It gracefully integrates philosophical insights with common sense observations and personal stories. And it speaks candidly about what makes a college education exhilarating, what makes it hard and how to navigate the choices it requires."
In a video announcing the Pre-read to the Class of 2025, Eisgruber added: "[Morton] asks everybody to think about the importance of having a clear ethical narrative that describes what it is we are trying to achieve, what social goals matter to us, what sacrifices we are willing to make and which ones should we not make. That is an important message for entering college students and for all of us who care about higher education in our society."
Morton is an associate professor of philosophy at the University of North Carolina-Chapel Hill and a senior fellow at the Center for Ethics and Education at the University of Wisconsin-Madison. She will become a presidential associate professor at the University of Pennsylvania this fall.
"This book is the product of my own journey from empathy to self-understanding," Morton said. "I hope that reading it will help members of the Class of 2025 find their own path towards a more empathetic and reflective understanding of each other's diverse experiences of college."
Recalling her first days at Princeton in the fall of 1998, Morton said the book relates her own experience as an undergraduate to the experiences of the students she now teaches.
"I arrived at Princeton as a first-generation college student — only, I had never heard of that term, and would not learn how it applied to me until decades later," she said. "Without a framework, I was unsure of where I was supposed to fit in or where I was headed. Years later, as a professor at the City College of New York, my own experiences as a student came into sharper focus as I sought to understand the challenges confronting my own students."