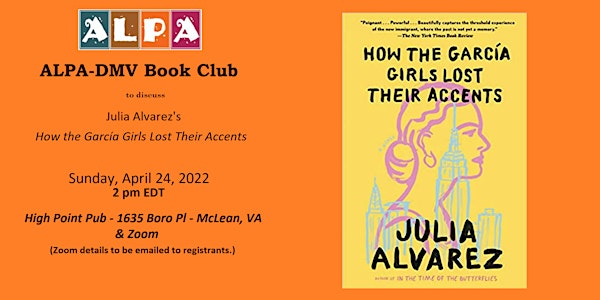 ALPA-DMV Book Club: 4/24/22 in-person and on Zoom
Join us for a lively discussion of "How the García Girls Lost Their Accents" by Julia Alvarez
When and where
Location
High Point Pub 1635 Boro Place McLean, VA 22102
About this event
Our next book club event will be held on Sunday, 4/24/2022 in person and on Zoom. This will be our first in-person book club in 2022. The venue for the book club is the the High Point Pub in the Whole Foods Market in the Boro in McLean, VA. The High Point Pub has covered outdoor seating that is perfect for an April day. The Whole Foods Market is a 6 minute walk from the Greensboro Metro Station. There is street parking nearby and a parking garage for the Whole Foods Market. For those that prefer not to meet in person, a Zoom call will be available. Please register today.
Our next book is How the García Girls Lost Their Accents by Julia Alvarez. The following is from Amazon:
"Poignant . . . Powerful . . . Beautifully captures the threshold experience of the new immigrant, where the past is not yet a memory." —The New York Times Book Review
Acclaimed writer Julia Alvarez's beloved first novel gives voice to four sisters as they grow up in two cultures. The García sisters—Carla, Sandra, Yolanda, and Sofía—and their family must flee their home in the Dominican Republic after their father's role in an attempt to overthrow brutal dictator Rafael Trujillo is discovered. They arrive in New York City in 1960 to a life far removed from their existence in the Caribbean. In the wondrous but not always welcoming U.S.A., their parents try to hold on to their old ways as the girls try find new lives: by straightening their hair and wearing American fashions, and by forgetting their Spanish. For them, it is at once liberating and excruciating to be caught between the old world and the new. Here they tell their stories about being at home—and not at home—in America.
------------------------------------
Note: For those new to Eventbrite, you RSVP to "free" events by first clicking Register to the right. Provide your name and email address (x2) for Contact Information and name and email address for Book Club ticket, deselect the check boxes for info about my events and emails from Eventbrite (if you like), and then click another Register button. You will receive an email to the event. If you don't have an Eventbrite account, you will be asked at this email (or a later one) to set up an account on Eventbrite (with your email and a password). I believe the email will have a button that says "Check Access" that you need to click. Later, Eventbrite will email you the details of the Zoom meeting. You need your email and password that you set up your Eventbrite account to get the meeting info. If you forgot your password, there is will be a "forgot password" link to reset your password.