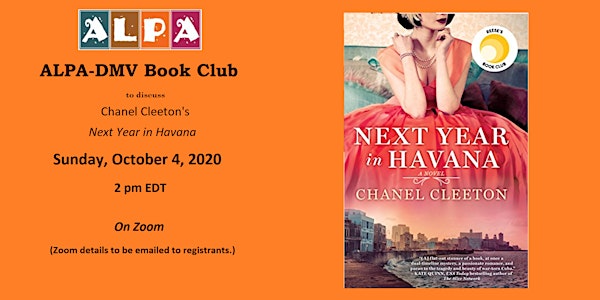 ALPA-DMV Book Club: 10/4/20 on Zoom
Join us for a lively discussion of Next Year in Havana by Chanel Cleeton.
About this event
Our next book club event will be held on Sunday, 10/4/2020 on Zoom. In addition to discussing the book, it will be great to see how everyone is doing. Please register today.
Our next book is Next Year in Havana by Chanel Cleeton. Here is the description from goodreads.com:
After the death of her beloved grandmother, a Cuban-American woman travels to Havana, where she discovers the roots of her identity--and unearths a family secret hidden since the revolution...
Havana, 1958. The daughter of a sugar baron, nineteen-year-old Elisa Perez is part of Cuba's high society, where she is largely sheltered from the country's growing political unrest--until she embarks on a clandestine affair with a passionate revolutionary...
Miami, 2017. Freelance writer Marisol Ferrera grew up hearing romantic stories of Cuba from her late grandmother Elisa, who was forced to flee with her family during the revolution. Elisa's last wish was for Marisol to scatter her ashes in the country of her birth.
Arriving in Havana, Marisol comes face-to-face with the contrast of Cuba's tropical, timeless beauty and its perilous political climate. When more family history comes to light and Marisol finds herself attracted to a man with secrets of his own, she'll need the lessons of her grandmother's past to help her understand the true meaning of courage.
Note: For those new to Eventbrite, you RSVP to "free" events by first clicking Register to the right. Provide your name and email address (x2) for Contact Information and name and email address for Book Club ticket, deselect the check boxes for info about my events and emails from Eventbrite (if you like), and then click another Register button. You will be emailed a "ticket" to the event. Later, Eventbrite will email the registrants details of the Zoom meeting.