Dieses Event ist beendet.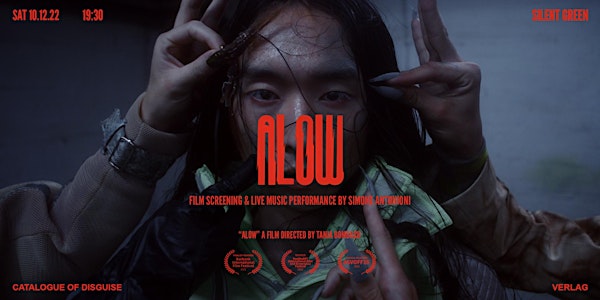 ALOW - Film screening and live music performance
Public screening of the festival-winning film "ALOW "by CATALOGUE OF DISGUISE followed by a live music performance by Simone Antonioni.
Zeit und Ort
Veranstaltungsort
silent green Kulturquartier Gerichtstraße 35 13347 Berlin Germany
Karte und Wegbeschreibung
Rückerstattungsrichtlinie
Keine Rückerstattungen
Zu diesem Event
We are pleased to announce the public screening of the festival-winning film "ALOW "by CATALOGUE OF DISGUISE followed by a live music performance by Simone Antonioni.
10th of December at SILENT GREEN KUPPELHALLE.
DOORS OPEN: 19.30 (with DJ Set by Rahina)
SCREENING: 20.30
LIVE MUSIC PERFORMANCE: 21.00
ALOW is the fourth project of CATALOGUE OF DISGUISE, directed by Tanja Bombach - a hallucinatory nightmare characterized by pervasive anxiety, loss of control and trepidation luring under the surface of three different escapist encounters. This underground tale explores feelings of restlessness and overstimulation in a fragmented way. It examines uncertainty as a collective state of mind, simultaneously haunted by notions of a lost past and anticipated future.
This immersive journey breaks down the underlying wish for escapism while experiencing a fickle and unsettling relationship with reality. Wielding a multidisciplinary arsenal of performance, sound and fashion, ALOW combines and bends characteristics of genres between arthouse, fashion film, screen dance and slow horror.
Following the screening, Simone Antonioni will perform new music material, including excerpts from the film's soundtrack and studio recordings. Along with the event, Antonioni's label VERLAG will release the music "ALOW" from the film.
Simone Antonioni is a Berlin-based artist who releases electronic music, publishes art material and performs live. In recent years Simone worked on a variety of multidisciplinary projects at the intersection of avant-garde music, experimental club scene, fashion, dance and performance. Most notably is the ongoing collaboration with CATALOGUE OF DISGUISE, in which Simone produced the soundtrack for the short film HAZE (2020) and ALOW (2022). Simone recently performed at Meakusma Festival, Trauma Bar und Kino and Moninga Festival. Other projects released by the artist are: Loss (as Unfolded Memories) (2020), Music for Encaje (2021), A BODY WITHOUT FATIGUE (2021) and FRAGILE (2022).
Tanja Bombach is a director, designer and producer based in Berlin. She founded in 2018 the project series CATALOGUE OF DISGUISE and created various interdisciplinary performances and projects throughout the years dealing with the topics of choreographed identities, disguises and concepts around self-presentation. Wielding a multidisciplinary arsenal of dance, fashion and music, these pieces range from performances, installations and videos. ALOW is currently the fourth project of CATALOGUE OF DISGUISE. Projects in the past have been "NOW YOU MAY TELL" (2018), "CATALOGUE OF DISGUISE I" (2019), "BEYOND THE GAZE"(2019), "HAZE" (2020).
Rahina is a Berlin based DJ. They host a monthly show INKONSEQUENT at Retreat Radio (Sweden), to explore experimental pop and emotional electronics. As a full time daydreamer their secret pleasure is sound design - the DJing of mood settings and background music that plays under your skin.
CREDITS FILM:
DIRECTOR & PRODUCER Tanja Bombach FASHION Laura Gerte, Don Aretino, Tanja Bombach COMPOSER & SOUND DESIGNER Simone Antonioni DIRECTOR OF PHOTOGRAPHY Sven Gutjahr CHOREOGRAPHY Phoenix Chase-Meares, Jos McKain ASSISTANT DIRECTOR & CO-PRODUCER Mia Alvizuri Sommerfeld EDIT Tanja Bombach CAST Susanne Engbo Andersen, Phoenix Chase-Meares, Peer Liening-Ewert, Alistair Wroe, Camille Jackson, June, Nina Burkhardt, Lena Kilchitskaya, Yvonne Sembene, Yi-Wei Tien LIGHTS Shaly Lopez, Ves Rustad Holseter SET Mia Alvizuri Sommerfeld COLORING Kevin Kopacka HAIR Fabienne Hoppe, Kathrin Hildebrand MAKE UP Victoria Reuter, Darja Crainiucenco, Maria Boman NAILS Camila Volbert TITLE/CREDITS Alexandru Plesco CAMERA ASSISTANCE Philip Treschan, Max Hilsamer PRODUCTION ASSISTANCE Camila Volbert, Kathrin Hildebrand CONTRIBUTION SET Diego de Ramon Sanchez CONTRIBUTION LIGHTS Nindya Nareswari MASTERING FILM MUSIC Emme Moises