About this Event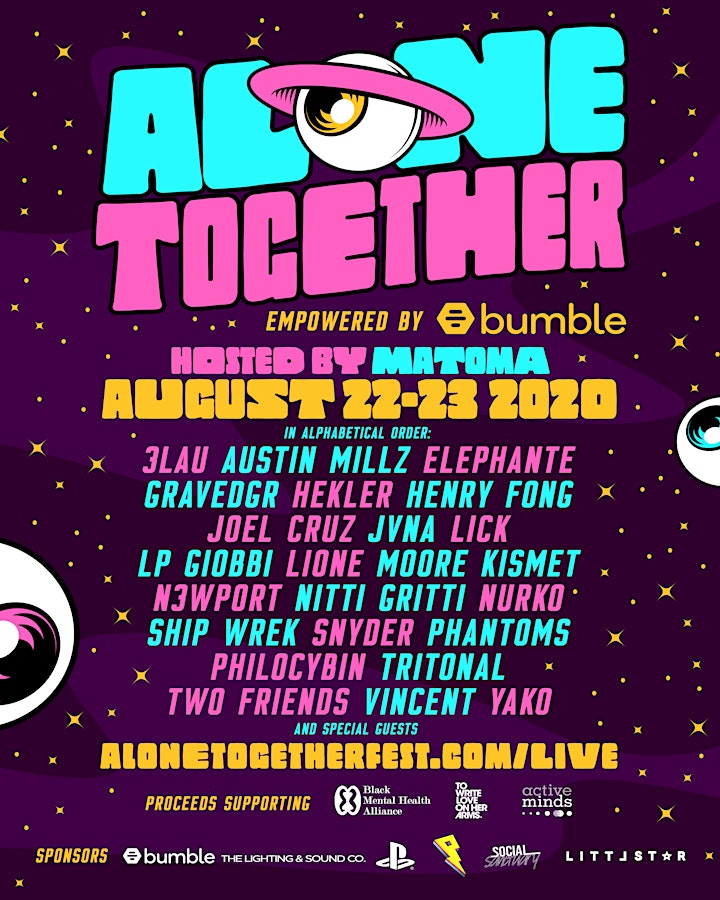 WE'RE ALL IN THIS TOGETHER
COVID-19 has disrupted our normal lives and forced us to adapt this new normal. During a time like this it is as important as ever to take a moment for yourself and focus on your wellbeing so that you can help others get through this TOGETHER.
ATMF was started with the vision to bring like minded artists, content creators, and professional speakers all together to accomplish one common goal. Our main focus is increasing awareness, we can build toward positivity and inclusiveness by coming together using your talents to connect to each other. The Positive Vibes Speaker Series is an extension of this vision and is designed to open a discussion around mental health awareness and how artists can use the industry to challenge the stigma behind mental health
Thank you for expressing your interest in the Alone Together Virtual Music Festival, the online virtual music festival supporting To Write Love On her Arms, Black Mental Health Alliance, and ActiveMinds mental health charities.
Website:
The Positive Vibes Speaker Series presented by Bumble:
Check out how our artists use their music to relate to mental health & the community.
Line Up:
3LAU · Austin Millz · Elephante · GRAVEDGR · Hekler · Henry Fong · JVNA · LICK · LIONE · LP Giobbi · Moore Kismet · N3WPORT · NURKO · Nitti Gritti · Phantoms · Philocybin · SNYDER · Ship Wrek · Tritonal · Two Friends · Vincent · YAKO
Safety:
Our state of the art stages operate at the highest level of safety. Following strict guidelines from the CDC & social distancing practices, our staff and artists are working in an evironment where we can be together...safely.